Date: December 17, 2018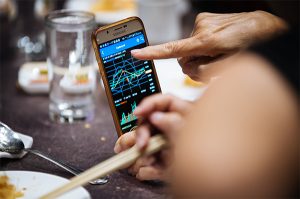 STI lost 34 points over the week at 3,077.09;
Wall Street's volatility was the main source of uncertainty;
The state of China's economy and US-China trade tensions were main reasons;
Investors largely shrugged off Theresa May surviving a no-confidence vote;
US bond yields continued to tick lower as investors sought safe havens;
Volume here remained low, consistently below S$1b per day;
For now, it looks like good news may not be good enough.
Most news isn't that good anymore
Last week got off to a rocky start with Singapore stocks coming under pressure right from the opening bell in response to a selloff the previous Friday on Wall St that took 2.2% off the Dow Jones Industrial Average. The US market's plunge was in reaction to a weaker-than-expected November US jobs report which the market took to indicate a slowing economy, instead of its more common interpretation of there being less need for interest rate hikes.
In other words, the market on that occasion chose to see the glass as being half empty instead of its more usual, more optimistic stance of the glass being half full. This "bad news is bad news'' interpretation instead of "bad news is good news'' when the market is in bullish mode was also present last week in slightly different form when indications of some progress in US-China trade talks early in the week was shrugged off, the market taking it as "we've seen this before and it led to nothing concrete''.
Another example of this came on Tuesday for instance, when President Trump's bickering with Congress over funding for a US-Mexico border wall and his threats to shut down the government were greeted with much indifference by the market.
As the week progressed, selling pressure emerged once again when China detained two Canadian citizens for alleged espionage, a move widely seen as retaliation for Canada's arrest of Huawei's chief financial officer. That arrest in turn was at the request of the US government, which means that China's actions were seen as upping the stakes in its conflict with the US.
US-China relations, Theresa May wins confidence of her party – for now
It was not all tension or negative news – there was cautious optimism on Wednesday, reportedly because China said it would revise its industrial policy "Made in China 2025'' by allowing greater access to foreign firms, a move that some observers took as a sign of improving trade relations with the US.
Also, on Wednesday, UK Prime Minister Theresa May survived a no-confidence vote carried out by her Conservative Party, which means that she can carry on as party leader for at least one more year. However, as she noted after the vote when she declared she would quit after Brexit, one in three of her colleagues had voted against her. The market's reaction was mostly muted, as if investors' concerns lay elsewhere, and Brexit is the least of their worries.
US bond yields
Over the past two months, heightened volatility in equity markets, starting with Wall Street's concerns over technology earnings, US-China trade, weak oil prices and a slowing economy have prompted investors to look for safe havens, the main one being US Treasuries, with the result that the yield on the 10-year bond has fallen from its 2018 high of 3.25% on 9 Oct to about 2.895% on Friday. The 2-year yield in the meantime, ended last week at 2.745%.
China's November economic data missed expectations
Growth of retail sales and industrial output in China for Nov missed expectations, bringing the sellers out in force on Friday. Retail sales grew 8.1%, the slowest since May 2003, whilst industrial output was up only 5.4%. "The weaker November industrial output and retail sales growth showed that downward pressure on the economy is increasing'' said Mao Shengyong, spokesman for the statistics bureau.
In local news
In the local market, news that businessman Oei Hong Leong is challenging a S$27 million rights issue proposed by Raffles Education sent the latter's stock price plunging on Friday, down 0.7 cent or 6.14% to S$0.107. The company has proposed a 2-for-10 rights issue to raise cash mainly to repay interest-free loans owed to its chairman Chew Hua Seng.
Mr Oei has sent a letter to the company in which he has asked for an extraordinary general meeting for a vote to terminate the rights issue. Raffles for its part has said it is seeking legal advice.
Elsewhere, troubled water treatment firm Hyflux said it has suspended a contract for seawater reverse osmosis desalination in Iran, a move which is expected to have a material adverse impact on its financial performance. The company said it is unable to maintain the requisite banking support because of the US's sanctions against Iran.
As for the local market, trading as usual tracked the Dow futures most of the time, with the STI rising or falling ahead of movements on Wall Street. Wednesday's 40-points jump for example took place before a firm US session later that day, whilst Friday's 34-points slump came ahead of a rocky session on Wall St which ended with its major indices losing about 2%.
Given that the local market has already reacted to the weak China numbers and Wall St's fall, there is a chance it will open on Monday with only a small loss as traders keep an eye on the futures market to gauge how US stocks might trade on Monday. In the meantime, investors and traders should bear in mind that the market in its present nervous state is more likely to treat good news with a pinch of salt.