Date: January 7, 2019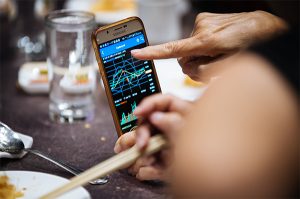 Volatile week sees STI drop 9 points so far for 2019;
Same concerns at play – US-China trade, China's slowing; US interest rates, weak oil;
US government shutdown continued;
Bond yield steadily weakened as money sought safe havens;
Wall St on Friday took good news as being good news instead of bad news.
The more things change…
The French have a saying "plus ca change, plus ce la meme chose'' which translates to "the more that things change, the more they stay the same''. It might be a new year and many investors might be hopeful that they have left 2018 and its volatility behind, but the early days of 2019 suggest that not much has changed – at least not yet.
Same concerns but a new factor – Apple's China exposure
Last week's trading picked up where it left off in 2018 with the Straits Times Index on Wednesday dropping 1% after news that China's manufacturing sector contracted in December for the first time since 2008's US sub-prime crisis, leading analysts to conclude that the trade war with the US really is taking a toll.
As most readers would know, the second half of 2018 was marked by worries over China's economy and the impact of the US's tariffs on China's products. As a result, its stock market including Hong Kong, was among the region's worst performers last year, though the US itself didn't fare that well itself.
Over in the US, Apple chief Tim Cook on Monday lowered guidance for the company's 4Q sales. He said, "While we anticipated some challenges in key emerging markets, we did not forsee the magnitude of the economic deceleration, particularly in Greater China''.
Flight to safety – US 10-year yield continued to slide
The resulting collapse in Apple's shares spread throughout Asian markets throughout the week and prompted a flight to safety, mainly US Treasuries. The yield on the 10-year bond, which a few months ago was above 3%, dropped to 2.556% on Thursday before closing at 2.668% on Friday. Bond prices and yields move in opposite directions, which means bond prices have been steadily rising over the past 6 months or so.
The Dow futures played a key part
Also playing a big part in last week's trading were movements in the Dow futures since these tend to have a much greater influence on Asian markets than events the night before on Wall Street. On Wednesday, the Dow futures in Asian trading plunged 300-points.
Similarly, Friday's 46-points rebound for the STI was prompted largely by a 300-points rise in the Dow futures. That STI gain was large enough to almost make up for the losses of the previous days, leaving the index down only 9 points for the year so far at 3,059.23.
The problem, as most market watchers and day traders would know, is liquidity. On Wednesday when a seemingly-healthy 1.5 billion units traded, the dollar value was just $746m million. On Friday when the index rose as sharply as it did, only $900m changed hands.
Better news ahead?
Friday's bounce on Wall St was reportedly because of a slew of good news. This of course does not explain how the futures market knew of the release of such news during Asian trading on Friday, but we'll set such questions aside for now.
The US market on Friday rebounded because a) Federal Reserve chairman Jerome Powell said the central bank will be patient before hiking interest rates further; b) the latest jobs report showed that the US economy added a healthy 312,000 jobs in December; and c) the US and China were reportedly preparing for a new round of negotiations.
Some observes might note that previous meetings between the US and China have led to naught and a healthy jobs report suggests inflationary pressures might rise, in which case higher interest rates could be on the cards, but for now, after several weeks of taking most news as bad news, it looks like "some news can be good news''.
How might emerging markets perform?
In one of its outlooks for the year, money managers Schroders said the "key potential catalysts for emerging markets performance in 2019 are US dollar weakness, a better-than-expected outcome in US-China trade relations and an easing in Chinese growth concerns''.
Valuations in aggregate are attractive and reflect a cautious growth and earnings outlook, while many currencies look cheap;
Further escalation in the US-China trade conflict is a risk, but is increasingly priced-in;
We expect moderate US dollar depreciation in 2019, which should act as a catalyst for emerging markets equities.
 On the US-China trade war, Schroders said in addition to potential tariff increases, it is also possible that further tariffs are introduced on Chinese exports to the US, though this may have a more visible inflationary impact on US consumers.
"The trade conflict potentially creates supply chain disruption for a wide range of industries and is likely to impact corporate confidence and investment as well as trade. Renewed escalation would further suppress sentiment and create uncertainty.

Despite an initial positive reaction from markets, sentiment remains cautious regarding further escalation and there is a degree of risk asymmetry. We do not believe an easy resolution will be found, but should the current truce hold and further escalation stall, this would likely be positive for markets, especially if this comes in conjunction with ongoing Chinese stimulus and US dollar weakness''.