Date: March 22, 2021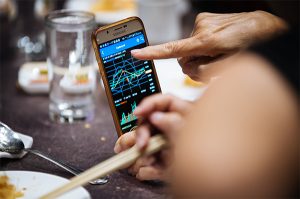 US Fed pledged to keep rates low and not taper its bond purchase;
US economy on track for 6.5% growth this year, said Fed;
STI rose 34 points or 1.3% to 3,134.54 as Wall St set new highs;
10-year US Treasury rose to a 14-month high, just above 1.7%;
Metal Component's shares were in play;
GL to be taken private;
SIAS hopes to secure better deal for Jardine Strategic shareholders;
Singapore's NODX growth slowed in Feb;
Astrea VI bonds started trading
The Fed's dovish comments and optimism over US growth kept stocks firm
The US Federal Reserve on Wednesday said the US economy is heading for its strongest growth in nearly 40 years and despite the obvious worry over inflation, it pledged to keep interest rates low. As a result, Wall Street continued to rise to all-time highs, and its strength pushed markets all over the world higher.
Here, the Straits Times Index regained the 3,100 mark on Monday and didn't look back thereafter, ending a firm week 39 points or 1.3% higher at 3,134.54.
"Strong data are ahead of us," Fed Chair Jerome Powell said after a two-day policy meeting, ticking off the list of forces Fed officials expect will produce 6.5% GDP growth this year – from massive federal fiscal stimulus to optimism around the success of coronavirus vaccines.
"The (stimulus) checks are going out … COVID cases are coming down. Vaccination is moving quickly," Powell said.
Fed officials, in fact, expect economic growth to remain above trend for at least two years to come at 3.3% in 2022 and 2.2% in 2023, compared to estimated long-term potential growth of just 1.8%.
The FOMC's policy statement, which kept the benchmark overnight interest rate in a target range of 0-0.25%, was unanimous.
"We are committed to giving the economy the support it needs to return as quickly as possible to a state of maximum employment," Powell said in a briefing after the Fed released its new economic projections and latest policy statement.
The Fed also expects core inflation to hit 2.2% this year but has a long-run expectation of it sticking around 2%. The central bank also indicated that it doesn't plan to hike interest rates through 2023 and that it would continue its program of buying at least US$120 billion of bonds a month.
US stocks dipped on Friday as bond yields continued to rise
Despite the Fed's reassurance that it has no plans to hike interest rates nor taper its bond buying programme, the 10-year U.S. Treasury yield jumped above 1.7% on Thursday, its highest level in more than a year.
The yield on the benchmark 10-year Treasury note was up 8 basis points to 1.719%. The yield on the 30-year Treasury bond climbed 3 basis points to 2.472%, the first time it rose above 2.5% since August 2019. Bond yields and prices move in the opposite direction.
Metal Component's shares sprang into play
Shares of Metal Component Engineering (MCE) were in heavy play on Thursday, surging as much as S$0.014 or 69% to S$0.044 shortly after the market opened that day. They eventually closed Thursday at S$0.038, up S$0.012 or 46% with 168m shares traded. The stock ended the week at S$0.036.
The Catalist-listed metal stamping company posted a net loss of S$2m for the year ended 31 Dec 2020 but generated positive cash flow from its operating and investing activities, including the receipt of the first tranche of payment from its sale of MCE Industries (Shanghai).
Takeover of GL Ltd was completed, company to be taken private
The Guoco Group unit looking to take GL private raised its offer price by 14.3 per cent or S$0.10 to S$0.80 and on Thursday announced that it and its concert parties now own 90.71% of GL's shares, just above the 90% threshold needed to take the company private.
SIAS had on Feb 26 called for the offeror to "seriously reconsider" improving the offer price to reflect the true value of GL and extend the offer deadline by two weeks. The original date for accepting the offer was 4 March and this was then extended to 18 March.
SIAS's call came after shareholders highlighted their concern that the original  offer price of S$0.70 significantly undervalued their shareholdings, and that the offer is not fair , which was the conclusion of independent financial adviser W Capital Markets.
SIAS hopes to secure a better deal for Jardine Strategic shareholders
SIAS last week said it is arranging for individual shareholders of Jardine Strategic Holdings who oppose the acquisition by Jardine Matheson Holdings to connect with institutional shareholders to be collectively represented by Bermuda lawyers.
However, this will be subject to collectively obtaining at least 300,000 shares or US$10 million in value from such individual dissenting shareholders, said SIAS in a statement on Thursday.
Should Jardine Strategic's fair value after appraisal by the Bermuda court be greater than the acquisition price of US$33 per share, Jardine Matheson is to pay dissenting Jardine Strategic shareholders the difference between the appraised value and the acquisition price within a month of the court's decision, SIAS noted.
However, should the court value it to be equal or lower than the acquisition price, the dissenting Jardine Strategic shareholders will be entitled only to the acquisition price.
Growth of Singapore's NODX slowed in Feb
Singapore's non-oil domestic exports (NODX) grew at a slower pace of 4.2 per cent in February from a year ago, after hitting a seven-month high of more than 12 per cent in January. Feb's figure was also lower than the 6.1% forecast by analysts in a Bloomberg poll.
Growth was headlined by non-electronic NODX, which rose by 3.3 per cent last month, according to official data released by Enterprise Singapore (ESG) on Wednesday.
The Business Times quoted OCBC's head of treasury research and strategy Selena Ling: "The moderation in momentum was not entirely unexpected given the change in Chinese New Year timings, which fell in January last year but in Feb this year''.
Astrea's latest retail bond started trading
The offer of S$250m worth of retail Astrea VI bonds which offer a 3% coupon was 3.1 times subscribed last week. The bonds started trading on Friday and ended the session at S$1.018.