Date: October 19, 2020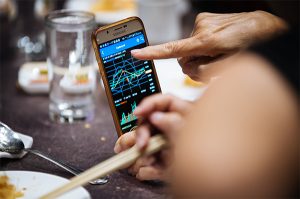 The STI ended flat for the week at 2,532.02;
NODX rose 5.9% in Sep; Economy contracted 7% in Q3;
Hyflux gets final extension;
Study shows Singapore companies lag Malaysian and Thai peers in integrity;
SPH shares sank below $1 after company reported first ever loss;
Wilmar's China unit made solid debut on Shenzhen exchange;
World Bank warned of emerging financial crisis
A flat week driven by Wall St nervousness, local economic news
The Straits Times Index was flat over the five trading days, Friday's 9.4 points rise to 2,533.02 enabling it to erase all its loss over the previous four days. Those losses came in tandem with some nervousness on Wall Street, where investors were said to be grappling with the likelihood that a stimulus package is still some way from being agreed upon; Friday's rise was reported to be because of news that Singapore's non-oil domestic exports (NODX) rose 5.9% in September compared to a year ago.
Singapore economy shows modest signs of recovery
Singapore's economy contracted by 7% in the third quarter compared to Q3 2019, an improvement on the -13% suffered in Q2. On a quarter-to-quarter seasonally adjusted basis, GDP grew 7.9% in Q3, much better than the -13.3% for Q2 when the country was in a partial economic shutdown because of the COVID-19 pandemic.
Q3's performance was mostly driven by manufacturing's 2% growth and overall, economists expect an uneven recovery, with different sectors experiencing differing rates of growth.
On Friday, Enterprise Singapore announced that the country's NODX rose 5.9% in Sep, thanks mainly to an increase in electronics shipments.
Hyflux gets a final extension
The Court on Wednesday granted a final adjournment to an application for Hyflux to be placed under judicial management (JM). The troubled water treatment firm now has three weeks to bring a firmer conclusion to one of three rescue deals on the table.
The third and latest is an expression of interest from American fund manager Strategic Growth Investments which was made on Monday and would see SGI invest at least $204.8m. The other two are from Middle Eastern utility Utico and Pison, the investment vehicle of Indonesian magnate Johnny Widjaja.
In integrity, Singapore companies lag behind Malaysian and Thai peers
According to new research, Singapore's largest listed companies are lagging behind their Malaysian and Thai peers when it comes to disclosures of business integrity practices. The study, by the NUS Business School's Centre for Governance, Institutions and Organisations (CGIO) and Asean CSR Network, was sponsored by SIAS.
It scored to 50 largest companies as at the end of March on the stock exchanges of Indonesia, Malaysia, the Philippines, Singapore and Thailand on matters like whether leadership showed support for anti-corruption drives, whether an anti-corruption training programme was in place and whether there was a policy explicitly prohibiting facilitation payments.
Malaysian companies achieved the highest disclosure level of 74%, Thailand's score was 71% and Singapore's was third at 64%.
SPH shares sank below $1 on first ever loss
Shares of media and property company Singapore Press Holdings were in focus last week after SPH reported its first-ever loss which amounted to $83.7m for the year ended 31 Aug. The stock, which had already been on a steep downtrend before the figures were released on Wednesday, then sank below $1 on Thursday into penny stock territory before finishing at $1. It ended the week at $1.01.
Pushing SPH into the red was a $232m non-cash fair value loss, mostly on its malls and purpose-built student accommodation assets. Operating revenue fell 9.8% to $865.7m, operating profit fell 41% to $110m and media advertising revenue dropped 31%. The media segment posted a pretax loss of $11.4m.
Analysts pointed out that even excluding one-off items, operating profit would still have been below consensus. DBS analysts lowered their target price from $1.26 to $1.09 as they expect weakness to persist in the media segment for FY21. Similarly, CGS-CIMB lowered its target from $1.35 to $1.10.
Both sets of analysts noted that SPH's media business will continue to be a drag in the immediate term because of weak advertising but are generally positive about its property business in 2022.
Wilmar's China unit makes solid debut
Yihai Kerry Arawana or YKA, which is 89% owned by agrifood company Wilmar International, enjoyed a sizzling debut on the ChiNext board of the Shenzhen Stock Exchange last Thursday.
The counter, which had been offered at 25.7 yuan per share, opened at 48.96 yuan, later reached a peak of 62.65 yuan before ending the day at 56 yuan – more than double the IPO price.
On the Singapore Exchange (SGX) however, Wilmar's shares ended Thursday $0.30 weaker at S$4.36 on volume of 45.5 million trade. Trading was volatile and triggered a query from SGX. It managed a $0.13 rebound on Friday to $4.49.
YKA is a wholesaler and distributor of food products such as small package edible oil, rice and flour.
World Bank warned of emerging financial crisis
The World Bank's chief economist Carmen Reinhart on Friday warned of the possibility of a looming financial crisis. She said the COVID-19 pandemic "is morphing into a major economic crisis with very serious financial consequences''.
When asked whether central banks buying bonds to keep yields low is ultimately a zero-sum game when everyone is doing it, Ms Reinhart said "This is a war. During wars, governments finance their expenditures however they can and right now there are dire needs. The scenario we are in is not sustainable''.