Date: February 8, 2021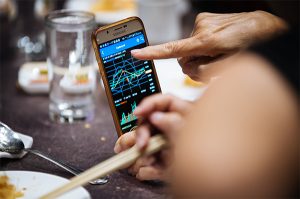 The STI gained 5 points or 0.17% at 2,907.11 over the week;
Wall Street's new highs due to weak economic data which raised stimulus hopes;
Penny stocks in play, possibly as traders look for next GameStop;
US regulators meet to decide whether action is needed;
MAS-SGX warn investors against trading on Internet recommendations;
Yoma's shares plunged after Myanmar coup;
SIA reported Q3 net loss of S$142m;
iFast rose to record highs, company reported 127.5% Q4 profit jump

Flat week for STI as penny stocks swing into focus
The loss of upward momentum that the market experienced in the second half of January continued into the first week of February, with the Straits Times Index trading within a narrow range and only managing a 5-points or 0.17% gain over the week at 2,907.11. This was despite Wall St hitting new record highs that came largely because of stimulus hopes following the release of weak economic data.
There has been a spike in interest in penny stocks, with the average value per unit traded coming in at well under $1 every day. On Friday for example, some 1.15b units worth S$1.77b were traded for an average of S$0.65 per unit, well below the S$1 per unit that is commonly taken to be the threshold for a penny stock.
Counters that appeared regularly in the top volume list included seafood supplier Oceanus partly on the basis that it has turned around its fortunes and partly because of speculation that it might be the next GameStop because it was also mentioned in a post on Reddit.
Among the other counters in play were Jiutian Chemical, Blumont and China Star Food.
Observers attributed this to heightened presence of retail investors, possibly attracted to enter the market by the performance of stocks like GameStop in the US, which has been in the news recently after it enjoyed massive retail support after being highlighted on Internet chat forum Reddit.
GameStop however, has since crashed after broking firms imposed curbs on trading and US regulators said they would meet to decide what action should be taken, if any.
On Thursday, newly-appointed US Treasury Secretary Janet Yellen said that before she and financial market regulators took any action, they needed to "understand deeply" what happened in the trading frenzy that involved GameStop.
MAS & SGX warned of trading based on information from Internet
The Monetary Authority of Singapore and the Singapore Exchange last week advised the investing public to be on heightened alert to the risks related to trading in securities incited by online discussion forums and social media chat groups. This follows SGX RegCo's 10 December 2020 warning to the public of "pump and dump" activities exploiting Telegram chats and other social media channels.
"MAS and SGX RegCo have noted investor interest in Singapore in recent activities in US markets relating to stocks such as GameStop, AMC Entertainment Holdings, and BlackBerry. Discussions in online websites and platforms suggest the possibilities for similar speculative activities in the Singapore stock market.

The public should be aware that certain individuals may exploit this interest for their own benefit through "pump and dump" activities that can amount to market misconduct under the Securities and Futures Act (SFA)''.
Yoma takes hit after military coup in Myanmar
Elsewhere, a military coup in Myanmar led to a selloff in Myanmar-based Yoma Strategic. Yoma and Memories Group, a spinoff of Yoma's tourist business arm, said the country's political situation remains unclear and warned of a potential change in business sentiment.
They also noted that some of their businesses were disrupted intermittently on Monday last week due to outages in the telecoms network which has since been restored.
On Wednesday after the update, Yoma's shares lost S$0.07 or almost 26% at $0.205 on volume of 71.3m. They ended the week at S$0.194.
SIA reported a Q3 net loss of S$142m
Singapore Airlines last week reported a net loss of S$142 million in its third quarter ended 31 Dec 2020 compared to a S$315m net profit for the corresponding period a year earlier. For the nine months ended 31 Dec, SIA reported a net loss of S$3.61b versus a S$520m net profit for the previous year.
It said in its business update: "International air travel demand remained severely constrained in the quarter, as border controls and travel restrictions continued to be in place in many countries amid new waves of the Covid-19 infection."
The company said it continues to have access to more than S$2.1b in committed credit lines along with the option to raise up to S$6.2b in additional mandatory convertible bonds before the annual general meeting in July this year.
iFast rose to record highs, company reported 127.5% Q4 net profit jump
Shares of wealth management platform iFast Corporation enjoyed heavy play last week, rising to a record high on Monday of S$6.37 after the company earlier announced that PCCW Solutions, the IT flagship of the PCCW Group, won the tender for Hong Kong's eMPF platform.
iFast is PCCW Solution's prime subcontractor for a category that includes Mandatory Provident Fund (MPF) scheme operation services, transformation services and user delivery services. iFast said its participation in the project is subject to the finalisation of contractual details.
On Friday, the company reported a net profit of S$6.8m for the fourth quarter ended 31 Dec 2020, 127.5% higher than S$3 a year before. Revenue growth was 41.6% at S$47.9m.
iFast  said its profit growth "was substantially higher than the growth in revenue, showing the positive operating leverage and scalability of the group's business model''.
The stock ended the week at S$6.50.