Date: June 8, 2020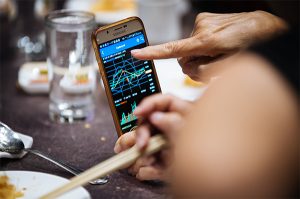 Markets all over world switch to "risk on'' mode;
STI powered up by 8.8% on hopes of swift economic recovery;
Underpinning hopes was large-scale monetary and fiscal stimulus;
Encouraging economic numbers from China and US also helped;
Hyflux directors face criminal investigation;
SPH dropped from STI, replaced by Mapletree Industrial Trust
It's "risk on'' as markets react to stimulus, encouraging economic numbers
Hopes of a quick economic recovery powered the Straits Times Index to a 241.5 points or 8.8% per cent gain last week at 2,751.50. These hopes arose as more countries, including Singapore, started reopening their economies after a 2-month lockdown brought on by the ongoing virus pandemic.
Also helping was news of large-scale government stimulus – in Singapore, the Government received approval for a fourth Budget, the European Central Bank announced a 130b euro package and the US government is expected to pump another US$1 trillion into the economy.
Wall Street led the "risk on'' rally, with Friday's rally coming after May's jobs report showed 2.5m new jobs were created versus expectations of an 8m loss.
Over in China, the Caixin China services purchasing manager's index rose to 55 in May from 44.4 in April – a much larger-than-expected jump into expansionary territory. Observers also said news that China is reportedly buying US soybeans again may help address concerns over escalating US-China tensions that have surfaced in the past few weeks.
Observers said the concerted efforts by governments all over the world, plus the gradual reopening of economies were giving markets hope that the rebound would be swift. Also, with interest rates at rock-bottom levels and virtual guarantees by central banks of massive money support, it was logical that investors switched to "risk-on'' mode.
Singapore's April retail sales plunge 40.5%
Singapore's retail sales in April plummeted 40.5% year-on-year, the 15th consecutive fall and the largest since 1986. The fall was to be expected because of the "circuit breaker'' that was in force throughout the month. Observers have noted there was a concurrent shift to more online shopping and expect this to continue in the months ahead.
SPH dropped from STI, replaced by Mapletree Industrial Trust
On Thursday index provider FTSE Russell announced that Mapletree Industrial Trust will replace Singapore Press Holdings (SPH) in the Straits Times Index (STI). The STI was created by SPH and managed by FTSE. The index components are the 30 largest stocks by market capitalization.
Maybank Kim Eng last week said investors should look beyond fundamentals and technicals when selecting stocks, and instead should look at alternative data like a company's management and balance sheets.
Hyflux directors, including founder Olivia Lum, under criminal probe
On Tuesday regulatory authorities announced that troubled water treatment firm Hyflux is under criminal investigation for false and misleading statements, as well as non-compliance with accounting standards.
The investigation, which also involves the company's existing and former directors, follows a review of Hyflux-related disclosures and compliance with accounting and auditing standards which was announced in April last year.
The review was conducted by financial regulators Monetary Authority of Singapore (MAS), the Accounting and Corporate Regulatory Authority (Acra) and the Singapore Exchange Regulation and uncovered reasons to suspect that several offences may have been committed.
Among the directors under investigation is Hyflux's executive chairman, Ms Olivia Lum, who was the company's only executive director during that period.
Other board members being investigated include current lead independent director Teo Kiang Kok and non-executive independent directors Gay Chee Cheong, Lee Joo Hai and Christopher Murugasu, all of whom were also serving as board directors during the years under probe.
UOB looks to maintain dividend policy
Local bank UOB held its Annual General Meeting on Friday, at which it said it hopes to maintain its 50% dividend payout ratio this year despite the challenging business environment. Its total dividend for the financial year ended 31 Dec 2019 is S$1.30 per share was approved and will be paid on 29 June.
The bank said it expects net interest margin to face downward pressure as interest rates are cut all over the region and for credit costs to rise to 50 to 60 basis points through to FY21. It added it has set aside sufficient provisions to cope with the virus pandemic.