Date: December 24, 2018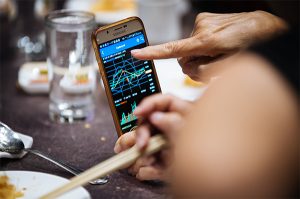 The STI dropped 31 points or 1% over the week to 3,046.04;
Main source of selling was Wall St's nervousness;
The US Fed raised rates and hinted at 2 more hikes in 2019;
Trump threatened a government shutdown thus adding to worries;
Crude oil continued to slide, US bond prices continued to rise;
Hopes fade of a "Santa Claus'' rally;
The end of complacency?
"All news is bad news''
The local stock market underwent yet another difficult five days last week as traders and investors cast a wary eye in Wall Street's direction for guidance. Not that there was much that was forthcoming – as noted in last week's report, the US market has lately become more likely to interpret most news that has a slightly negative leaning as being wholly negative, whilst simultaneously ignoring most good news. Put differently, it has shifted to seeing the glass as being half empty instead of half full.
The Dec FOMC and its rate hike  – good or bad for stocks?
This shift is in stark contrast to the way the market reacted earlier this year when most news was taken to be good and it was clearly apparent on Wednesday when the US Federal Reserve's Open Markets Committee (FOMC) met for the last time in 2018, raised its short-term interest rates by 25 basis points to 2.5% and signalled two more hikes in 2019. In its statement, the Fed called the risks "roughly balanced" and continues to expect "some further gradual increases in the target range."
Most observers attributed the ensuing steep dive in US stocks to this supposedly hawkish stance, saying the Fed delivered precisely what the market did not want. For example, in reporting on the reasons for Wall St's plunge, US newspaper Barron's described the FOMC meeting as the market's "worst nightmare'' and quoted an analyst from NatAlliance Securities as saying the "Fed is making a major policy mistake'' because it is "too hawkish''.
On the other hand, other reports noted that the Fed said it expects "just'' two rate hikes in 2019, one less than it had previously forecast in September and that a benchmark rate near 2.9% by the end of next year is lower than the Fed's previous 3.1% projection. Moreover, a last hike for 2018 had widely been expected.
In other words, there is an argument to be made that Wall St this time chose to ignore what could easily have been seen as good news in the form of a signal that there will be fewer rate hikes for next year, and instead focused on the message that there could be around two more hikes to contend with. Half empty instead of half full.
A full glass is rapidly emptying amidst worry of US govt shutdown
This "slightly good news is still bad news'' inclination meant that US stocks underwent a wild ride on Wednesday. The Dow Jones Industrial Average finished 352 points or 1.5% down that day at 23,323 but it had earlier been up 382 points, which means that from top to close, it tumbled more than 700 points.
Thursday brought yet another indication of how the market has shifted towards viewing any news through a pessimistic lens. The session saw more losses after US president Trump said he would not sign a short-term spending bill without more funds for a Mexico border wall. Already rattled by earlier signs that there has been no progress on the China trade front, investors in US stocks resumed selling, adding another 464 points to the Dow's loss. Twitter alone crashed US$3.63 or 11% to US$29.29.
On Friday, New York Fed president John Williams attempted to calm the market's nerves by telling CNBC News that the central bank will go into next year with its "eyes wide open'' and that it would be willing to reassess its outlook if the economy's performance deteriorates. The ensuing rally did not last long – by the end of trading on Friday, the S&P 500 recorded its worst week since 2011 and the Nasdaq Composite had lost 20% from its peak, pushing it into bear market territory.
Crude oil ended Friday just above US$45 per barrel, a loss of about 11% for the week. US Treasury yields also weakened as bond prices, the 10-year started the week yielding 2.86% but finished at 2.781%.
As regular readers would know, stalled trade talks and Trump-led threats of shutting down the government without more wall funding are not new – the market has seen and heard similar incidents many times before and has brushed them off easily.
Why would this time be different? The only plausible reasons are because there might have been a fundamental shift in a) the economic outlook or b) complacency, or both.
The outlook for 2019
Money managers Schroders in its 2019 outlook for global equities highlighted points whilst discussing complacency. It said:
In general, markets are moving into a new phase in which inflation is on the rise and central banks are offering less support to markets.
There is plenty of complacency in equity markets about the risks from higher interest rates and elevated corporate debt.
We believe that some of the best investment opportunities are to be found where industry disruption is significant, such as in the transition to renewable energy.
 It added that higher borrowing costs are not the only risk to profitability and valuations. Labour, energy and other business costs are generally rising. At the same time, a trend towards protectionism is creating less efficiency in the sequence of processes needed to create goods, also known as the supply chain. An era of low costs has been one of the outstanding features of the longest US bull market in history – but we are beginning to see clear signs of wage and cost pressures.
In local news
Daily turnover in the local market remained disappointingly low last week, with the dollar value just crossing S$1b only twice, on Tuesday and Friday.
Beauty products marketing firm Best World maintained its reputation as the market's standout performer in the second half when it shot up $0.33 or 14% over the week to $2.70. The stock has risen $0.80 or 42% in 5 weeks.
Financially strapped commodities trader Noble Group announced during the week that its restructured self, New Noble, will have access to a total US$800 million (S$1.1 billion) in trade and hedging facilities. The restructuring was carried out in Bermuda as the company's accounts are under scrutiny by Singapore regulators and the police.
New Noble has acquired substantially all of the assets of Noble Group, and the shares in New Noble are now held 70 per cent by its senior creditor special purpose vehicle (SPV), 20 per cent by Noble Group shareholders, and 10 per cent by the management SPV.