Date: October 22, 2018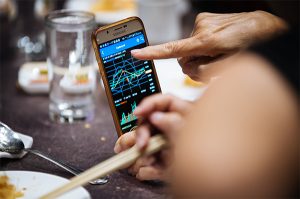 STI fell 7 points over the week to end at 3,062.51;
US 10-year Treasury stayed close to 3.2% mark throughout;
Wall St turned in an unconvincing and volatile performance;
Local property market in focus after URA announced new apartment size guidelines;
Hyflux introduced a "white knight'' – Indonesia's Salim group;
China's problems – are stocks being supported by government funds?
Wall Street – would it recover?
The question on the minds of most investors last week was whether Wall Street would add to its losses or whether it would recover from the battering it took the previous week. Or to put it differently, whether the bull market in US stocks that started almost 10 years ago, has ended.
As it turned out, there was no clear answer. Even though bond yields remained elevated with the 10-year US Treasury at above 3.2% most days – it ended the week at 3.195% –  stocks did enjoy a comeback of sorts, especially in mid-week. However, much of the mid-week bounce was probably courtesy of short-covering, with the result that once this had been completed, the weakness resumed, most probably because of a hawkish tone contained in the minutes of the latest US Federal Reserve meeting (see later).
Over the course of the five days, the Straits Times Index lost just 7 points at 3,062.51, most of the support coming on Wednesday when a large 36-points rebound helped cushion its loss. In keeping with how trading has panned out over the past few months, turnover was weak, with a daily average of just $967 million done.
New URA guidelines – size matters
For the local market, added pressure came on Thursday after an announcement by the Urban Redevelopment Authority (URA) that the average size of new private flats outside the central area will have to be at least 85 sq m. URA on Wed also said that nine areas – up from four now – will be subject to even an more stringent minimum average requirement of 100 sq m. These areas are Marine Parade, Joo Chiat-Mountbatten, Balestier, Telok Kurau-Jalan Eunos, Stevens-Chancery, Pasir Panjang, Kovan-How Sun, Shelford and Loyang.
Analysts responded by saying that this could put an end to en bloc deals and should moderate condo and land prices in the affected areas. For example, UOB-Kay Hian said on Thursday that this would further curtail the en bloc market, as the new average size will reduce the number of units in new projects by 18% for a minimum area of 85 sq m and 30% for a minimum area of 100 sq m for the nine specified areas.
"This would limit developers ability to boost margins by launching smaller units with a higher PSF (per square foot) pricing. However, with this new regulation in place, developers will have to launch larger units with an expected lower PSF pricing to maintain affordable prices for homebuyers. The longer term implication of this new measure would be to reduce smaller units coming to the market and to possibly lower land prices as developers price in lower PSF launches''.
DBS Vickers said together with hefty additional buyer stamp duty (ABSD) charges that formed part of the 6 July cooling measures, it believes that this set of new rules will push developers to be more cautious in future land tenders and to recalculate their bids/costs.
"Assuming that developers aim to keep price levels at S$1.5m/unit with a 10% profit margin, the revised guidelines could see up to 20%/40% drop in land prices with the revised 85sqm/100sqm rule'' said the broker, adding that this latest moves represent the "final nail in the coffin for the en-bloc market'' since developers are unlikely to meet current reserve prices now.
Not surprisingly, stocks of property developers were weak in the second half of the week, led by the likes of City Developments, Bukit Sembawang and UOL.
A hawkish Fed?
Minutes of the Fed's meeting released last Wednesday showed officials talking over plans for more rate hikes, with some saying there could be a time when the central bank should exceed a neutral level in favour of more restrictive policy. Restrictive interest rates would likely be used to clamp down on inflation overshooting the Fed's target and to address "the risk posed by significant financial imbalances''.
China's problems
China stocks have been weak for several months now, in tandem with trade war worries with the US and concerns over an economic slowdown. Last week however, they managed a decent rebound from the battering they've received over the past 4-5 months, but Bloomberg ran a story suggesting that most of the buying came from government support. The news agency said the authorities have a long history of stepping in to support equities, via the so-called national team of state funds and "events of national importance, or periods of extreme volatility, are typically times when the hand of the state is seen''.
The Hyflux rescue
On Thursday, a consortium comprising Indonesia's Salim Group and Medco Group, emerged as likely saviours for troubled local water treatment firm Hyflux. The consortium, known as SM Investments, has agreed to a $400m equity injection in exchange for a 60% stake after Hyflux has settled its debts, and will also grant the company a shareholder's loan of $130m, and a debtor-in-possession loan of $30m to help finance it through the restructuring.
The $530m in cash from SM will only be released to Hyflux once it reaches a deal with creditors in a court-sanctioned scheme of arrangement.