Date: August 24, 2020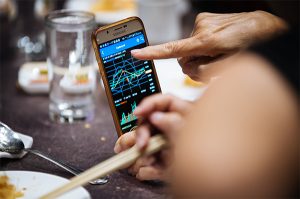 Despite Wall St at new highs, the Straits Times Index lost 53 points or 2.05% at 2,528.54;
The Singapore Government announced it will inject another S$8b into the economy;
SGX RegCo warned about trading in Kitchen Culture's shares;
Thai Beverage was among the hot stocks of the week;
SIA announced it has used about half of the S$8.8b raised in June's rights issue;
Major shareholder cuts stake in Wilmar International
Wall Street set new highs but no reaction here
The local stock market last week decoupled from Wall Street, ignoring the all-time set by the S&P 500 and the Nasdaq Composite. Instead, the Straits Times Index fell for four of the five trading days with Friday's paltry 0.62 of a point rise to 2,528.62 failing to make much of a dent on those losses. The cumulative loss over the week was 53 points or about 2.05%.
There were no significant new developments on the COVID-19 front – several vaccine trials are still ongoing and the number of cases worldwide continued to rise. In other developments, US-China tensions remain strained with US President Trump cancelling scheduled talks with China.
Singapore Govt to provide more help
The Government on Monday announced a further S$8b to help the economy, including seven more months of wage subsidies, a new S$1b Jobs Growth Initiative for new hires, and an extended grant for Singaporeans who are unemployed or have seen significant income loss.
The funds will be funded by reallocating money from other areas, such as development expenditures delayed due to the pandemic, with no plans to draw on past reserves yet. Hard-hit sectors will get extra support, including another S$187m for aviation.
SGX RegCo warned investors to be careful trading in Kitchen Culture's shares
The regulatory arm of the Singapore Exchange on Monday said its review of the trades in Kitchen Culture's shares showed that a group of accounts appeared to be influencing share prices. SGX RegCo said the individuals behind these accounts are likely connected to the traders highlighted in SGX RegCo's earlier Trade with Caution Notice issued on 24 Sep 2019.
As a result of the latest warning, the counter crashed S$0.068 or almost 32% on Monday to S$0.147 on volume of 29.3m shares. SGX RegCo observed that the share price of the kitchen solutions provider had climbed steadily from S$0.069 on 15 April to S$0.32 on 11 Aug, a rise of 364% during a period that the STI had fallen 2.4%. The stock closed at S$0.134 on Friday.
Thai Beverage was in play
Beer and food maker Thai Beverage's shares were in play last week after the company delivered a business update for the 9 months to June that was better than analysts' expectations. The company's update implied that Q3 revenue fell about 15% year-on-year while Q3 Ebitda (earnings before interest, taxes, depreciation and amortisation) fell 7%.
Thai Beverage also said its spirits sales volumes in Thailand started to recover significantly in May as a temporary ban on alcoholic beverage sales was lifted and wholesalers restored their depleted inventories. The shares ended the week at S$0.62.
SIA has used S$4.4b of funds raised
Singapore Airlines said it has used S$4.4b or about half the money raised in its June rights issue. About S$1.1b went towards funding operating expenses, settling maturing fuel hedging trades and ticket refunds, S$0.2b was used for aircraft purchases and S$0.9 went for debt servicing. In mid-June, the airline said S$2b was used to repay a bridging loan facility from DBS and $0.2b for operating expenses.
On Wednesday SIA's shares fell sharply, losing S$0.10 at S$3.62 despite the company announcing on Tuesday that travellers from nine new cities will be allowed to transit at Changi Airport and that it has increased the frequency of selected services in its passenger network over the next three months.
Major shareholder in Wilmar cut its stake
Chicago-based grain trader Archer Daniels Midland (ADM) last Thursday said it plans to sell 170.5 million Wilmar International shares representing 2.68% of Wilmar's capital. The shares have been priced and placed at S$4.40 per share and after the sale, ADM is expected to retain a 20% stake in Wilmar. On the day of the announcement, Wilmar's shares plunged S$0.50 or 10.3% to S$4.36 on volume of 236.4m shares.
CGS CIMB on Friday maintained its "add'' call on Wilmar despite the news, saying that it remains positive on the planned listing of Wilmar's Chinese unit Yihai Kerry Arawana because the market has underestimated the value of the unit. The broker maintained a target price of S$5.33 for Wilmar and the stock managed to regain S$0.09 on Friday, closing at S$4.45 on volume of about 26 million.