Date: December 14, 2020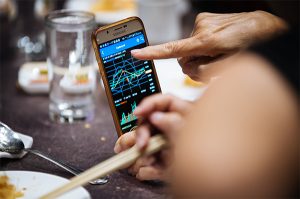 The STI lost 18 points or 0.6% over the week at 2,821.7;
Support came from Wall St's record high, stimulus hopes and vaccine news;
Singapore's economy should grow 4-6% in 2021: MTI;
More on the opposition bid to LMIRT's purchase of Lippo Mall Puri;
Cathay and Golden Village cinemas to merge;
SGX RegCo warned of "pump and dump'' using social media;
Best World provided an update on China selling model;
Are pharma stocks the best buy now?
Wall St's optimism, vaccine news and US stimulus hopes provide support
Over in the US, the Dow Jones Industrial Average last week crossed the 30,000 mark again last week, giving a psychological boost to markets everywhere. Underpinning the strength in the US market were the same forces that have been in play for much of the past month, namely, encouraging news surrounding COVID-19 vaccines and progress on talks regarding a stimulus package that had stalled before the November Presidential election.
It wasn't all plain sailing for the US market though, concerns over record numbers of daily infections as well as deaths have curbed the optimism.
The impact here was what market observers typically described a "consolidation'', meaning prices moved with no clear direction as traders and investors waited for more direction from either local or overseas developments.
Over the five days, the Straits Times Index lost about 18 points or 0.6% at 2,821.7. The main blue chips influencing the index were the banks and the Jardine stable. Volume remained mediocre at a daily average of $1b – a far cry from the 2.9b worth $3.65b that traded on 30 Nov.
Singapore's economy projected to return to growth in 2021
The Singapore economy expanded by 9.2 per cent on a quarter-on-quarter seasonally-adjusted basis in the third quarter of 2020, a turnaround from the 13.2 per cent contraction in the second quarter. On a year-on-year basis, the economy contracted by 5.8 per cent, moderating from the 13.3 per cent contraction recorded in the previous quarter, according to the Ministry of Trade and Industry.
"The Singapore economy is projected to grow by 4.0 to 6.0 per cent in 2021. The recovery of the Singapore economy in the year ahead is expected to be gradual and will depend to a large extent on how the global economy performs and whether Singapore is able to continue to keep the domestic COVID-19 situation under control'' added MTI.
Maybank Kim Eng economists said the recovery will however be more U-shaped than V, with GDP returning to pre-pandemic levels only in early 2022.
"The MAS will likely maintain its current S$NEER (nominal effective exchange rate) neutral stance in 2021 and possibly 2022. Inflation will turn mildly positive (+0.5% in 2021) but remain contained. Budget 2021 will likely be expansionary, with a smaller fiscal deficit of 4% of GDP (vs. 15% in 2020)'' said MKE.
LMIRT bid to buy Lippo Mall Puri faces opposition
Lippo Malls Indonesia Retail Trust (LMIRT) last week said it would not be adding an additional resolution for its 14 Dec extraordinary general meeting (EGM). Among other items, that meeting is to seek approval for LMIRT to buy Lippo Mall Puri in Indonesia, a deal which has met with opposition from some unitholders.
Those unitholders had asked LMIRT to table a resolution postponing voting until an alternative valuation for the property can be presented. In denying the request, LMIRT's manager said the reasons for asking for a postponement are "without merit''.
According to a Business Times report on Thursday, the dissenting unitholders contend that the circular on the purchase uses a headline occupancy rate of 91.9% which paints a rosier picture of the mall's prospects than is warranted.
Among the bones of contention is the early termination of some leases after the valuation was done, particularly by department store Parkson.
Cathay and Golden Village cinemas to merge
Entertainment firm mm2 Asia last week said it is planning to merge its cinema business with Golden Village cinemas that are owned by Orange Sky Golden Harvest (OSGH).
mm2 Asia owns eight cinemas in Singapore under the Cathay brand, and 14 cinemas in Malaysia under the Cathay Cineplexes Malaysia, Mega Cinemas and Lotus Fivestar labels. It also owns a movie film distribution business and an online streaming business.
OSGH has 14 Golden Village cinemas here. The Hong Kong-listed company, previously known as Golden Harvest, operates a total of 35 cinemas with 285 screens in Hong Kong, Taiwan and Singapore.
A merger of the two cinema businesses would not only provide economies of scale, but also give more financial and operating stability to mm2 Asia's cinema business given the challenges faced by operators since the Covid-19 outbreak, mm2 Asia said on Wed.
SGX RegCo warned of "pump and dump'' schemes using social media
In a Thursday release, frontline regulator SGX RegCo flagged possible market misconduct which make use of Telegram chat groups and other social media channels to "pump and dump'' or to inflate share prices before selling.
The parties concerned could include people working alone or in a group to "pump'' up the price by encouraging others in the chat to trade a particular security. As more members in the group buy, the price rises before the wrongdoers then sell, or "dump''.
SGX RegCo warned the public that information on investments and trades shared on social media, especially by anonymous individuals, may not be credible and urged investors to perform their own due diligence and research.
Best World explores adjustments, plans to transition to direct selling
Beauty products firm Best World on Thursday said it is looking at adjusting its sales model in China and plans to shift to direct selling once the necessary government approval is obtained.
"The transition will involve the expansion of the geographical coverage of the existing direct-selling license obtained by Best World (China) Pharmaceutical Co and the list of products covered by the direct-selling licence'' said the company.
Best World's shares have been suspended from trading since May 2019 because of doubts over its accounting practices and actual financial position. An independent review by accounting firm PwC uncovered questionable deposits into the personal bank accounts of individuals and other potential breaches of the Companies Act.
Are pharma and drug stocks the best buys now?
According to US newspaper Barron's, a list compiled by JPMorgan analysts shows that the stocks most sensitive to vaccine news are biotech companies involved in the production process.
"While there are certainly reopening-sensitive businesses such as airlines and other travel companies whose share prices are highly correlated to vaccine news, stocks that are less correlated may be better picks because they still benefit from re-openings, just indirectly so, analysts found….''.

"For example, oil and bank stocks outperformed ran up in November. The Energy Select Sector SPDR Fund (XLE) rose 28% in November. The SPDR S&P Bank ETF (KBE) rose 16.5% over the same period. Small-caps and value stocks, both more economically sensitive than large-caps and growth, have been outperforming their counterparts and are expected to continue doing so'' said Barron's.