Date: June 22, 2020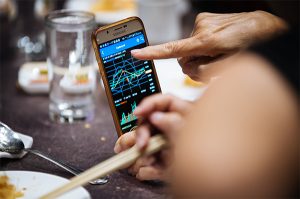 Despite Friday's slide, STI still gained 1% over the week;
Daily volume remained at healthy levels;
Economy moved to Phase Two of reopening on Friday;
Singapore's NODX dropped 4.5% in May but recovery could be coming;
Southern Alliance Mining lodged its IPO prospectus;
SIA and iFAST were among stocks in play
Despite Friday's selloff, STI still rose 1% for week
After the volatility of the past several weeks, a consolidation of sorts was only to be expected. This is what transpired last week, as markets everywhere entered a period of uneasy calm as investors and traders pondered whether the steep price gains of since early April were justified, given the bleak economic outlook confronting the world.
For most of the week, prices moved sideways as players waited for fresh news or direction. With nothing significant forthcoming, the Straits Times Index on Friday dropped 30.83 points or 1.16% to 2,634.83, though it still managed to register a gain of 25.8 points or 1% over the five days.
Liquidity still decent
Daily volume, which has picked up in recent months, remained at moderate to elevated levels. Where S$1b daily was the norm last year and probably 2018 as well, daily turnover in the past 3-4 months has hovered between S$1.5-2b. Friday's volume was 1.8b units worth S$2.31b.
Singapore economy moved to Phase Two reopening
Here, the big news was that the local economy would move into Phase Two of its opening on Friday, 19 June. In this phase, more businesses have been allowed to resume operations, provided they observe the mandated safety measures.
NODX fell in May but recovery could be on the cards
Singapore's non-oil domestic exports (NODX) fell 4.5% in May, the first monthly drop this year. This came after NODX grew 9.7% in April.
Despite May's fall, economists think there may not be much more downside going forward because more countries are opening their economies. The Business Times quote UOB's economist as saying there should be an uptick in pharmaceutical exports, which coupled with the increased demand for medical goods could mean that pharmaceutical-related exports would provide the growth for NODX.
Maybank Kim Eng (MKE) in its 17 June report, said there are "green shoots of recovery'' in June as reflected in South Korea's exports for the first ten days of June, which jumped by +20% on the back of chip sales.
"The export downturn in this pandemic recession may be shallower as compared to past recessions. NODX plunged by -11% in 2009 (Global Financial Crisis) and -15% in 2001 (tech recession)…''

"Circuit breaker measures have had little impact on manufacturing and exports, as they are largely regarded as "essential services". The Covid-19 crisis appears to be more of a services recession, a result of lockdowns, rather than a manufacturing recession'' said MKE.
Southern Alliance lodged IPO prospectus
Malaysian-based iron ore producer Southern Alliance Mining last week lodged its final prospectus with the local regulatory authorities, offering 76m placement shares at S$0.25 each for a Catalist listing. Of this offering, 20m are vendor shares.
Stocks in play – SIA, iFAST
UOB Kay Hian last week downgraded Singapore Airlines to a "sell'' with a price target revised down from S$4.35 to S$3.80. The broker said there is significant uncertainty over the extent of the decline in traffic and load factors, which in turn affect cash burn.
"We also believe that border restrictions will only be gradually reopened and will focus on 'travel bubbles' corridors in Australia and parts of South East Asia'' said UOB Kay Hian. On Thursday when the report was issued, SIA's shares fell S$0.06 to S$4.07. They ended the week at S$4.
Fintech platform iFAST Corp was Friday's top gainer, gaining S$0.16 or almost 14% at S$1.31 after it confirmed that it is one of nine candidates that have been shortlisted for a digital wholesale bank licence. Up to three digital wholesale bank licences are available.
The outlook
Wall Street's Friday reversal could mean a weak opening for the local market on Monday. However, because the market here already dropped sharply on Friday, more steep losses on Monday are unlikely – unless there are fresh developments that send the US futures market lower.
The Business Times on Saturday quoted UOB Kay Hian research head Adrian Loh as saying although the STI's rally appears to have run out of steam, it is unlikely to plumb new depths in the near term.
"With subdued near-term inflation and aggressive monetary policies globally, interest rates will likely remain low for an extended period. This may drive market multiples higher despite deteriorating earnings estimates. We continue to believe that equities will benefit relative to cash or bonds''.
US Stocks closed lower on Friday afternoon after Apple said it would shut some stores in states including Arizona, Florida, and the Carolinas because of rising coronavirus cases. Investors' worst fear in recent weeks has been that new outbreaks of the virus would lead to the reimposition of economically disruptive stay-at-home orders and other restrictions.
After having been up more than 300 points, the Dow Jones Industrial Average  closed down 209 points, or 0.6%. The S&P 500 and the Nasdaq Composite lost 0.6% and gained 0.03%, respectively, both giving up sizeable earlier gains. Apple shares closed down 0.6% after having been up close to 1% earlier in the day.