Date: November 9, 2020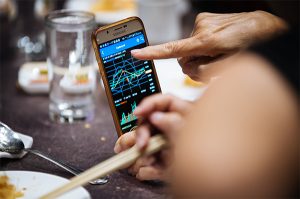 The US Presidential elections was the main focus;
Wall Street had its best election rally since 1932;
The Straits Times Index surged 155 points or 6.4% to 2,578.68;
Most analysts reckon a Biden victory would boost Asian stocks, Singapore included;
US Fed kept its policy steady;
All three local banks' Q3 earnings beat consensus estimates;
SIA reported record 1H loss of $3.47b;
CDL appointed Deloitte to study its investment in Sincere Properties.
Biden vs Trump was the central focus
Up to the start of the week conventional wisdom was that a victory in the US presidential elections for incumbent Donald Trump would be good for equities because of the business-friendly policies that the Republican party would pursue.
Yet even before the elections started in earnest on Tuesday, 3 November, Wall Street and most other stock markets started rallying, the logic being that it didn't matter who won because a large stimulus bill would have to be crafted by the winning party.
As the vote count started and the tallies suggested that Democratic challenger Joe Biden might win, the market rallied even more strongly, even though conventional wisdom is that his party would raise corporate taxes and perhaps be less business friendly than the Republicans.
The strong rally lasted four days but tapered off on Friday when the vote count, although still pointing to a Biden victory, was still inconclusive. The net result was that the Dow Jones Industrial Average advanced nearly 6.9% for the week, the S&P 500 gained 7.3% and the Nasdaq Composite rallied 9%. All three experienced their strongest week of gains since April.
Despite the rally stalling on Friday, the S&P 500 still posted its second-best performance for any presidential election week on record, and its best since the 1932 election.
The impact here was remarkable – the Straits Times Index surged 155 points or 6.4% to 2,578.68 for the week. On Friday, benchmark indexes for the neighbouring markets of Jakarta, Kuala Lumpur and Bangkok were up 1.43%, 1.21% and 0.48% respectively.
US Fed kept policy steady
The US Federal Reserve met on Thursday and kept its loose monetary policy intact while pledging to do whatever it can in the coming months to sustain a US economic recovery that's losing speed amidst the spreading COVID-19 pandemic.
Fed chair Jerome Powell said although the economy is still growing, he "would not say that anybody is feeling comfortable about this''.
"A full economic recovery is unlikely until people are confident that it's safe to engage in a broad range of activities'' he said, adding that the recent surge in virus cases was particularly concerning.
Biden victory would be good for Singapore stocks: DBS Research
In a monthly strategy report, DBS's research team noted that Mr Biden is likely to end the United States' trade war with the EU, and adopt a more open and negotiable approach with China, with tariffs being reconsidered or removed.
This would be positive for Asia and especially Singapore, given the city-state's small and open economy. Companies that have production facilities in China and sales exposure to the US are some of those poised to benefit from a Biden victory, the DBS analysts said.
DBS also said that a "blue wave'' ie a win for Mr Biden with the Democrats sweeping both houses of Congress, would be a bonus and preferred, as it should lead to the smooth passage of a second US fiscal stimulus.
On the other hand, should Mr Trump win a second term, there may be more uncertainty, the analysts noted. They pointed to risks of worsening US-China trade tensions and the acceleration of manufacturing relocations out of China.
If Biden wins, Asian stocks are a good bet
Bloomberg reported on Tuesday that BlackRock had upgraded Asia ex-Japan and emerging market equities to overweight on expectations of a "blue wave'' Democratic sweep – also known as a "blue wave", whilst JPMorgan & Co a week earlier said that overweighting emerging Asian equities and currencies was the safest trade going into the polls, provided investors believe Mr Biden will win.
Singapore banks reported Q3 results
The three local banks last week released their Q3 results. Year-on-year, UOB's net profit was 40% lower at $668m, OCBC's was 12% down at $1.02b and DBS's was 20% weaker at $1.3b.
The figures were said to have beaten analysts' estimates. The banks also struck a cautiously optimistic tone as regional economies pick up pace, and said they have ample provisions to tide through uncertainties ahead.
DBS chief Piyush Gupta was quoted in the press as saying it is tough to tell the extent of defaults and debt moratoriums are still masking the true damage from the ongoing COVID-19 pandemic.
OCBC said it does not expect a fresh wave of moratorium requests amidst the extension of targeted debt holidays in Singapore. At UOB, the proportion of the bank's loan book under moratorium has fallen to 10% from 16% in July, largely because of the expiration of blanket loan moratoriums in Malaysia.
SIA's net loss for 1H 2021 was a record $3.47b
Singapore Airlines on Friday reported a net loss of $3.47b for its first half ended 30 September. Its Q2 loss was $2.3b, twice the 1Q loss of $1.1b. Revenue for the first half was 80% down at $1.63b compared to $8.3b for the previous year.
CDL appointed Deloitte to look into Sincere Property investment
Property firm City Developments Ltd (CDL) said it has appointed Deloitte & Touche Financial Advisory and an external adviser to evaluate CDL's investment in China-based Sincere Properties.
This is after CDL director Kwek Leng Peck resigned last month, citing disagreements with the Board and management over the investment in Sincere, as well as their management of London-based Millenium & Copthorne Hotels.