Date: August 16, 2021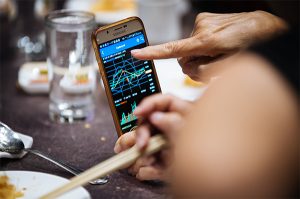 The STI fell 12 points or 0.37% to 3,165.49 after earlier hitting 3,207;
Banks were the main drivers;
Singapore's full-year GDP growth revised upwards to 6-7%;
Wall Street indices set more all-time highs, investors ignored inflation data and focused instead on earnings, US$1 trillion infrastructure Bill;
Trading volatility in banks inching upwards: SGX;
Venture still a good bet despite component shortages: analysts;
CDL's hotel business shows signs of recovery;
CapitaLand reported an almost 10-fold jump in 1H profit
A holiday-shortened week saw the Straits Times Index undergo a fairly volatile five days in which banks and Singtel were its main movers. Providing the backdrop as always was Wall Street, where the major indices continued to set all-time highs as investors appeared to shrug off higher-than-expected inflation data as "transitory'', rising concerns over the spread of the Delta variant of the Covid-19 virus and focus instead on earnings.
Domestically, there was good – if not unsurprising – news that the Ministry of Trade and Industry (MTI) has upwardly revised Singapore's full-year GDP growth forecast from 4-6% to 6-7%.
MTI said whilst Covid-19 cases continue to rise globally owing to the spread of the highly transmissible Delta variant, vaccination rates have picked up in key advanced economies such as the US and Europe, which have allowed them to press on with their reopening plans and this will aid Singapore's growth.
Among the notable local corporate developments was news that Wilmar International's India unit is heading for a listing, CapitaLand's shareholders voted in favour of its restructuring, City Developments reported a first half loss but its latest figures indicated its business is picking up, and of a surge in GK Goh's shares after the investment firm announced it is selling its stake in corporate services provider Boardroom to a Temasek-related consortium.
After a solid start to the week that saw a big play on the banks, Friday's session was more downbeat, with the Straits Times Index weakening 17 points in quiet trading. The net outcome was a 12-points or 0.37% loss over the week at 3,165.49.
A firm start to the week…
On Tuesday, the first trading day after a public holiday on Monday, a 1.2% rebound in Hong Kong's Hang Seng Index, which had been battered earlier because of China's regulatory crackdown on sectors like education and technology, helped the Straits Times Index surge 30 points or almost 1% past the troublesome 3,200 level to 3,207.
Over on Wall Street, The Dow industrials and the S&P 500 closed at record highs on Tuesday after a US$1 trillion infrastructure bill cleared the Senate.
Tuesday's large jump in the STI was led mainly by the banks, Singtel and SIA and was also in response to last Friday's Wall St rally that came after a strong July jobs report.
US Government bond prices fell on Tuesday, with the yield on the 10-year U.S. Treasury note up 2.6 basis points—or hundredths of a percentage point—to 1.342%.
Didn't last as the index fell below 3,200 the next day
However, the STI's grip on 3,200 did not last long however – on Wednesday, a selloff in banks saw the index lose almost 0.9% and close at 3,180.
On Wednesday, the major US indices again hit new highs despite news that the consumer-price index rose 5.4% in July year over year, a touch higher than the 5.3% economists had predicted, while it increased 0.5% from June, in line with expectations. The consensus was that thus far, the uptick in inflation seen in a few indicators was only temporary.
The US market continued to inch higher over the rest of the week, the Dow Jones Industrial Average on Friday adding 16 points at a new record high of 35,515.
Gain in banks was in line with global peers, trading volatility has ticked up: SGX
In a 12 Aug market update on the local banks, SGX's educational portal My Gateway reported that after averaging a 19% total return in 1H21, DBS, OCBC and UOB have extended their average 2021 YTD total return to 24%.
"While earnings and local economic developments have continued to firm over the past six weeks, the gains were in-line with the largest global banks by market value'' said My Gateway.
It also reported that beyond the recent returns to investors, the tradability of the three banks has moderately increased since the end of the 2Q21.
"During 1Q21, the trio averaged intraday volatility of 18% and an amplitude of 123 basis points ("bps") between daily high and low. In 2Q21 these tradability gauges both declined, to 16% average intraday volatility and daily amplitude of 108 bps'' said My Gateway.

"However, for the first month of 2H21, the average intraday volatility and daily amplitude of DBS, OCBC and UOB increased to 18% and 125 bps. This coincided with the 30-day volatility of Global Bank Indices rising from 12% at the end of June to 17% at present''.
Venture still a good bet despite component shortages: analysts
The Business Times reported that analysts from CGS-CIMB, Maybank Kim Eng and RHB have, over the past week, drawn attention to the fact that Venture Corp has been affected by component shortages, but they still remain positive on the stock.
RHB's analyst was quoted saying he liked the fact that Venture has put in place strategies to improve access to raw materials, whilst MKE's analyst said he liked that the company is redesigning the circuitry of its products to use alternative components.
RHB maintained a "buy'' on Venture with a S$23 target while MKE's target is S$25.13.
City Developments' hotel business looks like turning around
On Thursday, City Developments (CDL) reported a net loss of S$32.1m for its first half but added that there are signs its hotel business is improving as all regions reported positive gross operating profit for the second quarter.
CDL's executive chairman Kwek Leng Beng was quoted in the press saying he expects a stronger rebound by the end of this year with further upside once travel restrictions are lifted.
"A lot of people say that the hotel industry will recover in four years' time. But I believe, having specialised in this field, that it'll recover some time this year, or early next year'' he said. "Let's not write it off. We can already see many of our hotels beginning to recover, even in the US, UK and France''.
On Thursday, CDL's shares rose S$0.15 or 2.27% to S$6.76. They added S$0.07 to S$6.83 on Friday with 3m done.
CapitaLand's 1H profit rose almost 10 times
On Friday, CapitaLand reported a net profit of S$922.2m for the first half ended 30 June compared to S$96.6m for the same period last year. This was thanks to better operating performance, higher gains realised from asset recycling as well as the absence of revaluation losses from its portfolio of investment properties.
The company's share price has been gradually rising over the past few weeks and closed one cent higher on Friday at S$4.10 on volume of 7.6m.