Date: April 13, 2020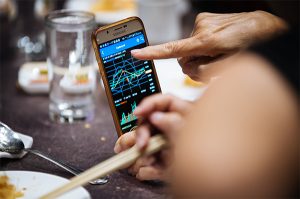 Wall St gained 12% on hopes that the Fed's money printing can save the US economy;
The Straits Times Index followed suit, rising 7.6% over the four trading days;
Oil prices rallied – then fell on Thursday;
Singapore Government unveiled a S$5.1b Solidarity Budget;
SGX RegCo announced suspension of entry into its Watch List and new rules for fund-raising by mainboard companies;
US jobless claims surge to new records, unemployment could be 15%

US Federal Reserve helped backstop Wall Street
A few weeks ago, Wall Street's belief was that central banks like the US Federal Reserve would not be able to beat the economic downturn brought by Covid-19. Since then, the Fed has unveiled "QE-Infinity'', which stands for infinite quantitative easing, ie. Limitless monetary easing in order to backstop all financial markets via buying of every kind of financial instrument that is currently available in every market.
No one knows what the endgame of limitless money printing might be – one observer has said we will know it when we get there – but for now, the Fed's promises have supported US stocks, and with them, markets around the globe.
An oil price rally helped
Also helping has been a rebound in oil prices on hopes of cuts in production; however, prices fell on Friday after OPEC announced cuts of 10 million barrels per day.
According to some observers, the market thinks this is not sufficient: one analyst was quoted as saying Friday's drop collapse is that although OPEC is cutting as expected, "there is simply too much crude in the physical space for sale, with too few pipelines to move it and too few buyers to take it''.
Still, the promise of large-scale monetary support has supported stocks, led by Wall Street, where the major indices gained 12% over the week. Here, the Straits Times Index's movements were probably driven as much by short-sellers and short-covering than by Covid-19 news, resulting in the index rising 31.88 points on Thursday to 2,571.32, a rise which brought its gain in a volatile week to 182 points or 7.6%.
Singapore Government released a S$5.1b Solidarity Budget
During the week, the Singapore Government announced a S$5.1b "Solidarity Budget'' which supplements the earlier Resilience and Unity Budgets this year. This brings the Government's support to around S$60 billion, including funds to be drawn from past reserves.
SGX RegCo steps up efforts to help companies
Stock market regulator SGX Regco last week announced it will suspend entry of loss-making companies into its Watch List and also give expedited clearance to fund-raising efforts by mainboard issuers.
It was placing issuers on its Watch List might cause "undue prejudice to companies navigating the business challenges in this climate''. To help mainboard companies raise cash, SGX RegCo will allow them to seek a general mandate for an issue of pro-rata shares and convertible securities of up to 100% of share capital, an enhancement to the previous 50% limit. It excludes treasury shares and subsidiary holdings in each class, and is effective from 8 April to 31 Dec this year.
The enhanced share issue limit is subject to conditions, such as confirmation from the Board that it is in the interests of the company and that it is in compliance with legal requirements.
US jobless claims were ignored – for now
For the week ahead, how the local market moves each day will depend on the market's expectations of how Wall Street might perform when it opens later that day.
On Thursday, the US market rose in response to the Fed's announcement of a US$2.3 trillion lending package and despite an announcement by the US Labor Department that for the week ended April 4, 6.6 million people filed for unemployment insurance. That follows an upwardly revised, and record high, 6.9 million in the previous week.
The three-week tally implies an unemployment rate approaching 15%, well above the 10% peak reached in the wake of the last recession. The rate was 4.4% in March data that mainly covered the early part of the month, up from a half-century low of 3.5% in February.
The Federal Reserve on Thursday set up new loan programs and bolstered existing ones in an effort to provide US$2.3 trillion in support for the economy essentially shut down due to the coronavirus.
In a statement, Fed Chairman Jerome Powell said the central bank is trying to "provide as much relief and stability as we can" during this period where Americans are staying at home to stop the spread of the pandemic.