Date: September 27, 2021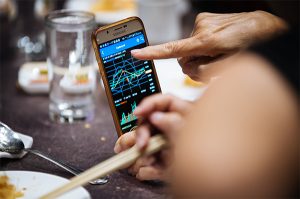 During the week, the Straits Times Index twice closed below 3,050
Over the five days the STI fell 10 points or 0.3% to 3.061.35
The main concern was contagion from China Evergrande's collapse
Investors also waited for outcome of US FOMC meeting
Wall St enjoyed relief rally after Fed's signals and China injected US$30b into banking system
In local news, CapitaLand Investment enjoyed stellar debut week
Society of Remisiers issued plan to restore vibrancy to Singapore market
China announced ban on cryptos, labels all transactions as illegal
The Straits Times Index twice closed below 3,050
From a technical perspective, perhaps the most notable developments last week were that the Straits Times Index closed below 3050 twice but managed to quickly regain the mark the next day.
On the one hand, optimists might take it to mean that 3,050 is where strong support lies, whereas on the other hand, pessimists might point to the fact that it wasn't that long ago that 3,100 was lost.
Whatever the case, the breaks below 3,050 came on Monday and Wednesday when the index closed at 3041.73 and 3048.05 respectively. On both occasions the selling was said to be because of a combination of factors – a weak and indecisive Wall Street and fears of a contagion fallout from the collapse of debt-laden China property group China Evergrande.
China Evergrande's debt problems and FOMC provided main backdrop
Investors also had to contend with a US Federal Open Markets Committee (FOMC) meeting held over Tuesday and Wednesday, which initially held some concerns as to the Fed's message about interest rates and when it might taper its money injections, but according to most reports and Wall St's reaction, went according to expectations.
Although Evergrande may be in trouble, market worries about ripple effects eased as the week progressed. Also helping was that the People's Bank of China on Thursday injected US$17 billion into the banking system after putting in US$13 billion earlier in the week.
The injections will help shore up the Chinese banking system, while U.S. banks are also said to be not even highly exposed to credit risk in China. Wells Fargo analysts on Thursday were reported saying none of the major U.S. banks have more than 1.5% of their assets tied to Chinese cross-border deals.
China's monetary injections helped calm Evergrande worries
As a result, early Wall St jitters that had led to weakness here gave way to a rebound later in the week with the major US indices turning in strong performances on Wednesday and Thursday.
This in turn enabled the STI to climb above the 3,050 barrier on Thursday; however, a disappointing 15.09 points loss on Friday at 3,061.35 meant that over the week, the STI fell 10 points or 0.3%.
Wither US interest rates and Fed tapering?
Perhaps surprisingly, the consensus was that the FOMC went according to expectations despite Fed officials signalling that interest rates could begin to move higher faster than previously expected just as they opened the door to trimming monthly bond purchases this year.
In its quarterly summary of economic projections, the Fed revealed that half of the FOMC's 18 participants now expect to lift interest rates at least once in 2022. Two members moved their so-called dots forward to predict raising interest rates next year.
As for when the Fed might start scaling back, or tapering its monthly monetary injections, it said "If progress continues broadly as expected the Committee judges that a moderation in the pace of asset purchases may soon be warranted''.
Notwithstanding the prospect that tapering may begin sooner rather than later, Thursday's large rebound on Wall St also saw the 10-year Treasury yield jump 10 basis points, from 1.32% to 1.42% before ending at 1.45% on Friday. However, it still remains below its 2021 high of 1.75%.
CapitaLand Investment enjoyed an outstanding first week
Real estate investment manager CapitaLand Investment (CLI) made its trading debut at S$2.95 on Monday and rose S$0.35 or 11.8% over the week to end at S$3.30. It was actively traded throughout.
CLI took over from CapitaLand Limited, which on Sept 9 ceased trading at S$4 per share. For every 100 CapitaLand shares, shareholders received S$95.10 in cash and 15.5 units of CapitaLand Integrated Commercial Trust. The total implied consideration was S$4.102 per share, with CLI shares valued at S$2.823 each.
CLI's listing comes after CapitaLand Limited restructured its business to form two distinct entities – CLI, the listed real estate investment management business; and CapitaLand Development, the privatised property development arm.
Goldman Sachs Equity Research and Morgan Stanley Research last week started coverage of CLI with "buy'' and "overweight'' recommendations, with target prices of S$3.64 and S$3.75 respectively. Prior to CLI commencing trading, UOB-Kay Hian had issued a 17 Sep report with a sum-of-the-parts target of S$3.64.
Morgan Stanley described CLI as a "deeply undervalued asset manager'' whose strengths, such as its Singapore Reit platform and strong property management fee contributions, have been overlooked by the market.
Society of Remisiers issued plan to revive Singapore market
In a letter to Business Times published on Friday, the Society of Remisiers proposed several measures to make the local stock market more vibrant, among them getting well-established government-linked companies like PSA, Changi Airports International and Surbana Jurong to list.
The proposals also call for the reinstatement of mandatory quarterly reporting, an increase in the amount of CPF funds that can be used for investment and increase in the size of the funds set aside by the government to support listings here from S$1.5b to S$30b.
China bans cryptocurrency trading
Bitcoin, Ethereum, and smaller coins tumbled Friday after the People's Bank of China and other regulators said all crypto-related transactions are illegal and must be banned.
The statement, signed Sept. 15 by several government agencies, lays down a tough new regime, reinforcing a ban on mining, warning of stiff penalties for trading and financial transactions in crypto, and promising to "severely crack down on criminal activities involving virtual currencies''.
Bitcoin, the world's largest crypto, fell 4% to US$42,400 after briefly dipping below US$41,000. Ethereum sank 7% to US$2,900, and legions of smaller tokens were down at least 5%.