Date: August 31, 2020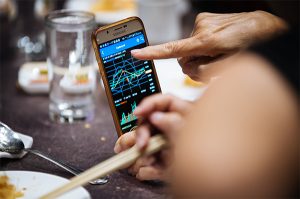 The STI continued to shrug off Wall Street's all-time highs, gaining just 11 points or 0.4% at 2,539.63;
US market was largely supported by hopes of a COVID-19 vaccine soon;
US Federal Reserve said it aims to keep monetary policy loose;
Rising US-China tensions played a part in capping prices here;
Malaysian property company Aspen proposed diversifying into glove making, shares rose to all-time high
Virus news helped provide some support, but local market not too impressed
The decoupling of the Singapore stock market from Wall Street extended into a second consecutive week last week when US stocks rose to new highs but the Straits Times Index instead underwent a largely nondescript five days, occasionally dragged lower by weak economic news and rising US-China tensions but sometimes rising in line with other regional markets.
The net result was an 11 points or 0.4% gain for the week for the Straits Times Index at 2,539.63, most of this coming on Friday when the index added 19.82 points.
Wall Street on the other hand, remained on an upward trend, mainly on seemingly positive news about possible vaccines to treat the COVID-19 virus. Throughout the week there was a slew of news on this front which helped propel the market higher despite warnings from experts that the optimism could be premature.
On Thursday for example, Abbot Laboratories was among the strongest gainers in the S&P 500, rising 7.8% following news that the federal government is expected to announce a US$750 million deal to buy the company's rapid-response coronavirus tests. The Food and Drug Administration granted emergency-use authorization to the company for those tests on Wednesday. Meanwhile, US President Trump promised a vaccine before the end of the year.
US Federal Reserve aims to keep interest rates low
US stocks were also supported by a bond market selloff after US Federal Reserve chair Jerome Powell's Thursday virtual conference where he announced that the central bank now expects to allow inflation to run above 2% in expansions to make up for shortfalls in inflation during economic contractions.
That implies that the Fed will keep policy loose and allow the jobs market to continue to improve even if inflation rises above 2% in coming months, to make up for the deceleration in price increases that occurred during the pandemic-driven contraction in economic activity.
Long-term Treasury yields climbed on the news as investors interpreted the news to mean that higher inflation is on the horizon. The 30-year yield climbed nine basis points, or hundredths of a percentage point, to 1.50% and the benchmark 10-year yield climbed six basis points to 0.74%.
US-China posturing continued
In the latest U.S. move against China, Washington on Wednesday blacklisted 24 Chinese companies and targeted individuals over construction and military actions in the busy South China Sea waterway.
In Hawaii, U.S. Defense Secretary Mark Esper said Beijing is using an aggressive military modernisation programme in a bid to project power globally, adding that the US will not "cede an inch of ground'' in the Indo-Pacific region.
In Beijing, China's Defence Ministry hit out at "certain US politicians" it said were damaging Sino-U.S. military ties in the run-up to the US's November election for their own selfish gain, even seeking to create military clashes.
"This kind of behaviour puts the lives of frontline officers and soldiers on both sides at risk," spokesman Wu Qian told reporters at a monthly briefing on Thursday.
In local news – losses continue to be reported
Airline handling agent Sats last week reported a first quarter loss of S$43.7m compared to S$54.7m for the quarter ended 30 June 2019. The company said the loss was due to "the sharp decline in aviation volume and the loss contributed by overseas entities'' and as a result said it would be reducing its headcount.
CGS-CIMB in a research report later upgraded its call on Sats from "reduce'' to hold'' and raised its target price from S$2.80 to S$3, whilst OCBC Investment Research maintained its "hold'' recommendation with a fair value estimate o S$2.93. Both houses said the worst could be over for the company that provides ground handling services for airlines. The stock on Friday rose S$0.05 to S$2.98 on volume of 5.2m.
Property company Wing Tai reported a net loss of S$16.8m for the second half ended 30 June, compared to a net profit of S$28.4m for the corresponding period last year. This is despite revenue rising 46% to S$187.5m. Wing Tai's full-year net profit to S$16m, down 66% from 2019's profit of S$46.8m. Its shares on Friday rose S$0.01 to S$1.71 on with 613,000 traded.
Stock in play – Aspen Group
Malaysian property firm Aspen Group's shares were in play last week, rising  63% or S$0.13 to an all-time high of S$0.335 on Monday after the company proposed diversifying into glove manufacturing. It plans to convene an extraordinary general meeting on its proposal on Sep 18 at the earliest, or not later than Sep 30. The stock finished the week at S$0.28.