Date: November 7, 2022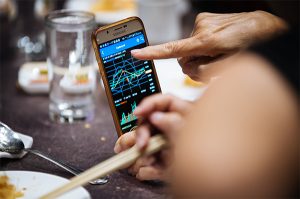 The US Federal Reserve threw cold water on hopes that it would shift to more accommodative stance soon
Despite the disappointment, the STI still managed a 2.3% rise thanks to strong bank earnings
US stocks rallied on Friday as Oct jobs report showed slight signs of weakness, reviving hopes of a Fed pivot
DBS reported 32% jump in Q3 earnings to a record S$2.24b
OCBC reported 31% jump in Q3 earnings to a record S$1.6b
Singapore Post reported S$9.9m first half loss due to exceptional item
SIA reported record 2Q operating profits, resumes dividend payout
No Fed pivot? No problem – STI rose 2.3% thanks to strong bank earnings
The Straits Times Index had risen sharply ahead of Wednesday's US Federal Open Markets Committee (FOMC) meeting, regaining both the 3,000 and 3,100 levels in quick succession in a fortnight. Also helping were strong earnings expected to the reported by the banks, who are the main beneficiaries of rising interest rates.
By the end of the week, although those hopes were dashed after the Fed reiterated its stand to continue fighting inflation, a hefty push on the three banks underpinned by their strong reported earnings helped the STI to post a 71 points or 2.3% gain for the week at 3,130.11.
For the week, UOB led the way with a S$1.34 or almost 5% rise to S$28.40. This was followed by DBS, which gained S$0.69 or 2% at S$34.47 and OCBC which added S$0.05 or 0.4% at S$12.04.
Daily volume was boosted by Monday, 31 October's month-end portfolio rebalancing volume of S$1.68b to a daily average of S$1.26b.
Initial Wall St disappointment…
The rally ahead of the FOMC meeting was based on hopes that the Fed would announce a "pivot'' or shift in its monetary policy towards a slower pace of rate hikes. The rally originated in Wall St, where stocks in October enjoyed their best month in decades.
On Wed, Wall Street stocks first rose strongly after news of a widely-anticipated 75-basis points rate hike that took the federal funds futures rate to 3.75-4%.
The rise was because the accompanying statement said the Fed would consider the "cumulative'' tightening effect of policy when it makes its next interest rate decision. This was taken to mean the Fed would moderate its future rate hikes.
Those hopes were laid to rest when Fed chairman Jerome Powell said at his press conference that the Fed "had a long ways to go" on interest rates and declaring that it was premature to talk about a pause in rate hikes.
Furthermore, he said that it was quite likely that they would have to raise interest rates to a higher level than they had expected just six weeks ago because the inflation picture had gotten "more and more challenging."
"No one knows if there is going to be a recession or not," said Mr Powell. "Our job is to restore price stability." He also said the Fed could reduce the size of the hikes in Dec or Feb to 50 points, but this would no way signal that the end of the rate-hiking cycle was nigh.
Bank of America Securities said, "it is more about the destination (the terminal rate) and less about the journey (the pace at which the Fed gets there)''. Standard Chartered analysts in the meantime, said "Hike slower, but end higher''.
…replaced by renewed optimism based on Oct jobs report
Despite the mid-week blip brought on by the absence of a Fed pivot, US stocks on Friday rallied after release of the Oct jobs report which reports said was strong but showed signs of underlying weakness that could lead the Fed to reduce or slow down the pace of its rate hikes.
The U.S. economy created 261,000 jobs last month, the Labor Department reported Friday, a number that was well ahead of economists' expectations of 200,000 positions added. However, the pace of job growth is slowing. The October number marks the fewest jobs added in a month since December 2020, when the economy actually shed positions.
Also, the unemployment rate rose to 3.7%, compared with 3.5% in September and the 3.6% consensus call among analysts surveyed.
DBS reported 32% jump in Q3 earnings to a record S$2.24b
DBS Group Holdings posted an increase in third-quarter earnings to a new record, with its net interest margin – a key gauge of a lender's profitability – returning to pre-pandemic levels as interest rates surged.
The bank reported net profit at S$2.24 billion, up 32 per cent from a year ago and 23 per cent from the second quarter. The results easily beat the S$1.87 billion forecast by analysts in a Bloomberg poll.
Net interest income for the third quarter rose 44 per cent year on year to S$3.02 billion on higher interest rates and growth in loans. DBS' net interest margin (NIM) soared 47 basis points year on year to 1.9 per cent.
But DBS chief executive Piyush Gupta flagged the risks of a recession in the United States and a consequent sharper slowdown in Asia if rates keep rising. As a precaution, the bank has set aside more allowances for potential bad debts.
"If rates (in the US) head to around 5 per cent, what impact that has on a slowdown in Asia and therefore potential credit is quite unclear… We have not seen this environment in a long time," Mr Gupta said at a results briefing on Thursday.
The board has declared a dividend of S$0.36 a share for the third quarter, bringing the payout for the first nine months to S$1.08 a share.
OCBC's Q3 net profit up 31% to S$1.6b
On Friday, OCBC reported a 31% increase in Q3 net profit to a record S$1.6b, 8% higher than the second quarter and beating consensus estimates of S$1.44b.
The bank's quarterly net interest income surpassed S$2 billion for the first time, up 44% to S$2.10 billion on the back of a 6 per cent growth in average asset balances and expansion of net interest margin (NIM).
NIM surged 54 basis points year-on-year to 2.06 per cent, with improved margins across the bank's key markets as the increase in asset yields outpaced the rise in funding costs.
OCBC CEO Helen Wong said she expects NIM for Q4 to above 2.1% and that it will be 1.8-1.9% for the full year.
The bank also set aside general allowances for potential bad debts, at S$76 million in the third quarter, in a nod to the uncertain economic climate and recession fears globally. In contrast, it wrote back or restored to profit S$22 million in general allowances in the same period last year.
Singapore Post reported S$9.9m first half loss due to exceptional charge
Despite attaining its highest half-year revenue ever, Singapore Post reported a net loss of S$9.9 million for the first half of the fiscal year ended September 2022, reversing from its profit of S35 million for the same period in 2021.
The fall was after taking into account an exceptional item, which was a fair valuation charge of S$21m, related to the acquisition of an Australian unit named Freight Management Holdings.
Earnings per share fell to S$0.0068 from S$0.0123 a year ago.
The board has declared an interim dividend of S$0.0018 per share for the half year, which will be paid to shareholders on Nov 30. For the same period in 2021, the group had declared an interim dividend of S$0.005 per share.
On Friday, SingPost's shares fell S$0.015 to S$0.525 on volume of 3.03m.
Singapore Airlines announced record operating profits for its Q2
On Friday, SIA reported operating profit for its second quarter ended 30 Sep was S$678m, up 22% from the previous quarter and the highest in its history. This brought its net profit for Q2 to S$557 million.
First half net profit was S$927 million, compared with a loss of S$837 million in the same period in 2021.
The company declared an interim dividend of S$0.10 per share (tax-exempt, one-tier), amounting to S$297 million, for the half-year ended Sept 30.
The dividend will be paid on Dec 22 to shareholders on the register as at Dec 12.