Date: October 31, 2022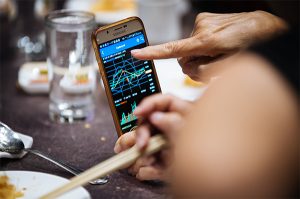 The STI rose 90 points or 3% to regain the 3,000 mark at 3,059.19
Banks drove most of the gains on expectations of record Q3 profits
Wall Street focused more on earnings than rates – for now
US negative economic news was good for stocks
US Treasury yields down from multi-year highs
Singapore's economic growth to slow in 2023: MAS
Sembmarine and Keppel O&M merger has been simplified
All eyes on the 2 Nov FOMC meeting
STI regained the 3,000 level thanks to large push on the banks
The Straits Times Index last week managed to regain the 3,000 when it rebounded 90 points or 3% to 3,059.19, led mainly by the three banks on expectations that they will deliver solid Q3 earnings thanks to rising interest rates.
On Friday, UOB reported a 34% jump in Q3 profit to S$1.4b, driven by record net interest income. This beat consensus estimates of S$1.2b, whilst annualised earnings per share was S$3.30 versus S$2.46 in Q3 2021. Not surprisingly, UOB's shares surged S$1.04 or 4% to close at S$27.06 on high volume of 7.1m.
DBS and OCBC also rose sharply. DBS gained S$0.97 or 3% at S$33.78 with 6.7m traded whilst OCBC added S$0.21 or 1.8% at S$11.99 on volume of 9.1m. Gains in the three banks helped the STI gain almost 44 points on Friday. Despite the strong showing by the index, gains on Friday were not broad-based – there were 247 rises in the wider market versus 271 falls.
Except for tech stocks, Wall St rose sharply
Wall Street as well, at least for the time being, spent its energies focusing on corporate earnings instead of worrying about interest rates, and as a result, US Treasury bond yields backed off from their multi-year highs, lending firmness to US stocks.
This was not the case with US tech stocks however, with disappointing earnings reported by Metaverse and Alphabet sending the Nasdaq Composite plunging.
Overall sentiment here was initially cautious but picked up in the latter stages of the week. Thanks to the high volume done in the banks, average daily volume was S$1.31b versus the S$1b average of the past few months. Friday saw the highest turnover for the week when S$1.56b changed hands. Of this, S$525m or about 34% was accounted for by the three banks.
Banks led the rebound on Q3 earnings expectations
According to a Friday report by The Business Times, analysts forecast net interest income (NIM) to expand by 20-30 basis points for Q3, more than the banks had previously guided.
For every 100 basis points hike in dollar rates, DBS guided for net interest income to grow by S$1.8 to S$2 billion, said the report, whilst OCBC said it had expected NIM to expand by 18 points and UOB had said it expected a 12-16 points expansion. As it turned out, UOB's actual NIM expansion was 40 points year-on-year.
The report also said most analysts have maintained their "buy'' calls on the banks on expectations of higher dividends for FY2022. For example, UOB-Kay Hian raised its target price for DBS from S$39.50 in the previous quarter to S$45.75 and that of OCBC from S$14.75 to S$16.82. CGS-CIMB raised its target price for OCBC from S$14.20 to S$15.50 and maintained its S$35.60 target for UOB.
Singapore's economic growth to slow in 2023: MAS
In its half-yearly macroeconomic review last Thursday, the Monetary Authority of Singapore said economic growth here is expected to slow to a pace that is "below trend'' next year, weighed down by manufacturing and financial services.
It said manufacturing shrank 3.2% in the third quarter, with electronics output down 13.3% in the same period. The finance and insurance sector also weakened over the past two quarters, led by poorer output in banks.
MAS also described the global economy as being in a "precarious state, with growth weakening even as inflation stays high'' a divergence which is expected to remain for at least several more quarters.
However, it kept its 2022 GDP growth forecast unchanged at 3-4%.
Merger of Sembmarine and Keppel O&M has been simplified
Sembmarine and Keppel O&M (KOM) have simplified the terms of their proposed merger, giving Sembmarine a better deal in the process.
Sembmarine will now directly acquire KOM from Keppel Corp at an improved equity exchange ratio of 46:54 versus 44:56 previously, that translates to an 8% or S$378m reduction in KOM's purchase consideration to S$4.5b. Sembmarine will also retain its listing status and issue 36.8b new shares to Keppel, 3.1b less than previously.
There will no longer be a need to form a separate structure to hold both Keppel O&M and Sembcorp Marine. The simplified structure would only require majority approval by Keppel's and Sembcorp Marine's shareholders. Court approval and the transfer of listing status from Sembcorp Marine to a separate entity will also no longer be required.
Consequently, both Keppel and Sembcorp Marine are targeting to complete the proposed combination by the end of 2022, much earlier than planned.
On Friday, Keppel's shares rose S$0.31 or 4.7% to S$6.96 on volume of 9.4m whilst Sembmarine ended S$0.004 or 3.3% higher at S$0.126 on turnover of 408m.
On Wall St, bad news for the economy is good news for stocks
On Monday, the S&P US manufacturing Purchasing Managers Index read 49.9, missing estimates for 51.8 and down from the last reading. Slowing economic demand could mean slowing inflation – and slower rate hikes.
"US stocks got a boost from another round of decent earnings and as softening economic data that supports the argument for the Fed to downshift its tightening pace after next week's policy meeting," wrote Edward Moya, senior market analyst at Oanda.
The S&P Case-Shiller U.S. home price index declined 1.6% month over month, extending declines from the prior reading. That might also be good news for the stock market.
On Friday, stocks rallied strongly partly because the Core Personal Consumption Expenditure Index, the Fed's preferred measure of inflation, gained 0.5% month over month in September, just below estimates.
That continues the narrative that the rate of inflation can keep declining — and that the Fed can soon slow down the pace of interest rate hikes.
"This is a big reason why financial markets anticipate for short-term interest rates to peak in early 2023, and for the Fed to start pivoting to a less restrictive monetary policy by the second half of next year,' wrote Bill Adams, Chief Economist for Comerica Bank.
US Treasury yields fall from their highs
The two-year Treasury yield, a barometer for expectations for the federal funds rate, dipped to 4.422%, under its multi-year high of just over 4.6%. The 10-year Treasury yield ended at 4.016% on Friday.
All eyes on the 2 Nov FOMC
The US Federal Reserve meets this week and is widely expected to raise short-term rates by 75 basis points for the fourth time since June. Investors are hoping for guidance that rate hikes thereafter will be smaller.