Date: April 19, 2021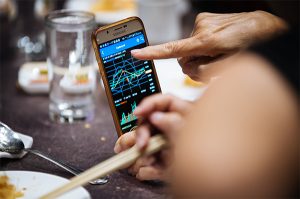 STI rose 17 points on Friday to close at 3,201.76;
All the index's weekly gain came on Friday;
Record highs on Wall St provided main external backdrop;
US market was supported by strong retail sales, fall in bond yields;
Singapore economy posted 0.2% growth in 1Q; NODX jumped 12.1%;
China's economy grew 18.3% in 1Q;
Traditional IPOs tend to perform better than SPACs;
Thai Beverage deferred spinoff plans;
Singtel shares were in play on hopes of strategic changes;
Maybank Kim Eng recommended switching from growth to value.
Economic recovery hopes continued to drive stocks
The underlying narrative for last week remained the same as it's been for the past few months – investors banking on an economic recovery around the world as more countries push ahead with their vaccinations and central banks remaining accommodative by keeping interest rates depressed.
Still, whether or not prices have outpaced their fundamentals is a valid consideration and is surely at the back of the minds of many. Last week, the Straits Times Index turned in an unspectacular first four days, not really looking like it would be able to break above the 3,200 level that it crossed briefly earlier in the month.
All the STI's weekly gain of 17 points or 0.5% at 3,201.76 came on Friday
It did however, manage to do this when it ended Friday at 3,201.76, the week's entire rise of just over 17 points or 0.5% coming on that day when the index rose 16.99 points.
Providing external support was a firm Wall Street, where the Dow Jones Industrial Average crossed 34,000 for the first time during the week and stayed above this level. Part of the push on US stocks came from strong retail sales data as US consumers received their stimulus cheques from the government, whilst US Treasury yields fell, with the 10-year dropping below 1.6%.
Positive news on the domestic economy
There were two notable developments on the domestic economic front. The first came early in the week that GDP grew 0.2% in the first quarter, reversing the 2.4% contraction in the 4th quarter of 2020 and beating the 0.5% contraction that the private sector had forecast.
Q1's growth was largely buoyed by the manufacturing sector, which grew 7.5% after 10.3% in the previous quarter.
The official forecast for the full year is for 4-6% growth; Maybank Kim Eng is forecasting 6.2%, while Citi is expecting up to 7% if borders open earlier than expected.
The second came on Friday, that non-oil domestic exports grew 12.1% year-on-year in March, fuelled mainly by semiconductors as well as non-electronic shipments. A Bloomberg poll had predicted a 2.6% rise.
China's GDP jumped 18.3% in 1Q
China posted an 18.3% surge in GDP growth for the first quarter, but this was heavily skewed by the plunge in activity a year ago. Still, it was the fastest growth since quarterly records began in 1992 and up from 6.5% in 4Q 2020.
Traditional IPOs tend to outperform SPACs
According to a Bloomberg news report, this year's Special Purpose Acquisition Companies (SPACs) are trading about 1.2% higher on average versus 36% for regular IPOs. "The strong performance for traditional listings signals there is brisk appetite for new companies coming to market, while investor sentiment towards SPACs is cooling'' noted Bloomberg.
The news agency quoted Stephane Monier, chief investment officer at Lombard Odier & Cie as saying "The billions of dollars that have flowed into SPACs over the past year means there's much more competition for attractive takeover targets, which diminishes the prospects of lofty returns for blank cheque firms''.
Thai Beverage to defer spinoff plans
Thai Beverage said it will defer the spinoff and listing of its subsidiary BeerCo on SGX because of market uncertainty that is aggravated by the worsening COVID-19 situation in Thailand and other countries.
Singtel was in play on hopes of strategic changes
Singtel shares jumped S$0.12 or almost 5% on Friday to a 9-month high of S$2.55 on volume of 91.4m on hopes of an upcoming announcement of strategic changes.
According to news reports, new chief executive Yuen Kuan Moon may sell off lossmaking businesses, spinning off infrastructure assets and creating value in underappreciated assets.
Maybank Kim Eng recommended switching from growth to value
In a 16 April Singapore Strategy note, Maybank Kim Eng said growth stocks have massively outperformed their value peers in Singapore during COVID-19 and pointed out that the tide is turning with an ongoing rotation towards value.
"The value-heavy STI is up 12% YTD and we expect value rotation to accelerate going forward. Earnings expectations are rising for value stocks, whereas incremental prospects for growth stocks are better known'' said the broker.

"Our refreshed top picks basket have a higher weightage towards value: AREIT, AEM, CD, DBS, FR, FRKN, OCBC, QNM, ST, THBEV, while we upgrade our 12-month STI target to 3,537 for 11% upside''.