Date: December 16, 2019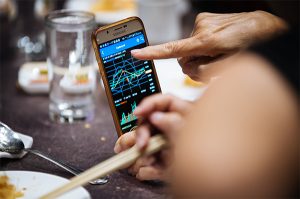 The STI gained 20 points or 0.6% at 3,214.05 over the week;
US and China set to sign Phase One trade deal in January;
Dec 15 tariffs averted, US to cut existing 15% tariffs in half;
China to call off retaliatory tariffs;
Markets appeared unimpressed by lack of details;
UK Conservative Party wins landslide victory in general election, clean Brexit back on cards – except maybe for Scotland;
US Fed kept rates steady, signalled no hikes expected next year;
Private sector economists more optimistic for Singapore's economy next year
US-China agree on Phase One deal
After two years of posturing and to-and-froing, the US and China last week signed a Phase One trade agreement that avert new tariffs scheduled to be implemented on 15 Dec.
One concession is that Washington will slash in half the 15 per cent tariffs imposed on US$120 billion in Chinese goods, like clothing, that were imposed Sep 1 and had a bigger impact on American shoppers than previous rounds.
However, US PresidentTrump said existing tariffs of 25 per cent on US$250 billion of Chinese imports would stay in place pending further negotiations on a second phase deal.
In return, US officials say, China is committed to increasing purchases in four sectors: agriculture, manufacturing, energy, and services. China's Vice Finance Minister Liao Min told reporters that Beijing would also call off retaliatory tariffs planned to respond to the US's planned 15 Dec tariffs.
Vice Commerce Minister Wang Shouwen said the initial agreement includes strengthening protection of intellectual property rights, expanding market access and safeguarding rights of foreign companies – issues at the heart of US complaints.
U.S. Trade Representative Robert Lighthizer said the signing of the Phase One would take place in Washington on the first week of January. Both Trump and Chinese officials at a news briefing trumpeted the agreement, but neither offered clarity on how much farm goods Beijing was obligated to purchase.
Observers not particularly impressed
Investors and markets were unimpressed by the announcement.
 "A Phase One deal, while a step in the right direction, does little to alleviate the larger trade issues between the U.S. and China that will no doubt continue to weigh on global markets well into 2020," said Lindsey Piegza, chief economist at Stifel Financial in Market Watch's market report "Treasury yields slide as announcement of US-China trade deal disappoints''.

"Conflicting reports on the Phase One deal are likely to continue to whipsaw the markets, as the 'amazing deal for all' has many unanswered questions," wrote Ward McCarthy, chief financial economist for Jefferies in the same report.
Boris Johnson wins big mandate – but what about Scotland?
Over in the UK, there was greater political clarity after incumbent Prime Minister Boris Johnson's Conservative Party won a landslide victory in a general election, handing the opposition Labour Party its worst defeat since 1935. The result should boost Mr Johnson's efforts to get Brexit done by next month.
However, in Scotland, the Scottish National Party made big gains across the board, prompting leader and Scotland's First Minister Nicola Sturgeon to say it had been an "exceptional night" for her party.
She said Scotland had sent a "very clear message" that it did not want a Boris Johnson Conservative government and the prime minister did not have a mandate to take Scotland out of the EU.
It was also a "strong endorsement" for Scotland having a choice over its own future in another independence referendum, she added.
US Federal Reserve kept rates unchanged
In its final Open Markets Committee meeting for the year, the US Federal Reserve kept interest rates unchanged, whilst the dot plot of individual members' expectations showed they do not expect any hikes in 2020.
"The Committee judges that the current stance of monetary policy is appropriate to support sustained expansion of economic activity, strong labor market conditions, and inflation near the Committee's symmetric 2 percent objective," the post-meeting statement said.
In local news
The Singapore economy is expected to grow 0.7 per cent this year, according to private-sector economists polled in a quarterly survey by the Monetary Authority of Singapore (MAS) last week. This forecast is higher than the 0.6 per cent growth forecast in the previous survey.
The revised forecast came after the economy grew by 0.5 per cent in the third quarter, higher than the 0.3 per cent projected by respondents in the previous survey.
Economists polled now say they expect growth in the fourth quarter to come in at 1 per cent year on year. They tip growth to rise to 1.5 per cent next year, down slightly from 1.6 per cent previously. However, the range of forecasts has tightened to 1.5 to 1.9 per cent, from 1 to 1.9 per cent. The Government's own forecast is for 0.5 to 2.5 per cent growth in 2020.
The economists in the latest survey are more optimistic about manufacturing, expecting the sector to shrink by 1.4 per cent this year – a big improvement from the 2.4 per cent contraction predicted in the previous survey. On average, economists see a manufacturing recovery next year – with a median forecast of 0.7 per cent growth.