Date: September 16, 2019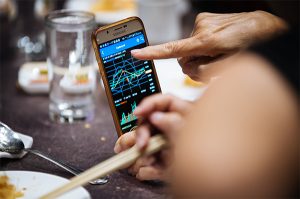 The STI rose 67 points or 2.1% over the week to 3,211.49 on hopes that US and China will settle their trade problems;
ECB's rate cut and bond buying programme also helped;
The US Treasury yield curve righted itself after inverting repeatedly recently;
All eyes to this week's FOMC meeting;
Analysts warn against relying too much on central bank bailouts
As the saying goes, hope springs eternal. This was very much evident last week when markets bounced up on hopes that the US and China will be able to reach an amicable settlement to their trade differences which have plagued markets for most of the past two years.
It was also evident in the bond market, where prices fell and yields rose, correcting the yield curve inversion that had occurred several times last month and had prompted worries that a recession lies ahead.
Gestures of goodwill prompt hopes that trade agreement might be possible
Last week China released a list of 16 US imports that will be exempted from tariffs in the ongoing trade war between the world's two largest economies, including anti-cancer drugs and animal feed.
Even though there are still more than 5,000 items that will still be taxed, and even though significant US exports to China, like pork, soybeans and American-made cars, are among the goods that will still be hit by the hefty taxes, analysts viewed the move as a gesture of goodwill ahead of talks between the two countries scheduled for next month.
In response, US President Trump said tariffs on Chinese imports which are due to take effect on 1 Oct will be delayed by 2 weeks.
Analysts are cautious
BBC News quoted ING's China economist Iris Pang as noting that the exemptions will help China's own economy.
"There are still many uncertainties in the coming trade talks," she wrote in a note. "An exemption list of just 16 items will not change China's stance."

The Business Times on Friday quoted FXTM market strategist Han Tan saying "Recent history has only shown how quickly bouts of optimism can unravel, dashed by the erratic and unpredictable nature of the US-China trade impasse. This ensures a lingering air of caution over global markets, even as risk assets are given another opportunity to make hay while the sun shines''.

"Financial markets are now firmly positioned for central bank love globally, but I feel the new-found bullish consensus is built on fragile foundations''.                                                
The FOMC and other central banks – how much more can they do?
Markets will also be waiting to see what the US Federal Reserve says and does at this week's Federal Open Markets Committee meeting to be held on Tuesday and Wednesday.
On Wednesday last week, US President Trump renewed his call for lower interest rates and his criticism of the Federal Reserve, by calling the Fed "boneheads'' and pressing for the central bank to cut short-term rates to "ZERO, or less," negative rates that the U.S. avoided even after the 2008 financial crisis.
So far, there have been strong hints from Fed chairman Jerome Powell that an interest rate cut will be delivered, but it's worth noting that an increasing number of observers are questioning the wisdom and the viability of such a move.
Some warn that pushing short-term interest rates to near zero could signal that Fed officials expect a much deeper economic downturn and that this could have the unintended consequence of triggering a major drop in confidence in the economy that could precipitate a recession.
In "The Perils of Negative Rates and Yields'' on 11 Sep, Straits Times Associate Editor Vikram Khanna wrote that monetary policy "has been overburdened and overstretched because politicians don't want to do what it would really take to revitalise their economies''.
"In the US, the Federal Reserve is expected to fix the damage from the trade war because China on trade is politically popular and the administration wants to keep trade tensions simmering, but still wants a buoyant economy. So cutting interest rates has become the only game in town'' wrote Mr Khanna, who recommended central banks push back  and not pursue monetary policies that have done more harm than good.
ECB cuts interest rates, embarks on more bond buying
Adding to support for stocks was a Thursday interest rate cut by the European Central Bank further into negative territory, decreasing it by 10 basis points to negative 0.5%. The ECB also announced it would restart its monthly bond-buying program as it attempts to lift a moribund Eurozone economy.
Among other measures, the ECB also extended its so-called forward guidance on rates, saying they wold remain at "present or lower levels" until the inflation outlook "robustly" converges with the bank's target inflation rate of near but just below 2%.
Local market – liquidity still not great
Notwithstanding the rise in blue chips over the week, daily volume has not picked up from the uninspiring daily average of S$1b for most of this year. On Friday for example, only 939m units worth S$938.5m were traded.
The STI has been driven mainly by the banks and Jardine stocks over the past few weeks, the former because of interest rate movements and how they might affect profits, and the latter because of developments in Hong Kong.