Date: April 20, 2020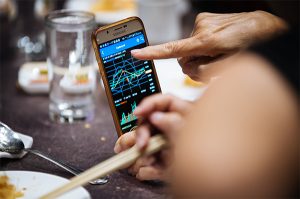 The STI gained 43 points or 1.7% over the week;
Markets were supported by hopes that some economies might reopen soon;
US stocks also boosted by report of encouraging drug test;
In Singapore, S-REITS were in focus after new regulatory help was announced;
China's GDP shrank 6.8% in Q1;
Singapore's March exports surge a surprising 17.6%;
US job losses continue to mount
Singapore stocks rise in line with other markets on hopes that economies may reopen soon
The Straits Times Index rose 43 points or 1.7% over the week to 2,614.20, tracking movements on Wall Street and news flows surrounding the COVID-19 outbreak.
Support for stocks came announcements by some countries like Germany and the US that they may partially reopen their economies soon, whilst pressure came from the disappointing economic and earnings numbers that were reported.
Report of encouraging drug test pushed Wall Street higher
Wall Street was also boosted by news that a drug test by US company Gilead Sciences showed some promise in treating the virus. As a result, US stocks rose sharply for a second consecutive week, bringing the Dow Jones Industrial Average's gain to 15% over the last 10 trading days. Nasdaq's 17% gain over the same period was its best since 2001.
S-Reits in focus after new measures were announced
Regulatory authorities on Thursday announced new measures to provide relief for Singapore-listed real estate investment trusts or S-REITS. First, the Ministry of Finance (MOF) and the Inland Revenue Authority of Singapore (IRAS) said they are extending the timeline for S-REITS to distribute at least 90% of taxable income from 3 to 12 months after the end of FY2020 to qualify for tax transparency.
This extension is applicable only for distributions made from taxable income derived by an S-REITS in FY2020.
Second, the Monetary Authority of Singapore (MAS) said it is raising the leverage limit for S-REITS from 45 to 50% immediately, as well as deferring the implementation of the new minimum interest ratio (ICR) requirement to 1 Jan 2022.
In a public consultation last year, MAS had proposed to require S-REITS to have a minimum ICR of 2.5 times before being allowed to raise their leverage ratios from 45 to 50%.
Phillip Capital in a 17 April report on S-REITS in which it maintained an "overweight'' on the sector, said that S-REITS have largely moved in lockstep and have been known to be conservative, with sector average gearing in the 33% to 36% range, below the previous 45% leverage limit.
"The COVID19 situation may be the re-rating catalyst that helps S-REITS overcome their prudence and tap into their gearing headroom. With interest rates expected to remain low to aid business recovery, REITS will likely resume the acquisition momentum once we are out of the virus pandemic, which may lead to a strong recovery for the S-REITS sector'' said the broker.

RHB said "S-REITS in general have been more prudent with their borrowings during the current market cycle with an average sector gearing at 35.7% and interest cover of 5.9 times. Only 3 REITS currently have gearing of more than 40%''.

"With the increased gearing threshold limit, REITS' asset values have to decline by 17-44% before a potential gearing limit breach, which we believe is a reasonable buffer''.
On Friday, S-Reits stood out among the STI's best performers led by CapitaLand Mall Trust which rose S$0.08 or 4.5% to S$1.85. Others that posted notable gains were Mapletree Commercial Trust and Mapletree Logistics Trust.
China recorded historic economic contraction
On Friday, China announced that its economy shrank 6.8% in the first quarter, its lowest ever. It was the first quarterly contraction since 1978 when China enacted its market reforms.
Singapore's exports grew 17.6% in March
According to Bloomberg's poll, economists had expected an 8% contraction in Singapore's non-oil domestic exports (NODX), but the actual figure released on Friday was 17.6%.
Enterprise Singapore, which released the data, noted that this was due to the low base a year ago that came during the US-China trade war.
US jobless numbers continued to rise
The Labor Department said a total of 5.245 million people filed for state unemployment benefits for the week ended April 11, versus the Dow Jones estimate of 5 million. The number marks a decline from 6.6 million in the prior week. The new filings bring the crisis total to just over 22 million, nearly wiping out all the job gains in the last 11 years since the sub-prime crisis.
U.S. housing starts for March came in at 1.216 million, the Commerce Department said on Thursday, compared to the expected 1.3 million. March's data is worst monthly decline since March 1984, when there was a decline of 26.42%.
The yield on the benchmark 10-year Treasury which moves inversely to price, fell 3 basis points to about 0.60%, while the yield on the 30-year Treasury fell to 1.23%.