Date: November 14, 2022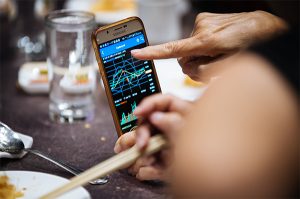 Early Trading was driven by US mid-term elections, FTX bankruptcy
On Thursday, Wall St posted huge rally on cooler inflation data
US bonds also rallied, yields down sharply though curve remained inverted
The Straits Times Index gained every day, rising 98 points or 3.1% for the week to 3,228.33
Sats reported S$9.9m 2Q loss, says rights issue will not exceed S$800m
Starhub's Q3 net profit down 32% to S$27.4m
Singtel reported 23% jump in 1H net profit, declares special dividend
Genting Singapore's Q3 net profit more than doubled to S$135.8m
US mid-term elections, crypto meltdown and inflation data drove early trading
As far as Wall Street was concerned, the factors affecting initial trading last week were, in no particular order, the midterm US elections, inflation data and the meltdown in cryptocurrencies caused by the collapse of crypto exchange FTX that sent Bitcoin's price plunging to the US$16,000 level.
Thursday's surprise CPI figures led to large rally in US stocks
The week's defining moment, however, came on Thursday after news that the US Consumer Price Index for October rose 7.7% year over year, lower than the 8% economists estimated. September's rate was 8.2%. Core inflation, which strips out volatile food and energy prices, rose 6.3%, down from 6.6%.
Because the data suggests that the US Federal Reserve may reduce the pace and quantum of its interest rate hikes, the Dow Jones Industrial Average rose 1,201 points, or 3.7%. The S&P 500 gained 5.5% and the Nasdaq Composite skyrocketed 7.4%. The Nasdaq and the S&P 500 both saw their largest one-day gains since April 6, 2020.
US Treasuries also rallied, although yield curve remained inverted
The rally in stocks extended to US government bonds – the two-year Treasury yield, a barometer for expectations about the Fed's benchmark federal-funds rate, dropped to 4.324% from just over 4.6% before the data were released, whilst the 10-year yield dropped to 3.828% from just over 4.1% before the data release.
The US bond market was closed on Friday for Veteran's Day. Despite the Thursday rally, the US Treasury yield curve remained inverted, ie with short-dated bonds yielding more than longer-dated bonds, which is often thought to indicate an impending recession.
STI remained firm throughout, rising every day of the week
As far as the local market was concerned however, it managed to extend its gains on the back of decent corporate results, particularly the banks, Venture Corp and Singtel.
As a result, even with a mid-week selloff on Wall St that saw the Dow Jones Industrial Average plunge 647 points or 2% and the S&P 2.1%, trading here on Thursday was relatively firm, with the Straits Times Index closing in positive territory that day.
After Wall St's large Thursday rally, the STI added 55 points on Friday, bringing its gain for the week to 98 points or 3.1% at 3,228.33, thus regaining the 3,200 level that had been lost on 26 Sep.
Sats reported S$9.9m 2Q loss, says rights issue will not exceed S$800m
Inflight caterer and airline ground handler Sats reported a net loss of S$9.9 million for its second quarter, reversing a year-ago profit of S$6.8 million, as operating expenses rose, and lower government grants were received.
Excluding the effect of reliefs, net loss for the three months ended Sept 30 would have been S$30.1 million net loss excluding reliefs in the year-ago period.
Sats also provided an update on its proposed acquisition of Worldwide Flight Services (WFS), which was announced in September. It said it is "at an advanced stage of finalising its funding plan" for the proposed acquisition.
The company said the proposed rights issue will not exceed S$800 million. With the total acquisition cost of S$1.8 billion, the balance will be funded primarily through a combination of term loans and internal cash.
On Thursday after the results were announced, Sats' shares fell S$0.17 or 6.3% to S$2.55. They rebounded S$0.10 on Friday to S$2.65 on volume of 9.8m.
Starhub's Q3 net profit down 32% to S$27.4m
Telco Starhub last week reported a 32% year-on-year drop in net profit for its third quarter ended 30 Sep to S$27.4m, even as revenue rose 14.2% to S$590.8m.
The company said the lower profit was due to higher staff costs, marketing and promotions, repairs and maintenance and occupancy costs. The stock was unchanged at S$1.03 on Friday.
Singtel posted 23% rise in H1 profit, declared special dividend
Singtel on Thursday reported a 23% rise in net profit for its first half ended 30 Sep to S$1.17b. This comes after booking a S$1b net exceptional gain from its partial divestment of its stake in Airtel, a turnaround from the net exceptional loss the previous year.
Singtel also announced an interim dividend of S$0.046 per share and a special dividend of S$0.05 a share for FY2023, to be paid in two tranches of S$0.025 each.
Group chief executive Yuen Kuan Moon said the dividend payouts bear testament to Singtel's proven asset recycling model. "We are sharing the benefits by returning excess cash to our shareholders after setting aside capital for our growth initiatives'' he said.
A provision of A$142m was made and recorded as an exceptional expense following the Sep 2022 cyber attack on Australian subsidiary Optus. On Thursday after the results were announced, Singtel's shares jumped S$0.08 to S$2.63 on volume of 59.4m. They added a further S$0.06 on Friday to finish the week at S$2.69.
Genting's Q3 profit more than doubled to S$135.8m
On Thursday, Genting Singapore reported a more than 100% increase in net profit for its third quarter ended 30 Sep to S$135.8m, versus S$60.7m for the same period in 2021.
The improved performance came as revenue more than doubled year-on-year to S$519.7m as a result in the easing of Covid-19 restrictions. On Friday, the counter rose S$0.015 to S$0.83 on volume of 49.3m.