Date: October 29, 2019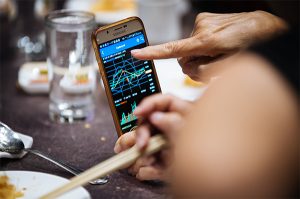 The Straits Times Index gained 71.37 points or 2.3 % at 3,185.53 over the week;
Temasek's bid for control of Keppel was the main feature;
Also playing a part was hopes of US-China trade progress;
IMF downgraded Singapore's growth forecast, Hong Kong's also;
DBS wrote about telcos, recommended waiting for earnings clarity;
Hyflux's potential white knight Utico might reduce it bailout
For the majority of this year, external developments such as the state of US-China trade talks and the direction of US have dictated movements in the local market.
Last week saw this change following Temasek's bid for a 51% stake in Keppel Corp, an announcement that sparked widespread speculation of who might be next, the resulting interest in Temasek-linked stocks helping to push the Straits Times Index up xx to xx.
This is not to say that external events played no part because they did, albeit a secondary one. Both sides sent encouraging signals which led the market to believe that a deal could be struck soon. As some observers might like to put it, the trade situation remains "fluid'', although sceptics might say this is an euphemism for "uncertain'' or "still unresolved''.
However, the fact that Temasek-Keppel provided the main talking point did make for a welcome change from having to wait and watch for fresh developments on the trade front, especially when the signals have been mixed for more than 2 years now.
Temasek-Keppel
Last Monday, it was announced that state-owned investment company Temasek Holdings is offering $7.35 per Keppel share in order to raise its stake from 20.5% to 51%. The price was a 26% premium to Keppel's last traded price of $5.84 at the time the offer was made and a 21% premium over the 2-month volume-weighted average price.
KG Securities analyst Joel Ng was quoted in The Business Times as saying this could be a prelude to a much-needed consolidation of the local offshore and marine (O&M) sector. Temasek said following the offer's successful close, it would work closely with Keppel's board on a "comprehensive strategic review'' to create sustainable shareholder value.
The news prompted widespread interest in other Temasek-controlled stocks, the main one being SembCorp Marine. On Wednesday, the stock closed $0.05 or 3.7% higher at $1.40 on heavy volume of 30.4 million, bringing its 3-day gain to almost 16%.
The Business Times on Thursday quoted UOB-Kay Hian head of research Adrian Loh as saying "with Temasek clearly wanting to realise more value in its Singapore-based investments, the obvious stock that has been badly hit by the downdraft in the O&M sector is SembMarine''.

However, he was also quoted as saying the company "is facing headwinds in the next one to two quarters, given that the lack of orderflow will impact its bottomline''.
IMF downgraded Singapore's growth; Hong Kong expected to suffer largest slowdown
In its latest Regional Economic Outlook released on Wednesday, the IMF projects Singapore's growth for 2019 to be 0.5 per cent, sharply down from the 2.3 per cent it had forecast in its World Economic Outlook in April.
The Singapore Government expects growth to come in between 0 and 1 per cent this year. Some private economists predict the number will be at the lower end of that range. Singapore's growth in 2018 was 3.1 per cent.
The IMF also forecasts that China's growth will fall to 6.1 per cent this year and then further to 5.8 per cent in 2020, from 6.6 per cent in 2018.
Among Asian economies, Hong Kong is expected to experience the sharpest slowdown, with GDP growth slowing to 0.3 per cent this year, compared to 3 per cent in 2018. In its April projections, which were made before the political turmoil in the territory intensified, the IMF had forecast that Hong Kong would grow at 2.7 per cent.
In Telco news
In roundup of the telco sector, DBS Group Research noted that a potential joint bid for nationwide 5G licences in January 2020 could rekindle interest in StarHub, but added that it prefers to wait for signs of earnings stabilisation before making any firm moves.
"We expect consensus earnings forecasts for Singtel and StarHub to be lowered further post upcoming quarterly results. Singtel's FY20F/21F consensus earnings could be cut 10%/8% due to delay in Bharti's profitability, meagre growth from Telkomsel and weak Australian Dollar'' said the broker.

"StarHub's FY19F/20F consensus earnings could be cut 5%/2% as cost savings may not be enough to offset ~S$110m/S$90m declines in its Mobile & Pay TV revenue in FY19F/20F''.
The latest on Hyflux
Troubled water treatment firm Hyflux's potential white knight Utico said is will shrink its proposed S$300 million equity injection to S$200 million by early next week if Hyflux still has not signed the definitive restructuring agreement by then.
"This continuous loss of time has a great impact on the holding value of Hyflux," Utico said on Thursday.