Date: February 17, 2020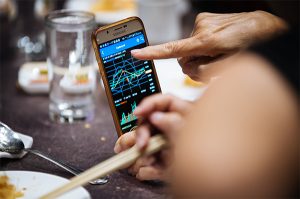 The STI advanced 1.2% over the week;
Markets were firm on hopes that virus outbreak might end soon;
US Treasury yield curve inverted during the week;
Earnings season started – DBS, Genting, Singtel were among big names to announce their results
Russia's Don Agro debuted on Catalist
Investors bought in anticipation of quick virus resolution
It's been a topsy-turvy week for local stocks, with prices driven mainly by news surrounding the virus outbreak. Each day the market sought direction first from Wall Street, then regional leaders such as Hong Kong, China and Japan. Overall, because the signals from these markets appeared positive, the Straits Times Index managed to add 38.55 points or 1.2 per cent per cent over the week at 3,220.03..
That the stock market advanced as it did might come as a surprise to many, given that the slowdown in tourism globally and the hit to China's economy is expected to dent growth that was already uneven to begin with at the start of the year.
According to conventional wisdom, prices are rising because the market is relying on official statements out of China that the virus outbreak could be over by April, in which case it might make sense to buy in advance of an expected bounce at that time.
Also helping support sentiment are expectations of government stimulus: "Despite coronavirus concerns, investors tend to believe that central banks and policymakers have measures to stimulate the economy during and after the public health crisis'' said CMC Markets on Wednesday.
The optimism seen early in the week was slightly dented on Thursday after news that China suffered a jump of 15,000 new virus cases because of a change in counting method.
US Treasury yields fell, curve inverted mid-week
One market that doesn't appear to share the optimism seen in equities is US Treasuries, where the yield curve has once again inverted. Treasury debt, which serves as a safe-haven investment in times of geopolitical and economic volatility, has been in demand since the start of the year. The 10-year Treasury yield has fallen 18.7% since Dec. 31 and although it currently stands around 1.579 per cent, just above the 3-month yield of 1.576 per cent, it dipped below the 3-month rate earlier in the week.
If yields on a 10-year note are lower than those on a three-month bill, it suggests investors have a pessimistic view of growth and inflation in the years ahead. As a result, an inverted yield curve where short-term yields are higher than longer ones, is often taken to be an indicator of an impending recession -though in the present situation, not necessarily one that is confined to only the US.
Bloomberg last week quoted analysts as saying that given the vast holding of US Treasuries outside of the US, a Treasury yield curve inversion may not be signalling only expectations of a US slowdown but of the whole world.
On Friday, yields fell as U.S. Commerce Department data showed US consumer spending appeared to have slowed further in January, with sales at clothing stores declining by the most since 2009, which could raise concerns about the economy's ability to continue its moderate expansion.
Commerce said retail sales excluding automobiles, gasoline, building materials and food services were unchanged last month, weaker than the 0.3 percent rise economists had predicted in a Reuters poll. Data for December was revised down.
Genting, DBS and Singtel released their results
Among the companies to release their 2019 results was casino operator Genting Singapore (GENS) which owns Resorts World Singapore (RWS). On Wednesday, GENS announced a 9 per cent drop in net profit to $689m and a 2 per cent fall in revenue to $2.5b.
The company said it is pessimistic about the outlook for the first half of 2020 because of the "massive disruption to the travel and tourism industries'' created by the virus outbreak. It added that it would use this period to refresh its offerings and embark on a productivity drive.
Maybank Kim Eng called a "buy'' on GENS with a target price of $0.99. It said it expects GENS's first quarter to be poor because of the virus outbreak and has cut its FY20 earnings per share estimate by 12 per cent; however, the broker said it does not expect the virus's negative impact to last beyond the second quarter as cases and deaths are already subsiding.
"Moreover, there may be long term earnings upside if the 2020 Budget (18 Feb 2020) yields aid and relief for RWS. Recall also that GENS is bidding for an integrated resort license in Japan. As winners are expected to be announced in 2H20, more upside could be derived soon if GENS wins a bid'' said Maybank Kim Eng.
DBS was the first bank to report its 2019 results. It announced a 14 per cent rise in net profit for the fourth quarter to $1.5b versus 4Q 2018, slightly higher than forecast by analysts. For the whole year, net profit rose 14 per cent to $6.4b. All three banks closed firmer on Friday.
Elsewhere, Singtel announced a 24 per cent drop in earnings for its third quarter ended 31 Dec 2019 to $627m largely because of losses incurred by Indian associate Airtel. Its management said it believes Airtel's user demand remains strong; however, it added that competition in Australia is intensifying.
Russian firm debuts on Catalist
Russian agricultural and dairy firm Don Agro debuted on Catalist on Friday, closing at $0.24 with 5.6m shares traded. Don Agro, which operates winter wheat, sunflower and dairy cattle farms in southern Russia's Rostov region, is the first Russian firm to be listed on the Singapore bourse. Its IPO involved the issuance of 23 million new placement shares at S$0.22 each.