Date: December 23, 2019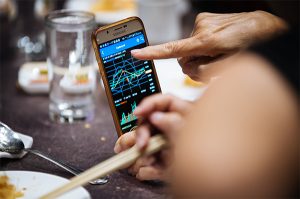 Phase One US-China deal left local market largely unimpressed despite Wall St rising to all-time highs;
Announcement of Trump impeachment had no impact;
STI traded within narrow band, gaining 17.68 points or 0.6% at 3,212.39;
Private sector economists think worst over for Singapore economy;
New party enters the Hyflux picture;
How good is the deal, really?
News just over a week ago that the US and China have agreed to a Phase One deal did not push local stock prices higher, or at least not as much as some might have thought. The Straits Times Index spent last week locked in a tight range around the 3,200 level, its movements dictated mainly by rises and falls in the three banks. On Friday, a late bounce took it to 3,212.39, bringing its gain for the week to about 18 points or 0.6%.
One explanation for the seeming indifference to news of a US-China deal could be the onset of the holiday season – with many investors off for their vacations, markets would understandably be quiet, possibly with a downward drift in low volume.
Just as likely is that prices had already risen in anticipation of an agreement, which means there was an element of "sell on the news'' affecting trading; alternatively, it could be that on closer examination, the Phase One agreement means no new tariffs but little else, which in turn suggests no concrete advancement in US-China relations.
For now, the partial agreement avoided US$160 billion worth of tariffs that were set to take effect on 15 Dec and significantly reduces others in exchange for Beijing's commitment to buy more U.S. agricultural products.
However, some observers have pointed out that the deal is more of a big purchase agreement than a real trade deal. In an 18 Dec article titled "Why China Isn't Celebrating The Phase One Trade Deal'' on Foreign Policy's website, one expert said "the likeliest outcome after two years of expensive tariffs, bankrupt farmers, and nervous markets is that the United States might just be able to get back to where it was in the last year of the Obama administration''.
Trump impeachment didn't have an impact
The US House of Representatives last week announced it has impeached US President Trump – an unsurprising outcome to an investigation into whether Mr Trump pressured Ukraine by withholding aid in return for political favours. The announcement was wholly expected and the market duly brushed it off as Mr Trump is expected to be acquitted by the Republican-controlled Senate, where a two-thirds majority is required for his removal from office.
Possible economic recovery next year
Despite the fact that US-China trade differences are far from over, economists here think that the worst could be over, and that there could be a modest economic recovery next year for Singapore.
DBS analyst Ling Lee Keng was quoted in The Business Times's "Modest economic recovery expected for Singapore in 2020'' on 17 Dec as saying the global semiconductor market is expected to return to growth next year.
Maybank Kim Eng economists were quoted in the same article as saying they expect manufacturing and export numbers to improve as the uncertainty from higher tariffs dissipates. They see a broadening growth recovery, "albeit sluggish'' with GDP growing 1.8%. OCBC Bank's chief economist Selena Ling was more cautious, saying "it is still too early to break out the champagne'' as US-China trade headwinds still persist.
The latest on Hyflux (the plot thickens)
There was an unexpected twist in the constantly-evolving saga involving troubled water treatment firm Hyflux when a new party announced its entrance last week. Singapore-registered firm Aqua Munda on Monday proposed to buy out Hyflux's 4.25% notes due in 2018, and 4.6% and 4.2% notes due this year, as well as other senior unsecured, trade and contingent debt.
The total principal amount of the eligible debt amounts to about S$1.8b, or about two-thirds of the S$2.8b that Hyflux has. News reports said Aqua Munda is owned by Singapore businessman Bambang Sugeng Kajiri, who is a representative of a Middle East investor group.
Outlook for banks
In a 16 Dec report on the local banks titled "Defensive in 2020''  Maybank Kim Eng said ten years ago, trading & investment securities contributed over half of non-interest income (NI) for Singapore banks.
"By 9M19, this has shrunk to 44%, with fee income taking its place. This post-GFC structural change should improve visibility of NI going forward. Add to this an extra layer of stability with fee origination largely being driven by wealth management and retail. The sector's increasing retail focus on both interest & noninterest income should keep credit charges in better check than wholesale heavy banking systems regionally, we believe. Together with the potential for NIM upside surprise from flat interest rates in 2020E, we remain Positive on the sector with UOB and DBS as preferred picks'', said the broker.
Watch for year-end window-dressing
As the year winds down to a close, observers have spoken about the likelihood of a year-end push on the major indices. The Business Times on Saturday quoted Phillip Futures investment analyst Samuel Siew saying "We are of the view that global indices are likely to remain buoyant from the window-dressing effect, which would generally kick in during this period''.