Date: October 7, 2019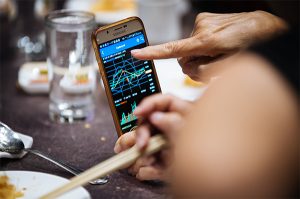 The STI fell 47.27 points or 1.5% to 3,078.36 after Wall St was rattled by weak economic numbers;
US manufacturing contracted for second consecutive month;
US services grow at slower pace;
US imposed tariffs on Europe, further complicating trade war worries;
US jobs report on Friday eased some recession fears
"It's the economy, stupid'' was a phrase that was heard during Bill Clinton's presidential campaign in 1992 against George W. Bush. At the time, the US was undergoing a recession, so the focus on the economy ultimately led to a Clinton victory.
Last week, investors were reminded that although the stock market might undergo lengthy bouts of decoupling from the economy – or at least economic growth might seem unimportant at particular points in time – ultimately it is economic expansion, via its impact on corporate earnings, that tends to set the market's direction.
This reminder was delivered on Tuesday when it was reported that the US Institute for Supply Management's factory index slipped to the lowest since June 2009, news which brought the sellers out on Wall Street and nipped in the bud a rally in the local market that saw the Straits Times Index bounce 26 points earlier that day.
By the end of the week the STI had weakened to 3,078.36, recording a nett loss of 47.27 points or 1.5% over the five days. Volume remained uninspiring at an average of S$1b per day.
US manufacturing slid again
The ISM U.S. manufacturing purchasing managers' index came in at 47.8% in September, the lowest since June 2009. It was the second consecutive month of contraction. In addition, new export orders index tanked to only 41%, the lowest level since March 2009.
"We have now tariffed our way into a manufacturing recession in the U.S. and globally," said Peter Boockvar, chief investment officer at Bleakley Advisory Group in a CNBC report.
Also in the same news report was a quote from Torsten Slok, Deutsche Bank's chief economist, who said "There is no end in sight to this slowdown, the recession risk is real''.
"Purchasing managers are telling stock market investors to get out," Chris Rupkey, chief financial economist at MUFG Union Bank, said in a note. "Run. Run for your life. Get out while you can. The outlook is darkening and the thunder is growing louder by the day."
President Trump in the meantime, blamed high interest rates and a strong dollar for the weakness in manufacturing, saying in a tweet Tuesday that the Federal Reserve "allowed the Dollar to get so strong … that our manufacturers are being negatively affected. Fed Rate too high."
US Treasury yields remain depressed
The 2-year Treasury yield slumped to its lowest level in more than two years on Thursday as a weaker-than-expected report on the strength of the U.S. services sector fuelled Wall Street's concerns of a slowdown in the domestic economy.
The yield on the benchmark 10-year Treasury note, which declines when bond prices rise, slipped for a seventh consecutive session on Friday after release of an indifferent US jobs report, settling at 1.515% compared with 1.531% Thursday. The yield has fallen for three consecutive weeks and is less than 0.1 percentage point above its low for the year.
The Institute for Supply Management's Thursday report showed the services sector continued its expansion in September but at a much slower pace than expected.
Yields have also been pulled lower by recent data that has provided signs of weakening economic growth around the world.
New trade war worries surface as US imposes tariffs on European goods
Pending final approval from the World Trade Organization later this month, the Trump administration intends to impose tariffs on about US$7.5 billion in European goods, including certain Italian cheeses, British-made cashmere sweaters and, one of President Trump's favourite targets, French wines.
The tariffs — as high as 25 percent on agricultural and industrial products — could take effect as soon as Oct. 18, exacerbating concerns over a possible transatlantic trade war.
The US move is actually a retaliation for a 15-year dispute between the United States and the European Union over aircraft subsidies. Washington says that U.S. aircraft giant Boeing has lost billions of dollars because Europe unfairly subsidized Boeing's competitor, Airbus.
Singapore's factory output continued to slump in Sep
On Thursday, the market received news that Singapore's PMI fell for the fifth consecutive month in Sep to 49.5. With readings below 50 indicating contraction, this was the lowest since July 2016.
Meanwhile, the PMI for the pivotal electronics sector pointed to an 11th straight month of shrinkage. The Singapore Institute of Purchasing and Materials Management, which compiles the data, said cost pressures, supply chain disruption and global market uncertainty have taken their toll on the local manufacturing sector.
Stocks in focus
There was one major listing during the week – Lendlease Reit. This was offered at $0.88 and enjoyed a decent first week when it closed trading on Friday at $0.935.