Date: November 15, 2021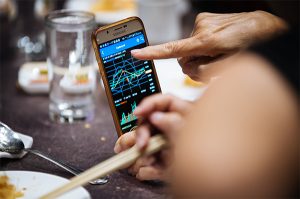 The STI fell 14 points or 0.4% at 3,228.45
Local corporate action took centerstage
Biden's infrastructure Bill failed to have much impact
STI's 2021 YTD return is 18%: SGX's My Gateway
Keppel revised its offer for SPH
SIA and Singtel reported encouraging results
US interest rates could rise sooner than expected
Keppel's revised bid to take over Singapore Press Holdings (SPH) and the latest earnings reported by SIA and Singtel were probably the main corporate events in a week in which the Straits Times Index, having initially risen to its highest point for the year, eventually ended at 3,228.45 for a net loss of about 14 points or 0.43%.
Over in the US, the passing of President Joe Biden's trillion-dollar infrastructure bill failed to really ignite the market's interest, probably because it had already been discounted having been on the table for several months. Instead, rising bond yields put a dampener on the equity market's march to new all-time highs, though the selling, when it came, was well-contained.
Liquidity here remained mediocre, with an average of S$1.25b done daily. The week's highest business was done on Tuesday and Friday when S$1.38b were traded on each day, and the lowest was Wednesday's S$1.05b.
The Singapore Exchange's investor education portal My Gateway on Monday reported that the STI on the previous Friday, 5 Nov, had surpassed the preceding 2021 year high made on 30 April. It said that Monday's morning high of 3,270.65 was the highest since the 3,283.89 reached on Jan 2020.
"This has taken the STI 2021 YTD total return to 18%, outpacing the 4% gain of the FTSE Asia Pacific Index'' said My Gateway.
"The strongest performers of the 100 stocks from 30 April to 5 Nov were RH Petrogas, CFM, Hatten Land, Rex Intl, PropNex, Geo Energy, Frencken, Tuan Sing, IFAST and Raffles Medical. Geo Energy, Rex Intl, Raffles Medical, Frencken and Tuan Sing also ranked among the 25 of the 100 stocks with the highest net institutional inflows proportionate to market cap for the period''.
Keppel's revised offer vs Cuscaden's all-cash offer
Keppel last week revised its August offer for SPH to S$0.868 cash, 0.596 Keppel Reit unit (valued at S$0.685 as at Nov 9) and 0.782 SPH Reit unit (valued S$0.798 as at Nov 9) per SPH share. This adds up to S$S$2.351 per SPH share.
The difference between this offer and its earlier one is that Keppel has raised the cash portion by S$0.20 from S$0.668. The proportions of Keppel and SPH Reit offered are the same.
The revised offer comes two weeks after a consortium named Cuscaden Peak made an all-cash offer of $2.10 per share. The consortium comprises Hotel Properties and its managing director Ong Beng Seng, as well as two Temasek-linked entities – CLA Real Estate and Mapletree Investments.
SPH will still consider superior offers – from Cuscaden or any other party – if there is one. Cuscaden or any interested parties have till Nov 16 to work on a better deal.
However, SPH chief executive Ng Yat Chung also said in a briefing on Nov 10 that Keppel's final offer is currently the best on the table. "We still have to look at what the price is and what the regulatory requirements are, and as of now, Keppel definitely is ahead on this one, because they basically cleared everything," he added.
SPH will hold a scheme meeting by Dec 8 to give shareholders the chance to vote on Keppel's offer. The company is obliged to hold the scheme meeting whether or not the directors eventually recommend the Keppel proposal. If a better offer emerges for SPH, the directors may not recommend the Keppel proposal.
If the scheme is approved by shareholders and sanctioned by Singapore's High Court, SPH shareholders can expect to receive the final consideration by mid-January 2022.
SIA cut its Q2 loss to S$428m; Singtel reported 104.7% increase in 1H earnings
Singapore Airlines on Thursday reported a net loss of S$428m for its second quarter ended 30 Sep 2021 versus S$2.3b a year ago, thanks to a rise in passenger traffic and the launch of Singapore's vaccinated travel lanes. Revenue almost doubled to S$1.5b.
The national carrier also said it has narrowed its cash burn rate to S$18m per month and sees passenger capacity reaching 43% of pre-pandemic levels by December. SIA shares on Friday fell S$0.11 or about 2% to S$5.34 with 8.2m traded.
Also on Thursday, Singtel reported a 104.7% jump in earnings for its first half ended 30 Sep to $$954 million from S$466.1 million a year ago.
An interim dividend of S$0.045 per share was approved for the half year ended Sep 30, 2021, lower than the S$0.051 cents declared for the same period last year.
However, the company also said that its FY2022 dividends are expected to be at the upper half of its 60 to 80 per cent dividend policy range.
Singtel's shares on Friday rose S$0.02 to S$2.58 on volume of 25.3m. They have gained S$0.04 over the week.
The outlook for US interest rates
Federal Reserve Bank of Chicago President Charles Evans early last week said he thought inflation would have declined more than it has by this point, which strengthens the case for an interest-rate hike sooner rather than later.
On Monday, Federal Reserve Vice Chair Richard Clarida said the central bank could easily lift interest rates by the end of 2022. The Fed funds futures market forecasts a 44% chance of a rate hike in June 2022, up from 27% a month ago.