Date: November 22, 2021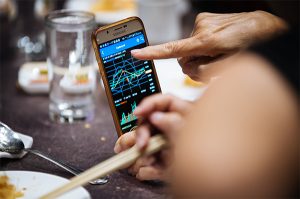 The Straits Times Index gained 4 points at 3,232.34
Volume remained mediocre but sentiment was firm
Support came from Wall St and more signs of economic recovery
The takeover tussle for SPH continued with fresh offer from Cuscaden
Hyflux's P&P holders unlikely to get anything
Wall St shrugged off rising bond yields, widening credit spreads and threat of US Govt default
After rising to 2021 high, the STI is now consolidating
Given that the Straits Times Index had by the start of last week already risen to its highest for the year, it maybe wasn't surprising that it traded within a narrow band over the ensuing five days before ending at 3,232.34 for a net gain of just four points for the week.
Stated differently, it might be apt to say that the market appears to have entered consolidation mode.
Sentiment was supported by more signs of the economy reopening and rising hopes that a return to some semblance of normality is around the corner, as well as a reasonably firm Wall St where stock prices remained close to all-time highs despite rising bond yields.
On Friday however, Wall St wobbled despite the 10-year US Treasury yield falling sharply from 1.61 to 1.54%, a slide that was attributed to concerns over a fresh surge in Covid-19 cases around the world and worry that countries might reverse their re-openings.
If the market is consolidating – or to put it differently, if investors are pausing to reflect on what the next move should be – then this has been manifested in unspectacular daily volume.
Turnover remained mediocre
The daily average was a mediocre S$1.05b. The highest turnover was recorded on Wed when S$1.15 was done, whilst the lowest came on Thursday when S$960m was traded.
As always, index heavyweights such as the three banks, Singtel and the Jardine group were the main contributors to the STI's movements throughout the five days.
The battle to take over SPH continued
The most significant corporate development was a new offer to take over Singapore Press Holdings (SPH) that was tabled by the consortium known as Cuscaden Peak last week.
This came in two options – either S$2.36 in cash per SPH share, or S$1.602 in cash and 0.782 of an SPH Reit unit valued at S$0.798 per SPH share. At the time of offer, the latter option added up to S$2.40 per share.
Cuscaden's offer is the latest in a string that extends back to August, when Keppel was the first to come forward with a plan to take over and privatise SPH. This initial offer was S$2.099 per SPH share made up in cash, Keppel Reits and SPH Reits.
Cuscaden had then come forward with an all-cash alternative of S$2.10, which led Keppel to counter with a final and irrevocable offer of S$2.351 per SPH share that included an increased cash portion.
SPH's management has said it views the latest Cuscaden offer as being more attractive. In recommending that shareholders vote against Keppel's scheme and in favour of Cuscaden's, SPH's chief executive Ng Yat Chung said: "The revised proposal of S$2.40 a share is the highest offer on the table''.
"A particularly attractive feature of this offer is the option to choose… Some shareholders will be interested in all cash, while others prefer exposure to SPH Reit and (earning) dividend income. This offer took on board shareholders' desire for options."
Shareholders will have to vote first on Keppel's plan on 8 Dec. If this is rejected, then Cuscaden will hold its scheme meeting in January. If both offers are rejected, then SPH will remain a listed company. The management has noted that all its business segments, excluding media, have shown improvements for the year ended Aug.
Hyflux's P&P holders unlikely to receive any payment
The liquidators for water-treatment company Hyflux said on Thursday that unsecured creditors, including medium-term noteholders, are likely to receive a "small dividend" following the sale of assets.
However, Hyflux shareholders and holders of the perpetual securities and preference shares (P&Ps) are unlikely to recover any part of their investments as they rank below the noteholders.
There are about 34,000 P&P holders who lent Hyflux a combined S$900 million.
The liquidators said they have received total proofs of debt amounting to around S$1.5 billion, but the realisations from the asset sales are unlikely to exceed S$100 million.
Rising bond yields, widening credit spreads and possibility of a US Govt default didn't faze Wall St
Wall Street provided its usual support for sentiment when stock prices held firm despite rising bond yields and notwithstanding comments by Treasury Secretary Janet Yellen to Congress that the US could default on its loans as early as Dec. 15, unless legislators take action on the nation's borrowing limit before then.
Credit spreads—the extra yield investors demand for buying risky credit over safe government bonds—have also widened. A high yield bond index from Bank of America now shows a spread of 3.1 percentage points, up from 3.08 earlier this month, according to the St. Louis Fed. Investors are essentially demanding a higher return on those bonds—by sending their prices down—in return for their higher perceived risk.