Date: October 29, 2018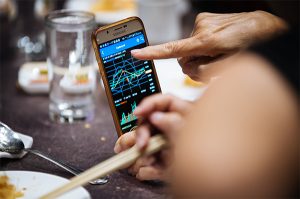 STI lost 90 pts or 2.9% for the week, -12.7% for YTD led mainly by banks;
US-China trade worries, rising geopolitical risk and falling oil prices were among the worries;
US bond yields slipped as investors sought safe havens;
Pledge of support from China government had only short-lived impact;
Singapore's manufacturing output surprisingly contracted in Sep.
STI lost the 3,000 level, now -12.7% for year so far
Global stock markets have been weak of late, dragged lower mainly by worries over a slowing China, worries that have wrought widespread weakness in the China and Hong Kong stock markets. Adding to the pressure has been a rocky Wall Street, which last week underwent a rocky week as prices moved in tandem with earnings announcements.
As a result, the Straits Times Index followed suit, losing 90 points or about 2.9% over the five days, in the process losing its grip on the 3,000 level when it ended at 2,972.02 on Friday. It is now 431 points or 12.7% down for 2018 and is close to a 22-month low. Turnover, which has been thin for several months, ranged between $842m on Monday to $1.3b on Friday.
Support from China's government – bounce didn't last long
However, the week kicked off on a positive note after the Chinese authorities vowed over the weekend to help support the private sector and the economy through a variety of measures that could possibly include tax cuts. The outcome was a large bounce on Monday, the Hang Seng Index's (HSI's) 592-points or 2.3% gain at 26,153 helping add about 16 points to the Straits Times Index that day.
That recovery however, did not last long – on Tuesday, the selling resumed, the HSI plunged almost 807 points or 3.1% and in the process cut almost 47 points off the STI at 3,031.39. Analysts cited the same concerns that have plagued markets in this part of the world for the past 3-4 months – the impact the ongoing US-China trade war will have on global trade, rising inflation and a US Federal Reserve that looks set to hike interest rates at least once more before the end of the year.
Margaret Yang, market analyst at CMC Markets in Singapore, was quoted in news reports as saying that for China "investors are starting to price in weaker-than-expected third quarter GDP readings amid intensified trade frictions''.
Geopolitical risk rising in Europe too
There are also signs of increasing geopolitical risk in Europe – the UK's Brexit negotiations appear to be leading nowhere and Italy's finances have come under scrutiny, leading to concerns from many quarters. Schroders for example, in its October Viewpoint said although Italy's latest budget may ease some worries, in the long term, it is concerned over the sustainability of Italy's public finances.
"Poor demographics, a lack of investment and weak productivity growth are likely to cause the economy to stagnate for decades to come. Debt will probably become an issue, and with Italy stuck in a monetary union, Italy lacks the ability to devalue its currency or to manipulate its bonds yields. The bond vigilantes may not be knocking at the door, but they are certainly at the gates'' said Schroders.
"Risk aversion continues to permeate every pocket of the markets whether triggered by President Trump's latest tweets on immigration or the blustery headwinds from Riyadh to Rome," Stephen Innes of OANDA said in a commentary.
US bond prices rise, US factories raising prices
The 10-year US Treasury yield on Friday closed around 3.1% after touching 3.1% during the week, the price rise probably a consequence of investors seeking a safe haven amidst turmoil in equity markets.
Elsewhere, the Federal Reserve said in its latest economic report that tariffs have forced U.S. factories to raise prices.
"Manufacturers reported raising prices of finished goods out of necessity," the central bank said in the latest edition of the Beige Book, a summary of economic conditions. The Fed added: "Prices continued to rise, growing at a modest-to-moderate pace in all districts''.
In local news…
Adding to overall sober mood in the local market was news that Singapore's manufacturing output in September shrank 0.2% year-on-year, the first contraction since last December and possibly a consequence of the ongoing US-China trade war. Economists had expected a slowdown but not contraction.
Banks have led the STI for most of the past 3-4 years and so it was that steep falls in the three have been the main causes of the index's loss last week. Clearly, when the overall mood is "risk off'', the market will sell no matter what – on Friday, UOB was the index's largest percentage loser with an $0.88 or 3.53% loss at $24.07 despite reporting a 17% increase in net profit for Q3 to $1.04 billion.
Technology stocks have also been aggressively sold off, probably in line with similar weakness on Nasdaq. Venture Corp for example, closed at $15.49 last week, down almost 50% from around $30 in April. Also under pressure has been Creative Technology, which ended last week at $5.40 compared to around $7 a month ago.
Falling oil price is another worry
Oil prices were again weak last week – the slide in US crude brought its loss to 12% from nearly a 4-year high reached at the start of the month. Brent crude lost 10.5%. According to news reports, the plunge came after Saudi Arabia said it hiked output to 10.7 million barrels per day in October and will increase production to 11 million bpd next month. Meanwhile, Russia says it pumped at a post-Soviet-era peak of 11.36 million bpd in September. The 15-nation OPEC group also managed to increase its collective output last month.