Date: June 17, 2019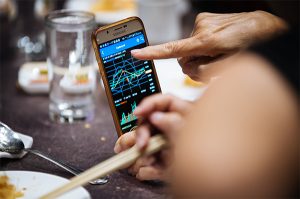 The STI rose 1.8% over the week despite lingering trade concerns;
Fresh challenges emerged such as oil price uncertainty and Hong Kong demonstrations;
China's numbers surprised on the upside;
Companies in focus: Challenger, Viking Offshore;
Number of SGX suspended companies at a 3-year high
 The STI managed to rise for second consecutive week
After five weeks of weakness, the Straits Times Index last week rose for the second consecutive week despite the emergence of fresh challenges such as anti-government protests in Hong Kong and heightened volatility in the oil market. Over the five days, the Straits Times Index gained 56.34 points or about 1.8% at 3,22.63.
Helping stocks retain the upward momentum that started in the first week of June were continued hopes of a US interest rate cut and the US's decision not to impose trade sanctions on Mexico – at least not yet.
China's numbers improved
China on Monday said its exports for May rose 1.1% from a year earlier – a better-than-expected figure given the ongoing trade war with the US. However, analysts said this could have been because Chinese exporters may have rushed out shipments to the US to avoid new tariffs on US$300b of goods that the US has threatened.
"We expect export growth to remain positive in June, likely supported by continued front-loading of US-bound exports, but it should then tumble in the 3Q when we expect the threatened tariffs to be imposed'' said Nomura.

"Therefore, we believe Beijing will likely step up its stimulus measures to stabilize financial markets and growth''.
Volatility returns to oil market
Oil prices slumped to a five-month low on Wednesday after a report showing U.S. crude inventories climbed for a second week in a row. Simmering worries about energy demand on the back of growing U.S.-China trade tensions also pressured prices.
However, geopolitical tensions jolted the price upwards on Thursday. U.S. Secretary of State Mike Pompeo, accused Iran of orchestrating a series of attacks on tankers in an effort to get the U.S. ease up on sanctions. Two ships were damaged in Thursday's attacks, which underlined fears of disruptions in the Strait of Hormuz, a narrow waterway that is seen as the world most sensitive crude transportation choke point.
Reits and property stocks in play on hopes of lower rates
Hopes of lower interest rates have brought property stocks and Reits into play over the past fortnight. It was largely thanks to interest in these stocks that enabled the STI to regain ths 3,200 level this week. However, average daily volume was not great, hovering around the S$1b mark. On Friday, turnover amounted to 773m units worth S$893m.
Companies in focus
Pangolin Investment Management, a minority shareholder of electronics retailer Challenger Technologies on Wednesday said it is close to securing votes from 10% of shares needed to block a privatization-cum-delisting offer. Pangolin is a Singapore-based fund manager and owns a 2.94% stake in Challenger. It is looking to thwart the S$0.56 per share offer from Digileap Capital, a consortium that includes Challenger's chief executive offer Loo Leong Thye.
The delisting will not proceed, and the offer will lapse if holders of at least 10% of Challenger shares vote against it at the June 27th extraordinary general meeting.
Viking Offshore and Marine's independent auditor Ernest & Young issued a disclaimer of opinion on Viking's financial statements for the year ended 31 December 2018. E&Y noted certain conditions and events which "may cast significant doubts on the ability of the group to continue as a going concern''.
Viking's FY18's net loss was S$28m and as at 31 Dec it had S$33.8m in borrowings of which S$25m were classified as current liabilities. Included in the latter were S$15m in loans that were in default.
On Friday, Viking suspended trading of its shares and said it is seeking a court-supervised debt restructuring and moratorium against creditors seeking payment.
Suspended stocks reached 3-year high in May
The Business Times reported that there were 41 companies whose shares have been suspended from trading for at least 12 months, the highest number in 3 years. In May 2016 there were 20 such companies, so the number has doubled since then. The latest additions on the list include social media firm Yuuzoo Networks Group and Midas Holdings, the latter now in the process of being wound up. Both firms are under official investigation. Many others are from the oil and gas sector such as Pacific Radiance, Swiber and Ezra, whilst S-chips or China stocks such as China Fishery, China Sky Chemical Fibre and Yamada Green Resources also feature prominently.
According the SGX, 22 suspended firms are currently exploring trading resumption. Firms such as Sino Techfibre and China Hongxing have been suspended for as long as 8 years.