Date: March 18, 2019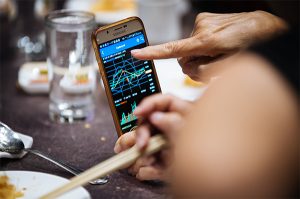 The Straits Times Index gained 5 points last week to end at 3,200.18;
A dovish Fed chief Jerome Powell played a big part in helping stocks rise;
No US-China trade deal yet but markets seem to be unfazed by the delay;
Boeing crash in Ethiopia was in the news;
SGX's shares drop 5.5% on news of Hong Kong's move into China futures;
Singtel's credit rating under threat of being lowered.
US Federal Reserve helps ease interest rate concerns
The US Federal Reserve's Jerome Powell was instrumental in helping the Straits Times Index regain the 3,200 mark last week when he said the US central bank is in no hurry to raise interest rates. In a wide-ranging TV interview early in the week, he said the current rate level is "appropriate" and "roughly neutral," meaning it is neither stimulating or curbing the economy.
He also said an economic slowdown in China and Europe and other global issues currently pose the largest risks to an otherwise healthy US outlook and added that the law clearly states that President Trump, a critic of Fed policy, cannot fire him.
However, although Wall St rallied in response and took with it markets in this region, the rise did not last long – the STI regained the 3,200 level on Tuesday but fell below it on Wednesday. Thereafter the index struggled to find clear direction, finishing the week at 3,200.18  for a nett gain of about 5 points.
The Boeing crash
One of the week's biggest talking points was the crash of a Boeing 737 Max airplane in Ethiopia, the second in six months involving that particular model. Although the US's Federal Aviation Authority (FAA) initially said the plane is airworthy, many countries on Tuesday announced they were grounding the aircraft. This had negative consequences for Boeing's stock and weighed on the US stock market; the FAA later joined the rest of the world in grounding the plane until investigations are completed.
US-China trade talks: Still nothing concrete
US-China trade talks have been ongoing for many months now with nothing concrete announced. The latest round started earlier this year and was aimed at resolving issues before the 1 March deadline for the US imposition of tariffs on US$200b worth of China's goods. More than a month later and despite many positive overtures from US negotiators, no deal has materialised. There is now speculation as to when the leaders of the two countries will meet – it was meant to be this month but latest reports are that a meeting will only occur in April.
On Thursday, it was announced that China's industrial output's growth for the Jan-Feb period was the slowest in 17 years.
Brexit – no deal yet
UK lawmakers last week rejected Prime Minister Theresa May's latest Brexit deal and later voted to delay the UK's departure from Europe which is scheduled to take place on 29 March. A spokesman for the European Commission said extending Article 50, the mechanism taking the UK out of the EU on 29 March, would need the "unanimous agreement" of all EU member states.
Ms May has said she intends to hold another vote by Wednesday.
Singapore Exchange's stock dropped after Hong Kong futures move
The Singapore Exchange's shares came under severe pressure during the week after the Hong Kong Exchange (HKEx) on Monday signed an agreement with Morgan Stanley Capital International (MSCI) to offer futures contracts in the MSCI China A index.
The new product is seen as a rival to SGX's FTSE China A50 Index Futures which was  launched in Sept 2006 and is currently the only offshore futures contract tracking 50 Chinese A-shares. It is the biggest contributor to SGX's derivative business and generates about 40% of total derivatives volume. Over the course of the week, SGX's shares fell $0.43 or 5.5% at $7.33.
Singtel's ratings cut
In other news, ratings agency S&P on Tuesday reiterated its "A plus'' rating and "stable'' outlook on Singtel but added that operational weakness has brought the telco close to a ratings downgrade trigger. Its note came a week after Moody's cut its outlook for Singtel to "negative'' with "weak credit metrics' and attributed its concerns to operations in Singapore and Australia.
In an 11 March "buy'' on Singtel, OCBC Investment Research said following Bharti Airtel's (Airtel) upcoming US$3.5b rights issuance, Singtel has announced that it will be subscribing fully to its rights entitlement for its direct stake of 15% in Airtel, or ~US$525m.
"Airtel will also be looking to issue ~US$1b in perpetual bonds, which Singtel will not be participating in. Management remains cautiously optimistic of Airtel's prospects in India, given the significant consolidation….Assuming that no further than US$525m of contribution is required of Singtel, we believe that FY20 should see net debt to EBITDA (including associates) rise from 1.59x to 1.70x. Maintain BUY with unchanged FV of S$3.79'' said the broker.
Singtel finished the week at $3.03.
Datapulse Technology to move into hotel business
Cash-rich Datapulse Technology on Thursday was given approval by its shareholders at an extraordinary general meeting to buy a hotel in Seoul, Korea for about S$42m. However, a proposed name change to Capiti Property Partners was not approved.