Date: April 29, 2019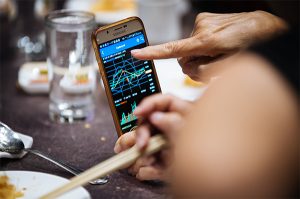 The STI gained 9 points or 0.4% over the week at 3,356.95;
Firm oil prices helped boost interest in oil-related stocks;
Worries over whether China would reduce its stimulus capped prices;
US indices were firm, thanks to positive earnings reports;
Best World emerged as a short-seller's target; SGX ordered a review;
Hyflux only managed to secure a one-month debt moratorium extension.
The STI traded within a narrow range, gained 9 points at 3,356.95
The closure of many key Asian markets such as Hong Kong for Easter Monday meant activity last week was even more muted than usual. As always, Wall Street set the tone and thanks to positive earnings announcements there which helped push its major indices to record highs on Tuesday, prices here stayed firm – but only just – with the Straits Times Index gaining just over 9 points or 0.4% per cent over the week at 3356.95. Turnover however, remained depressed, averaging around $1b daily.
It was not all positive though – the US market on Wednesday weakened after earnings disappointments from AT&T and Caterpillar. However, the S&P 500 and Nasdaq indices ended at new record highs on Friday.
Strong oil prices played a part
One main market-mover was oil prices, which have been rising sharply lately. Part of the reason is that the US has resumed sanctions on Iran, though observers have also pointed to production shortages in Libya, supply cuts by Opec and possible sanctions on Venezuela. This has benefited stocks here exposed to the oil and gas sector.
Capping prices was worry over China's economic stimulus
The second market-mover was concern over China possibly cutting back on its economic stimulus after recent positive economic numbers. Stocks traded weaker in Shanghai and Shenzhen as a result of these worries with spillover impact here.
Local stocks in focus:
Best World
Beauty products firm Best World has been in the spotlight over the past two months, ever since Business Times in February questioned the company's franchise sales model in China as well as its sales figures. On Tuesday last week, a short-selling report emerged, written by a firm called Bonitas Research, which added support for those questions, triggering a plunge in the stock and drawing a query from the Singapore Exchange (SGX).
In particular, SGX ordered a review of Best World's China business and the reviewer will have to report directly to SGX RegCo, the exchange's regulatory arm. It is not known if the review will be done by PwC, the firm hired by Best World to conduct a China review after the Business Times report. Best World halted trading in its shares at 11.25am on Tuesday after it had plunged 16 cents or 9% to $1.62 on volume of 8.7m shares.
Hyflux
Another firm in the news was troubled water treatment firm Hyflux Ltd, which on Thursday applied to the High Court for a 3-month extension to its debt moratorium but only managed to secure one month. Though it has no firm offers, Hyflux said it has signed a non-binding letter of intent (LOI) with an interested Middle East party who might be prepared to inject $400m.
In its affidavit applying for the extension, Hylux also said it is in early discussions with a few other parties, including a sovereign fund in the Persian Gulf, a sovereign fund based in North Africa and an Australian investment fund. The judge however, noted the absence of a concrete plan and pointed out that a debt moratorium under s211B of the Companies Act is not meant to continue indefinitely.
Meanwhile, a group of six banks on the same day applied to be taken out of the moratorium so as to allow them to appoint judicial managers. On Friday, Hyflux said its Tuaspring subsidiary has received a letter of demand from Maybank for payments which are "immediately due and payable''. It said this would have a material impact on its financial performance.
Venture
Venture's shares were volatile last week and on Friday crashed $1.77 or 9.2% to $17.52 on volume of 5.4m. The stock has been the subject of several broking firm reports recently.
Maybank Kim Eng for example, said there is limited upside to its revised target price for Venture after the share price rally since the start of the year and so it is downgrading the stock from "buy'' to "hold'' whilst noting that the company's management has warned of near-term 'performance volatility' that may be a negative share price catalyst. The broker's target price is $19.74.
RHB also downgraded Venture, but not to "hold'' but "neutral'' with a $19 target. "Venture saw a V-shaped recovery in 4Q18, with revenue growing quarter-on-quarter and year-on-year. PATMI (profit after tax and minority interests) grew 8.6% year-on-year, ie in line. Management guided that tailwinds outweigh headwinds, and new product launches in 2H19 should mitigate near-term volatility from product transitions. Its share price has recovered, surging above our target, and valuations at these levels are fair. This, together with uncertainties in 2H, rationalise our rating downgrade'' said RHB.