Date: December 9, 2019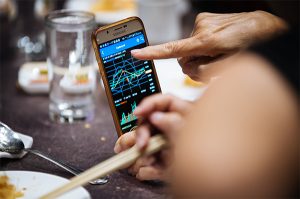 The Straits Times Index gained 1 point at 3,194.71 for the week;
US-China trade was the main driving force – as usual;
US President Trump's threats first rattled markets but these were brushed off later;
Local tech stocks were in play on expectations that sector is turning;
Two Frasers Reits proposed a merger;
Share buybacks in Nov were triple those in Oct
Golden-Agri dropped from STI, replaced by Mapletree Logistics
US-China trade – no change yet
The narrative for last week's stock market trading was pretty much the same as it's been for most of this year, namely, the trade talks between the US and China which at one point appeared to be on the way to being resolved – only for signs to emerge that are not.
The week started off with some optimism that a deal would be struck, then markets took a hit when US President Trump re-imposed tariffs on base metal imports from Brazil and Argentina and spoke of the possibility of delaying any agreement until after the 2020 Presidential elections.
On Wednesday, Wall Street rebounded from two days of losses when reports circulated that the US and China might still be able to strike a deal before 15 Dec tariffs take effect.
Bloomberg news agency that day quoted sources as saying Trump's comments downplaying the urgency of a deal shouldn't be understood to mean the talks were stalling, as he was speaking off the cuff.
"Recent U.S. legislation seeking to sanction Chinese officials over human-rights issues in Hong Kong and Xinjiang are unlikely to impact the talks, one person familiar with Beijing's thinking said'' said Bloomberg.
On Friday, US stocks rallied strongly after release of a better-than-expected jobs report. It was also on Friday that the Straits Times Index enjoyed its best showing of the week, when it jumped 20.52 points to 3,194.71, a jump that erased all earlier losses and enabled the index to post a modest one-point rise for the five days.
Friday's gain was said to be due to reports that China has offered to waive tariffs on some imports of US soybean and pork.
Local tech stocks were in focus
In the local market, tech-related counters have been in focus, largely because of expectations that the worst might be over for the sector. These cyclically-sensitive counters were also given a lift mid-week after official factory data from China saw a reversal of 7-month contraction in November.
On Tuesday for instance, stocks that came into play included UMS Holdings, Avi-Tech Electronics and AEM Holdings. DBS Bank's chief investment officer Hou Wey Fook said in a note that day that an equity selloff triggered by tech firms like last December is low, given earnings growth has already undergone a downward revision, funds have registered strong outflows and interest rates have fallen.
Two Frasers Reits to merge
On Monday, the managers of  Frasers Logistical & Industrial Trust (FLT) and Frasers Commercial Trust (FCOT) proposed a merger via a scheme of arrangement that will see FLT acquire all units of FCOT for about S$1.54b via a combination of cash and the issuance of new FLT units.
For each FCOT unit held, unitholders will receive $0.151 in cash and 1.233 new FLT units at an issue price of S$1.24 each. This means FCOT unitholders will be paid a scheme consideration of S$1.68 for each FCOT unit held.
If the proposed merger is completed, sponsors Frasers Property and its related groups are expected to end up holding a 21.9% stake in the enlarged Reit.
Share buybacks rose in Nov versus Oct
Total share buyback consideration for month of Nov 2019 amounted to S$52.0 million, up threefold from the $15.2 million in consideration reported for Oct 2019. For the first 11 months of 2019, the total buyback consideration of SGX primary-listed stocks amounted to approximately S$522 million, which was approximately one-third of the S$1.45 billion recorded for the first 11 months of 2018.
Golden-Agri out of STI, replaced by Mapletree Logistics Trust
Palm oil firm Golden Agri's shares fell one cent on Friday to 22 cents after news that the counter will be taken out of the Straits Times Index and replaced by Mapletree Logistics Trust.