Date: September 30, 2019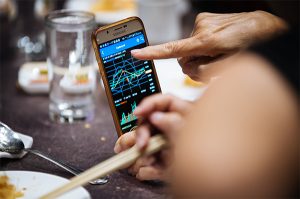 The STI fell 34 points or about 1.1% over the week to 3,125.63;
US-China trade and political machinations in Washington dominated headlines;
Singapore's factory output contracted 8% in Aug, raising probability of technical recession soon;
In local news, SGX queried DLF on offeror's intent, Utico seeks more information from Hyflux
US-China trade developments and formal action in the US to impeach President Trump were the main overseas drivers of stock prices last week. In terms of local news, it was probably that Singapore's August factory output plunged 8% year-on-year that dominated market talk, as it was a fourth month of manufacturing decline that was much steeper than the 0.1% dip in July and far worse than the 0.6% drop analysts had expected.
US-China trade
US President Trump during the week told the United Nations General Assembly that a trade deal with China is getting "closer and closer''. China's Ministry of Commerce spokesperson Gao Feng on the meantime on Thursday said the U.S. and China are maintaining "close communication" in preparation for the negotiations next month and confirmed China has resumed its purchase of American farm goods whilst adding that the tariffs on those orders will be exempted.
Analysts say that as long as there is hope of a breakthrough, stock prices will remain supported by hope since this would mean that global growth should return.
Trump impeachment
Wall St was rocked by news that week that Speaker of the House Nancy Pelosi has initiated a formal impeachment inquiry into President Trump, charging him with betraying his oath of office and the nation's security by seeking to enlist a foreign power to tarnish a rival for his own political gain.
According to the New York Times, "Ms. Pelosi's decision to push forward with the most severe action that Congress can take against a sitting president could usher in a remarkable new chapter in American life, touching off a constitutional and political showdown with the potential to cleave an already divided nation, reshape Mr. Trump's presidency and the country's politics, and carry heavy risks both for him and for the Democrats who have decided to weigh his removal''.
The market impact however, was relatively short-lived. According to some observers, the reason is historical : Analysts pointed out that during the impeachments of Nixon and Clinton, the market simply continued to follow the trend it was already on.
Also, many have said the odds that Trump will be removed from office are tiny. Even if the House votes to impeach, two-thirds of the Senate have to vote for removal, which is highly unlikely given the fact that the Senate is controlled by the Republicans, the president's party.
 Factory output plunged 8% in Aug
The risks of a technical recession have just increased, analysts said after news of the shock plunge in August's factory output. It was the worst showing since late 2015 and although it remains to be seen whether there is to be a technical recession – defined as two consecutive quarters of quarter-on-quarter decline – in the words of ING regional economist Robert Carnell quoted in Business Times on 27 Sep: "Narrowly avoiding a recession would be an arbitrary achievement and not one to celebrate''.
SGX RegCo queried DLF on offeror's intent
The Singapore Exchange's regulatory unit RegCo on Thursday asked DLF Holdings to disclose the rationale and intent of an offer by QRC Pte Ltd to take over DLF, and whether there is a relationship between QRC and DLF's directors, key management and associates.
This comes after QRC's purchase of 57.16% of mechanical and electrical engineering firm DLF earlier this month at S$0.0809 per share which has triggered a mandatory, unconditional offer at S$0.081 per share. This compares with DLF's IPO price of S$0.23 last year.
In its query, SGX RegCo noted that QRC is a company that provides business and management consultancy services, which is completely different from DLF's existing business. The regulator also said it believes the reason why two DLF controlling shareholders decided to sell the shares to QRC is important information for shareholders in deciding whether to accept the offer.
Saudi Arabia' Utico, a potential white knight for troubled water treatment firm Hyflux, on Friday said it supports a further extension of the latter's debt moratorium as long as Hyflux can confirm no "value leakage'' and that an extension will not be prejudicial to creditors.
Utico said this is of concern because Hyflux still has not signed the definitive restructuring agreement which Utico signed on 26 Aug. Last week, Hyflux and three of its subsidiaries requested a two month extension.
Goldman Sachs highlighted October's volatility
Stock volatility has been 25% higher in October on average ever since 1928, according to Goldman equity derivatives strategist John Marshall.
Big price swings have been seen in each major stock benchmark and sector over the past 30 years, with tech and health care being the most volatile groups, Goldman said.
"We believe high October volatility is more than just a coincidence. We believe it is a critical period for many investors and companies that manage performance to calendar year-end," Marshall said.