Date: January 20, 2020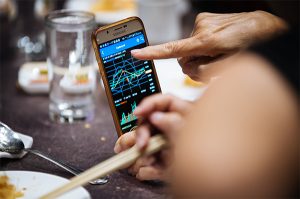 Phase One US-China deal gave markets a boost;
STI gained 26 points or 0.8% at 3,281.03;
Singapore's NODX rose a surprising 2.4% in Dec, the first gain in 9 months;
US officials hope trade deals will help boost US economic growth;
SGX RegCo proposed tougher standards for auditors and property valuers.
The Phase One deal
Even though investors have known for about a month that the US and China were due to sign an agreement known as Phase One on 15 Jan, they still bought stocks ahead of the signing last week.
There was however, an element of "buy in anticipation, sell on news'' which manifested on Friday when Asian markets closed largely mixed. On that day, the Straits Times Index added just 3.03 points at 3,281.03, which brought its gain for the week to 26 points or about 0.8%.
Relevant economic data released during the week fell within expectations. This included strong US retail sales in December (which was to be expected, given the Christmas holidays), and China's GDP growth for last year, which at 6.1% was near the bottom of the government's target range and was the slowest growth in 29 years. It was also sharply down on the previous year's 6.6%. The country also reported that GDP grew by just 6% in the fourth quarter.
Dec NODX grew better than expected – but not because of electronics
There was also some good news on the local front when it was announced that Singapore's non-oil domestic exports for December rose 2.4% from an earlier, the first rise in nine months. Economists polled by Bloomberg had predicted a 1% fall.
However, the gain came largely from a surge in pharmaceutical exports, whilst the key electronics sector recorded a 21.3% drop from Dec 2018.
The Straits Times quoted DBS economist, Irvin Seah as saying the exports recovery is expected to be lukewarm for another few months as uncertainty over the US-China trade dispute persists and tariffs remain in place for as much as US$360 billion (S$484 billion) worth of Chinese exports to the US.
"The phase one agreement is just the first step towards a de-escalation of trade hostilities between the US and China. There's no certainty of this agreement's success and there are many issues that remain unresolved," he said.
Wither US growth?
US officials expect trade deals to boost domestic growth but others are less optimistic.
"We now have the USMCA that is about to pass Senate'' said Treasury Secretary Steven Mnuchin said Wednesday on CNBC, referring to the United States-Mexico-Canada Agreement. "We have China Phase 1, there is a deal with Japan, a deal with Korea. These are all going to have significant positive effects on the 2020 economy."
In an election year, US officials are hoping that these deals will push growth higher because the US economy appears to have grown by just over 2 percent in 2019, a dip from 2018 and well short of the administration's forecasts of growth above 3 percent for the year.
The World Bank said last week that it expected the United States economy to grow by 1.8 percent this year.
SGX RegCo seeks tougher standards for audits and property valuations
The regulatory arm of the Singapore Exchange, SGX RegCo, last week issued sought public feedback on a proposal to require all listed companies to appoint an auditor registered with the Accounting and Corporate Regulatory Authority (ACRA).
Foreign issuers that wish to appoint foreign auditors would also need to designate an ACRA-registered auditor. If the proposal is implemented, audits done for all SGX-listed issuers will effectively be subject to ACRA's regulatory oversight.
SGX RegCo is also proposing a new power to appoint a second auditor under exceptional circumstances.
On property valuation rules, the regulator is looking to ensure that professionals who perform valuations are properly qualified. The proposal is that valuers must have at least 5 years of relevant experience for the type of property being valued, and be a member of the Singapore Institute of Surveyors and Valuers or a similar professional body.
Stocks in play
On Friday, volume was 2.07b units worth $1.06b, for an average of 51 cents per unit, indicating that market players focused their attention on small caps and second liners, among them AsiaPhos, Golden Agri and Rex International.
BreadTalk Group's shares on Friday took a 4.5 cents or 6.52% hit down to 64.5 cents after the company said it expects a nett loss for 2019.
Singtel's shares on Friday fell 3 cents to $3.30 on volume of 22.7m. Its India associate Bharti Airtel lost a court petition over revenue due to the Indian government.