Date: December 27, 2021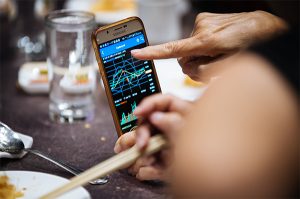 Markets rebounded after initial selloff on positive Omicron news
Wall St ended the week with the S&P 500 at an all-time high
The STI dropped 39 points on Monday but recovered 36 from Tue to Thursday for a net loss of 3 points at 3,108.28
Singtel under pressure after loss in Aussie tax case
SIC: No need for SPH to wait 8 weeks after Keppel scheme meeting
Nov factory output up 16.4% year-on-year
What might Omicron's impact be?
First a selloff, then a rebound on positive Omicron news
As the year winds down to an end, markets everywhere have been moving in tandem with news about the Omicron variant of the Covid-19 virus that first emerged at the end of November in South Africa.
Initial news has been that it is much more highly transmissible that previous variants and that it was spreading rapidly around the world. Not surprisingly, this brought the sellers out in force last week, sending the Straits Times Index down 1.2% on Monday, a slide which was later mirrored on Wall Street.
However, as the week progressed, Omicron headlines turned to be more encouraging. A study from the University of Edinburgh and another from the Imperial College London found that while Omicron was indeed more infectious, it was less severe.
Also, researchers at South Africa's National Institute for Communicable Diseases found people were 70% to 80% less likely to be hospitalized if infected with the new strain.
Wall St ended week with S&P 500 at all-time high
With Wall Street rebounding from Tuesday onwards and with the S&P 500 rising to a new all-time high of 4,725.8 on Thursday – its first record since 10 Dec – the Straits Times also rebounded between Tuesday and Friday. However, the four-day gains were insufficient to ensure the recovery of Monday's 39-points loss, the index shedding 3 points or 0.1% over the week at 3,108.28.
Volume was thin and brought lower by the meagre half-day total of 497.5m worth S$272.6m done on Friday, Christmas Eve.
Singtel under pressure after A$304m Australian tax case exposure
Singtel kicked off the week on a sober note, with its shares falling to a three-and-a-half month low after it said that its exposure to its recent Australian tax case loss was A$304m.
The stock on Monday plunged S$0.05 or 2.1% to S$2.32, the lowest since 31 August. It ended the day at S$2.34 and finished the week at S$2.32.
Singtel's dispute relates to its acquisition of Singtel Optus. In 2016 the Australian Taxation Office objected to how the acquisition was paid through cross-border financing arrangements and estimated a tax payable of A$268m from an increased taxable income of A$895m.
SIC: Keppel's 8-week restriction on SPH can be disregarded
The Securities Industry Council last Wednesday removed a clause in Keppel's offer for SPH that restricts the latter from holding a scheme meeting for as rival offer for 8 weeks from the Keppel scheme meeting.
The 8-week restriction clause had been contested by rival bidder Cuscaden Peak, a consortium comprising Hotel Properties, businessman Ong Beng Seng and two Temasek-linked entities.
The SIC ruling opens the door to SPH to hold a shareholders' meeting to vote for the Keppel and Cuscaden offers on the same day. Before the ruling, SSPH shareholders would have had to vote on Keppel's scheme first, regardless of their preference.
Nov Factory output up 14.6%
Singapore's factory output surged 14.6% year-on-year in Nov thanks to the production of pharmaceutical ingredients as well as semiconductors. Excluding the biomedical cluster, industrial production rose 12.4%.
Output in electronics grew 10.2%, faster than the 6.7% in Oct. The Business Times reported Barclays economist Brian Tan saying that economic growth is "on track to moderate to 5.5% year-on-year in the 4Q''.
UOB's Barnabas Gan was quoted saying "despite the high-base growth seen in 2021, global trade activity is expected to stay buoyant for the new year'' and has projected full-year growth if 4% in 2022.
What might be the impact of Omicron?
For stock markets, it looks like daily new case counts matter to the extent that they spur governments to impose economically harmful restrictions on movement and in-person activities, which in turn hurt corporate earnings.
However, it also looks like if Omicron cases grow rapidly without a proportionate jump in hospitalizations and deaths, then the early 2020-style shutdown scenarios should be avoided. Overall, it looks like markets appear to be taking Omicron news in their stride – for now.