Date: October 5, 2020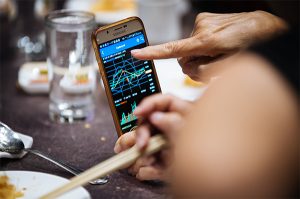 The STI was on an uptrend when news of Trump's infection broke;
Index still managed a 1% gain for the week;
SGX's market cap was 2.7% down in Sep at $740b;
US economic recovery looks like its stalling;
Authorities updated guidelines for conduct of meetings;
MAS ordered Ayondo to provide documents for investigation;
Best World dropped defamation suit against Bonitas Research
Trump's positive virus test was main talking point
The big news last week wasn't the economy, interest rates or tech stocks; instead it was news on Friday that US President Trump and his wife have contracted COVID-19.
The news was initially known in mid-afternoon in Asian trading, leading to a 500 points slide in the Dow futures and bringing the sellers out in force around the region. Here, the Straits Times Index first dropped about 30 points but later clawed back most of this loss to end at net 4.63 points down at 2,496.11. For the week however, it still managed a 24-points or 1% gain, largely thanks to large 30-point rise on Thursday.
In the US, Wall Street also underwent a volatile session on Friday and at the end, the major indices all finished weaker. The Dow Jones Industrial Average dropped 182.25 points, or 0.7%, while the S&P 500 lost 0.7%, and the Nasdaq Composite slumped 1%. The 10-year Treasury yield ticked up 0.015 percentage point to 0.692%.
US economic recovery looks like stalling
The U.S. economy added 661,000 jobs in September — the smallest monthly job gain since May, a sign that the recovery could be cooling off.
In what will be the last monthly jobs report issued before the election on Nov. 3, the unemployment rate dropped to 7.9 percent, putting the rate closer to that of other recessions.
"This is just proof positive that this is no V-shaped recovery," said Mark Zandi, chief economist of Moody's Analytics in a Washington Post report. "It's going to be a slog. The economy risks stalling out without any additional fiscal support."
US newspaper Barron's reported that the Bureau of Economic Analysis declared that the U.S. economy was 10% smaller in the second quarter of 2020 than it was at the pre-pandemic peak in the fourth quarter of 2019.
"That's about the same as China's peak-to-trough drop in gross domestic product, slightly better than Germany's (down 11.5%), slightly worse than Sweden's (down 8%), and much worse than South Korea's (down 4%)''  reported Barron's.
Singapore's market cap fell 2.7% in Sep to S$740b
The Singapore market's total capitalisation fell 2.7% in September to about $740b compared to August. The market cap of second board Catalist was 6% lower at $10.4b, whilst the value of mainboard stocks was 2.7% down at $730b.
Of the 696 counters listed on the exchange, 177 rose versus 359 that fell. The 30-stock Straits Times Index's market cap fell for the third consecutive month, down 3% at $432b. The STI's value was 58% of the entire market and 59% of the mainboard.
The Business Times quoted Stephen Innes, chief global market strategist at AxiCorp as saying the weak performance was because SGX does not have the "technology powerhouses'' that can be found on other markets like China, Korea and Japan.
Guidelines on conduct of AGMs updated
The authorities last week updated a checklist that guides listed and non-listed entities on the conduct of general meetings. Acra (Accounting and Corporate Regulatory Authority), MAS and SGX said these entities may continue to conduct their meetings on or before 30 June 2021 via electronic means and are encouraged to do so.
Companies are also encouraged to adopt enhanced digital tools such as real-time electronic communication to facilitate shareholder engagement at the meetings. Those that wish to provide physical attendance must ensure they comply with the Government's safety measures.
More on Hyflux
Troubled water treatment firm Hyflux said the unsecured working group of bank lenders had on Sep 17 informed potential "white knight'' Utico that they do not accept the terms of Utico's revised offer and would not consider any non-cash offer.
Utico was invited to provide details of a further revised proposed cash offer for the consideration of Hyflux's senior unsecured creditors but the utilities firm from the Emirates has not yet responded. Utico has suggested a virtual townhall between Oct 7-10 for those holding Hyflux's perpetuals and preference shares.
MAS ordered Ayondo to provide documents for investigation
MAS on Thursday ordered Catalist's Ayondo to provide information and documents in relation to an investigation into a possible offence under the Securities and Futures Act.
Ayondo also announced that independent director Foong Daw Ching and non-executive director Foo Fatt Kah have attended interviews conducted by MAS and the Commercial Affairs Department.
Best World dropped defamation suit against Bonitas Research
Mainboard-listed beauty products firm Best World has decided not to pursue a defamation lawsuit against short-seller Bonitas Research. On Friday it said this is so its management can focus on its business.
Trading in Best World has been suspended since May 2019. SGX has said the suspension will continue indefinitely until the firm addresses concerns over its accounting practices.