Date: February 22, 2021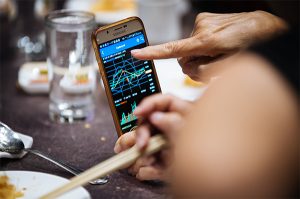 The STI fell 45 points or 1.5% to 2,880.64;
Penny stocks enjoyed bulk of the volume;
Wall St and other markets have their eyes on rising US bond yields;
Singapore Government's Budget includes S$11b for COVID-19 relief;
NODX grew better-than-expected 12.8% in Dec;
Offer for Soilbuild Reit is fair and reasonable;
Offer for Bermuda-registered GL is not fair but reasonable;
SembCorp Marine warned of material provisions;
MAS and SGX on alert for possible manipulation via chat forums
Pennies in play as momentum in blue chips stalls
Despite Wall Street holding firm in the face of weak US economic numbers, the local stock market has struggled in recent weeks – the Straits Times Index, which in mid-January climbed above the 3,000 level, has since been unable to add to those gains and has instead fallen back in the intervening four weeks.
With blue chips having lost the upward momentum that they enjoyed at the end of 2020 players have in the past month turned their attention to second liners as can be seen from the average unit volume traded daily. This has been well below S$1 – on Friday when the Straits Times Index dropped 28.21 points to 2,880.64 for example, some 2.8b units worth S$1.37b were done, for an average of S$0.49 per unit.
Friday's fall brought the index's loss for the week to about 45 points or 1.5%.
US Treasury yields headed higher
According to some reports, the weakness in stocks has come about because of the prospect of higher interest rates if economies emerge from the pandemic and growth starts to accelerate.
US government-bond yields rose Friday, wrapping up the biggest weekly gain in over a month as investors bet that the US economy will gather strength in the coming months.
The yield on the benchmark 10-year Treasury note finished Friday's session at 1.344%, up from 1.286% at Thursday's close and marks the largest one-week gain since Jan 8. The 30-year bond yield rose to 2.140% Friday—the highest level in a year—from 2.076% Thursday.
Gains in yields, which rise when bond prices fall, accelerated after new data released Friday showed business activity in the U.S. private sector remained robust in February and sales of previously owned homes rose last month. Investors tend to buy bonds when they are worried about the economy
Government's Budget includes S$11b for COVID-19 relief
The Government on Tuesday unveiled its 2021 Budget, which included a S$11b COVID-19 resilience package. Of this, S$4.8b is for public health including vaccinations and S$5b is for workers and businesses.
In addition to the money for COVID-19 resilience, the Budget includes S$24b over three years to enhance job creation, company transformation and platforms for innovation.
About S900m has been earmarked for a Household Support Package.
NODX grew by better-than-expected 12.8% in Dec
Singapore's non-oil domestic exports (NODX) grew 12.8% year-on-year in January, up from 6.8% in December. Although this is partly due to the low base from a year ago, it still far exceeded the 5.2% growth that private sector economists were expecting.
The Business Times quoted UOB economist Barnabas Gan saying that the strong performance reinforces his bank's view for an optimistic external environment for Singapore in 2021.
UOB is cautiously optimistic that NODX will grow 1% for the full year, which is the middle of the official forecast of 1-2%. OCBC in the meantime, is forecasting 1.5% growth with risks tilted to the upside whilst Maybank Kim Eng expects 3-4% growth.
KPMG: Offer for Soilbuild Reit is fair and reasonable
KPMG, which is the independent financial adviser for the privatization offer for Soilbuild Reit, said last week that the price of S$0.55 is fair and reasonable. Since the Reit declared a fourth quarter distribution of S$0.01194 per unit, the price will be adjusted to S$0.53806 per unit.
The offer is via a scheme of arrangement and is being made by Soilbuild Group Holdings executive chairman Lim Chap Huat and Blackstone Real Estate. An extraordinary general meeting will be held at 2pm on 11 March. If approved, the scheme is expected to become effective by 31 March.
W Capital Markets: Guoco's offer for GL Limited is "not fair but reasonable''
Guoco Group's offer to take Bermuda-registered GL Ltd private at S$0.70 per share has been deemed "not fair but reasonable'' by the independent financial adviser W Capital Markets. GL's independent directors have recommended that shareholders accept the offer.
GL's price at the last practicable date was S$0.71, which means the offer is at a discount. It is also a slight discount to the volume-weighted average price of S$0.704 per share for the period between the offer announcement and the latest practicable date. These reasons led W Capital to conclude the offer is "not fair''.
However, it noted that the group posted a net loss of US$19.8m for the six months ended 31 Dec 2020 and that the offer price to net asset value per share is 0.73, which is above the mean and median of comparable companies. Also, there is unlikely to be a competing offer from anyone else since GuocoLeisure Assets owns 73.67& of GL.
For Singapore incorporated companies, privatization offers have to be both fair and reasonable. GL however, falls under Bermuda's Companies Act.
SembMarine warned of material provisions
SembCorp Marine or SembMarine on Wednesday warned that it will make "material provisions'' in its 4Q results which will have an "adverse impact'' on its results. In November, the company announced it had incurred a Q3 loss and expected this to continue in A4. The counter finished S$0.007 or 4.4% lower on Thursday at S$0.152 on volume of 98.8m. It ended the week at xxx.
Online chat forums and possible manipulation: MAS and SGX on alert
Transport Minister and MAS board member Ong Ye Kung in Parliament said there have been no signs that discussions in online forums or social media chat groups have led to any significant increase in the trading of SGX counters.
Still, market regulators MAS and Singapore Exchange Regulation (SGX RegCo) are on heightened alert to such activities. This is in the wake of sharp price swings last month in a handful of stocks in the US such as video game retailer GameStop and cinema chain AMC Entertainment Holding.
These swings came after hordes of retail investors responded to a plan hatched on Internet chat forum Reddit to engineer a "short squeeze'' in these stocks.
Regarding concerns on short squeezes, Mr Ong said that there are much fewer short positions taken in Singapore compared with the US.
He attributed this in part to differences in investor culture, a high level of market disclosure here and Singapore not allowing certain types of mechanisms that expose investors to more short positions.