Date: August 30, 2021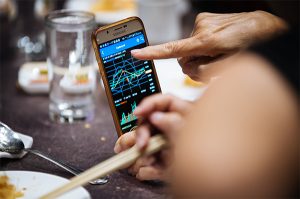 Wall Street's all-time highs had little impact here;
The STI ended the week 22 points or 0.7% down at 3,080.77;
There was some caution ahead of the US Fed's Jackson Hole meeting;
That caution appeared unwarranted after Fed chief's reassurances;
Stocks in play included Nanofilm, Yangzijiang, SGX and ComfortDelgro;
Manufacturing looks set to slow in months ahead
Has the local market decoupled from Wall St?
Conventional wisdom is that Wall Street plays a major role in influencing sentiment and determining daily market direction in most global markets, including Singapore's – at least most of the time.
Over the past 2-3 weeks, that belief has been challenged as the Straits Times Index has turned in an unremarkable performance, struggling to stay above the 3,100 level even as US stocks powered upwards.
Between Monday and Wednesday as the S&P 500 and Nasdaq Composite set new consecutive all-time high records, the STI gained only 5 points or 0.16%, actually falling below 3,100 when it closed at 3,087 on Monday.
It then regained the mark on Tuesday only to lose it again on Friday.
As always, it was the banks and Jardine stocks that proved the major index movers. Daily volume averaged a mediocre S$1.08b.
Investors were waiting for Fed chief Powell's Jackson Hole comments
Part of the reason for last week's overall 22 points or 0.7% loss for the STI at 3,080.77 that came despite the three consecutive all-time highs on Wall St between Monday and Wednesday and one more on Friday could be that investors were waiting for the outcome of the US Federal Reserve's summit at Jackson Hole, Wyoming and to hear what Fed chairman Jerome Powell had to say, particularly with regards to the US central bank's bond buying programme and when this would be "tapered'' or reduced.
Powell's reassurances helped US stocks close Friday at new highs
As it turned out, that caution appears to have been unwarranted as the S&P 500 and Nasdaq Composite indices rose on Friday to new all-time highs after Mr Powell reassured markets that while the Fed is likely to soon reduce economic support, it may not do so rapidly.
He reaffirmed that the Fed could – but not necessarily – start reducing the size of its bond purchasing program this year. While that means monetary policy would become slightly less supportive of economic growth, markets had already digested that the Fed is strongly considering tapering this year given the strong signalling over the past few months.
However, Mr Powell also noted that the recent inflation—partly caused by pent-up consumer demand and partly by supply chain constraints—is temporary. That could assure investors that the Fed will not reduce economic support too rapidly.
On Friday following Mr Powell's comments, the Dow Jones Industrial Average gained 243 points, or 0.7%, while the S&P 500 rose 0.9% and the Nasdaq Composite advanced 1.2%. The S&P 500 and Nasdaq both closed at new records.
Banks were the main index drivers
Among blue chips, most of the interest focused on the banks, though there was also interest in SIA, CapitaLand, City Developments and Singtel. Sembcorp Marine's shares traded ex-rights on Wednesday, closing S$0.009 weaker at S$0.093 on volume of 272.4m that day.
Stocks in play included Nanofilm, Yanzijiang, SGX and ComfortDelgro
Each day there were patches of activity to keep traders happy, though these were few and far between. For example, there was a large rebound in Nanofilm Technologies that came after the stock had been battered the previous week following the departure of its chief operating officer, a big push on Yangzijiang Shipbuilding following strong first half earnings, and a sudden slide in shares of the Singapore Exchange (SGX) after it reported a weak set of results earlier this month.
On Friday when the STI fell almost 29 points or 0.92%, shares of transport operator ComfortDelgro rose S$0.03 to S$1.63 on volume of 21.2m after the company announced it has won a S$1.13b contract to operate rail services in Auckland, New Zealand. The contract will begin on January 2022 and will last for an initial term of eight years.
In response, CGS-CIMB said it is positive on the win and expects earnings per share accretion of 1.1-1.8%. The broker had raised its target for the stock from S$1.60 to S$1.80.
Singapore's manufacturing to grow more slowly
Singapore's industrial production rose by a lower-than-expected 16.3% in July partly because of the high base last year for the key electronics cluster.
Electronics output growth cooled to 1.5% as semiconductor production fell 0.4% after having grown 29.5% in June. The Business Times quoted OCBC's chief economist Selena Ling saying that besides the high base effect, the contraction is likely because of a global supply crunch.
Senior Maybank Kim Eng economist Chua Hak Bin was also quoted saying "Manufacturing growth will likely moderate to single digits from September as semiconductor production is already running close to full capacity''.