Date: February 21, 2022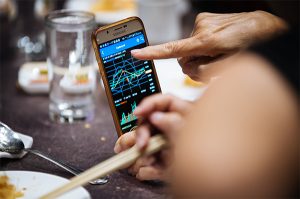 The Straits Times Index was flat over the five days at 3,428.90
Support was mainly for banks after DBS and UOB reported solid earnings
Analysts revised Singtel target prices upwards
Singapore's Budget announced on Friday
Wall St buffeted by interest rate worries and Ukraine war concerns
Flight to safety meant bond yields fell
Banks helped keep STI from falling into the red
The Straits Times Index last week continued to display resilience in the face of mounting worry of war in Ukraine, worry that sent most global markets into retreat.
Sterling bank results could have been the main reason why the Straits Times Index ended the week flat at 3,428.90 in a week when Wall Street for example, suffered its worst day this year on Thursday when the Dow Jones Industrial Average lost 622 points or 1.8% and continued to slide on Friday on concerns that a Russian invasion of Ukraine is imminent.
Daily volume here averaged $1.44b, ranging from S$1.2b on Friday to S$1.6b on Thursday.
The banks reported solid earnings
DBS kicked off the reporting season for banks on Monday, announcing a 37% jump in Q4 profit to S$1.4b, whilst full-year net profit was up 44% to a record S$6.8b. Return on equity increased from 9.1 to 12.5% and proposed Q4 dividend per share was raised to S$0.36 from S$0.33 for Q3.
Taken with interim dividends paid over the year, annualised dividend payout totalled S$1.44 per share, 9% higher than in 2020.
RHB responded to DBS's results by revising its target price from S$40.40 to S$42.70 after factoring in better net interest margins and lower provisions.
On Wednesday, UOB reported a 48% rise in Q4 profit to S$1.02b and declared a final dividend of S$0.60 a share, up from S$0.39 a year ago, when dividend payouts from local banks and finance companies were capped due to the Covid-19 pandemic.
Together with the interim dividend of S$0.60 a share, the total dividend for last year will be S$1.20, representing a payout ratio of about 49 per cent.
Its full-year profit rose 40 per cent to $4.07 billion amid stronger income growth and lower allowances as Singapore and regional economies gradually recovered during the year.
Maybank said that UOB's gearing to an ASEAN recovery, exposure to higher margin SMEs and an expanded retail franchise following its purchase of Citibank's Southeast Asian asset puts it in a strong position to benefit from rising rates and reopening.
"With ROEs set to expand (12% 2023E vs. 9.8% 2021), we expect the Group to trade at higher multiples, while dividend payout risks are on the upside. We raise target price to S$36.69. With 12% upside, maintain BUY'' said Maybank.
Singtel's Q3 profit up 23.8%, analysts raised target prices
Singtel last week announced a 23.8% increase in net profit to S$734m for its third quarter ended 31 Dec 2021, mainly due an exceptional gain from the disposal of its 70% stake in Australia Tower Network. Revenue for the quarter was down 7.7% to S$3.91b.
Analysts from CGS-CIMB and Maybank last week raised their target prices for the stock. CGS said its new target price is S$3.30 from S$2.90 due to higher fair values for Singtel's associates, led by India's Bharti.
Maybank in the meantime, raised its target from S$2.83 to S$2.98 after inputting higher valuations for Singtel's associates.
DBS also maintained a "buy'' on Singtel with S$3.13 target, whilst RHB's target is S$3.37.
Wall St – caught between a rock and a hard place
"Wall Street is feeling very jittery as it looks to the left and sees intensifying geopolitical risks with the Ukraine situation and then it looks to the right and sees the potential for aggressive Fed tightening," wrote Edward Moya, senior market analyst at Oanda on Thursday.
Comments from St. Louis Fed President James Bullard on Thursday added to concerns that the Fed will raise interest rates more times than currently expected. Bullard said in a speech that the central bank should pursue the best monetary policy it can, and that markets will make their adjustments appropriately.
He also said that an appropriate benchmark lending rate could be 1% by July 1. That would imply four quarter-percentage-point moves by then—the amount markets had been pricing in for the entire year.
Also on Thursday, US Secretary of State Anthony Blinken told the United Nations Security Council that Russia is likely to invade Ukraine within the next few days and the West warned that Russia was still building up troops near Ukraine.
The flight to safety resumed
Market participants have been moving into safer assets to ride out the volatility in riskier assets like stocks and oil. The price of the 10-year Treasury note rose, sending the yield down to 1.93% from a Thursday close of 1.96% and down from its pandemic-era peak of 2%.