Date: October 21, 2019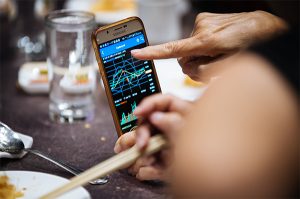 The STI fell about one point over the week to 3,114.16;
Nothing concrete was announced on US-China trade, but signs were not too encouraging;
China figures confirm that its economy is slowing;
US imposed tariffs on EU goods on Friday;
Daily trading volume was low, averaging just below $1b;
SPH's profit falls 23%, will cut 5% of its staff
US-China trade – no new developments but signs are not too encouraging
By now, most stock market investors would know that when it comes to US and China relations, nothing can be taken for granted. This lesson has been painfully learned over the past two years since US President Trump assumed office and started targeting China for allegedly unfair trade practices and being a currency manipulator.
During this period there have been numerous times when one or both sides claimed that good progress was being made, only for nothing to later materialise.
This was again the case last week when prices initially rose on optimism that a Chinese delegation to the US would be able to hammer out a mutually agreeable deal – only to fall later in the week when relations between the two countries appeared to deteriorate.
The on-off tariffs game
Early optimism came from news that the US is delaying its Oct tariffs until December in return for buying more pork and soya beans. However, as some analysts have observed, there was no really substantive change in the respective positions and things worsened as the week drew to a close.
One reason for this was that the US House of Representatives on Wednesday passed a Bill which supported the pro-democracy movement in Hong Kong, a move which drew stinging criticism from China that came with the promise of retaliation.
China's economic numbers were mixed
Further darkening the situation was that China's September trade data released on Tuesday showed a quickening slide in exports, a continued decline in imports and factory prices declining at the fastest pace in more than three years.
This then prompted speculation that China's economic growth could jdrop below the government's target of 6-6.5% for this year. Added fuel for such speculation came on Friday when China announced that its Q3 GDP growth was 6%, the lowest since 1992.
There was, however, a small silver lining when it was announced that Sep retail sales grew by 7.8% industrial output by 5.8%.
Analysts say they expect the government to step up its stimulus measures at the end of the month when the Politburo is expected to meet. Among them would be an interest rate cut, reductions in the bank reserve ratio requirements and devaluation of the currency.
Other measures could be lower fees and entry barriers for small and medium sized enterprises.
US imposed tariffs on EU goods
On Friday, the Us imposed tariffs on US$7.5b worth of European Union goods despite threats of retaliation. This came after talks between European officials and US trade representatives failed to reach a settlement. The products targeted were whisky and wine, as well as the Airbus aircraft company.
France's Economy Minister Bruno Le Maire said "Europe is ready to retaliate within the framework of the WTO (World Trade Organisation). These decisions would have very negative consequences both from an economic and political point of view''.
SPH's profit down 23%, to cut workforce by 5%
Media and property company SPH last week announced a 23% slide in net profit for the year ended 31 Aug to $213m and said it will be letting about 130 staff go to save costs. Operating profit fell 12.2% to $187m as operating revenue dropped 2.4% to $959m as property income compensated for a decline in income from media operations.
Property revenue rose 22% to $296.5m whilst media revenue fell 12% to $576.9m. Total print advertising revenue decreased by 15% or $57m and total circulation fell 7.3% or $11m.