Date: January 30, 2023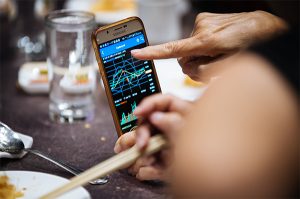 Pent-up demand after Lunar New Year sent the STI up 3.06%
Also helping was a firm Wall St which shook off recession worries
Singapore's Dec manufacturing output shrank 3.1%
Probability of a 25-basis points rate hike at next week's FOMC is now 99%
Tesla's earnings beat estimates, Intel's were disappointing

The STI continued its firm start to 2023
The local stock market enjoyed a boost on Wednesday when the Straits Times Index jumped 59 points or 1.8% on the back of pent-up demand following the closure of the market for the Lunar New Year holidays on Monday and Tuesday. Banks and real estate investment trusts led the charge as volume done that day swelled to S$1.5b versus the recent average about $1b.
The momentum continued for the remaining two days, with the market here drawing confidence from a firm Wall Street. As a result, the STI for the week posted an impressive 101 points rise over the three days, a gain of 3.06% that put it within touching distance of the 3,400 mark at 3,394.21.
Average daily volume was S$1.4b, much better than the S$1.01b average of the previous week. The STI has now risen 143 points or 4.4% since the start of the year.
December's manufacturing output shrank 3.1%
Singapore's manufacturing output shrank for a third consecutive month in December, although not as steeply as feared. Analysts expect the lacklustre performance to continue for some time.
Output last month fell 3.1 per cent year on year, dragged down by volatile biomedical production even as electronics turned positive. Excluding biomedical manufacturing, output edged up 0.3 per cent.
Overall production performed better than the 6.9 per cent contraction forecast by analysts in a Bloomberg poll. It was also a slight improvement on the 3.8 per cent fall in November.
Wall Street rose as recession fears eased
Over in the US, data on Thursday showed seasonally adjusted gross domestic product growth of 2.9% in the fourth quarter, a slight slowdown from the 3.2% growth in the previous quarter, but still pointing to a healthy economy. Economists surveyed by FactSet had estimated growth of 2.3%. A hotter-than-expected number signals that the economy clearly isn't in a recession and it may be able to handle further rate hikes by the Fed.
Jobless claims numbers released Thursday added to the view. The number of Americans filing for unemployment insurance programs declined by 6,000 from the previous week's level to 186,000, pointing to the continuing tightness in the labour market.
The upshot of all this is that the US stock market remained firm, led by Nasdaq, which is 11% up for the year so far. The Dow Jones Industrial Average in the meantime, has risen for six consecutive days ending Friday.
Probability of a 25-basis points rate hike at FOMC next week is now 99.2%
On Friday, the personal consumption expenditures index, the Federal Reserve's preferred inflation gauge, showed that price pressures eased further last month. The core PCE index rose 4.4% year over year in December, in line with expectations and lower than November's 4.7% and 5.1% in the month prior.
As a result, the federal funds futures market is now pricing in a 99.2% chance that the US central bank will raise its short-term rates by only 25 basis points at next week's meeting.
Tesla's earnings beat estimates, Intel's earnings disappointed
Tesla reported fourth-quarter earnings per share of US$1.19 from sales of US$24.3 billion. Operating profit was a record US$3.9 billion, up from the prior record: US$3.7 billion in the third quarter.
Wall Street was looking for earnings per share of about US$1.13 and operating profit of US$4.2 billion from US$24.7 billion in sales. Expectations weren't all that high heading into the report. Shares surged more than 10% in regular trading Thursday, hitting US$159.32.
On Thursday, Intel reported fourth-quarter adjusted earnings per share of 10 US cents, compared with Wall Street's consensus estimate of 21 US cents. Revenue came in at US$14 billion which was below analysts' expectations of US$14.49 billion.
The even worse news came in the outlook. For the current quarter, Intel forecast revenue of US$10.5 billion to US$11.5 billion—well below the Wall Street consensus of US$13.93 billion. At its midpoint, the revenue guidance for the March quarter equates to a year-over-year decline of 40%.
Intel's shares on Friday fell by as much as 10% before closing a net US$1.93 or  6.4% down at US$28.16.