Date: January 9, 2023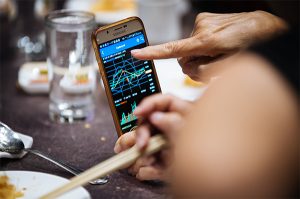 The STI kicked off the year with a 0.76% rise in the first week
The gain came despite hawkish Fed minutes
Wall St plunged on Thursday but rallied on Friday after Dec jobs report
US Treasury bond yields backed off from their highs
Singapore's GDP grew 3.8% in 2022
Market cap in Dec fell 0.4% from Nov to S$827.1b
HK-listed Comba Telecom debuted on SGX
Creative Tech shares in play after news of founder's passing
Singapore's outperformance to continue: UOB-Kay Hian
Markets to enjoy "gentle transformation" in Year of the Rabbit: Maybank
The STI rose 25 points or 0.76% to 3,276.72 despite hawkish Fed minutes
After a slow and unsure first two days during which the Straits Times Index (STI) tracked a slow and unsure Wall St, trading then kicked into high gear on Thursday in line with a firm Wednesday closing for the US market.
These gains came despite the release of the minutes of the December Federal Open Markets Committee meeting that showed that except for the decision to reduce the size of the rate hike last month from 75 to 50 basis points, the committee remains laser-focused on staying aggressive in its inflation fight.
On Thursday, even with the Dow futures trading in the red during Asian trading hours, the STI rose 50 points or 1.6%, in heavy volume of 1.16b units worth S$1.38b traded. Despite the index dropping back on Friday, it still managed to record a gain of 25 points or 0.76% for the week at 3,276.72.
How Wall St fared
US Stocks tumbled on Thursday, but rallied on Friday after release of the December jobs report which showed the US economy added 223,000 jobs in December, beating economists' expectations for 200,000. The result is lower than November's 256,000 payrolls, which was revised downward. October's result was also revised downward. The unemployment rate fell to 3.5%. Wages grew 4.6% year over year.
The Dow Jones Industrial Average jumped 701 points, or 2.1%. The S&P 500 rose 2.3% and the Nasdaq Composite popped 2.6%. Friday's gains brought the indexes to weekly gains; the Dow, S&P 500 and Nasdaq gained 1.5%, 1.7% and 1%, respectively last week.
What the Dec FOMC minutes said and the bond market's reaction
Officials agreed that inflation, despite some slight relief in recent months, remains "unacceptably high." And they unanimously believe there will be no rate cuts in 2023—a view at odds with current market expectations.
"Participants continued to anticipate that ongoing increases in the target range for the federal funds rate would be appropriate to achieve the Committee's objectives," the minutes say. "No participants anticipated that it would be appropriate to begin reducing the federal funds rate target in 2023''.
"It would take substantially more evidence of progress to be confident that inflation was on a sustained downward path… A continued subdued expansion in aggregate demand would likely be needed to reduce remaining upward pressure on inflation."
Stocks did not sell off violently possibly because the bond market appeared to take the minutes in its stride. The 2-year Treasury yield, a barometer for expectations about the federal funds rate, rose from 4.32% to just 4.34%. It is still way below its multi-year high of just over 4.7%, hit near the end of 2022.
US newspaper Barron's quoted Peter Boockvar, chief investment officer at Bleakley Advisory Group: "We have to fully understand all the balls the Fed is now juggling. Keep hiking to temper inflation but don't put US economy in deep recession."
The two-year Treasury yield, a barometer for expectations about the ultra-short-term federal funds rate, fell to 4.26% from about 4.5% minutes before release of the December jobs report.
The 10-year Treasury yield, which has been moving roughly in line with the two-year yield over the past several months, dropped to 3.57% from above 3.7% just before the jobs report.
Singapore's GDP grew 3.8% in 2022
Singapore's economy grew by 3.8 per cent in 2022, slowing sharply from the 7.6 per cent growth achieved a year earlier, according to advance estimates from the Ministry of Trade and Industry (MTI). However, it was slightly better than the "around 3.5%'' forecast MTI gave in November.
In the fourth quarter, the economy expanded 2.2 per cent on a year-on-year basis, moderating from the 4.2 per cent growth in the previous quarter. The slowdown came on the back of a 3 per cent year-on-year contraction of the key manufacturing sector. This was a reversal from the 1.4 per cent growth in the previous quarter.
The Straits Times quoted OCBC Bank chief economist Selena Ling who said the manufacturing sector's contraction was the first since the fourth quarter of 2020. "Manufacturing momentum has been faltering, especially on growing concerns over global recession and a pullback in demand for electronics, especially of semiconductors," she said.
Singapore's market cap down 0.4% in December
The total market capitalisation of the Singapore stock market dipped 0.4% to S$827.1b from November, led by falls in DBS, Singtel and China electric car maker Nio Inc which lost S$3.28b, S$2.48b and S$2.25b respectively.
The biggest gainer was Jardine Matheson, whose market cap rose S$1.62b, followed by Hongkong Land with a S$1.6b gain. These, together with others like DFI Retail Group, were said to have risen because of China's reopening.
Consumer counters like Thai Beverage and Emperador and hospitality stocks Genting Singapore, Shangri-La and CapitaLand Ascott Trust were among the gainers.
Meanwhile, the market cap of the 30 STI stocks was S$542b, 0.5% lower than in November and roughly two-thirds or the entire market.
Secondary listing Comba Telecom debuted on SGX
Telecom firm Comba Telecom, which has a primary listing in Hong Kong (HK) and applied for a secondary listing here, debuted on SGX's mainboard on Wednesday. It ended that day at $0.255 on volume of 202,200 shares and HK$1.41 in HK on volume of 5.6m.
The company was established in 1997 and listed in HK in 2003. It provides antennas and subsystems, network system services, and wireless transmission to its customers. It has research and development centres in China and the US.
Creative Technology's founder passed away, shares rise on hopes of new owner
Creative Technology's shares were in play last week after shock news that its founder Sim Wong Hoo had passed away.
On Thursday when the news was released, the stock initially jumped around 40 per cent to SS1.90, before closing at S$1.76 up almost 25 per cent. On Friday, it hit a high of S$1.91 during the day before closing up 1.7 per cent at S$1.79.
Speculation is rife that Mr Sim's family will sell his stake in the company to investors who could take it private. The founder was Creative's single largest shareholder with a 31 per cent stake.
The market is also speculating that a new controlling shareholder could replace Creative's existing management with a team that can help steer the loss-making company back to profitability.
Singapore's outperformance to continue in 2023: UOB-Kay Hian
In a strategy report on Jan 4, analyst Adrian Loh and UOB KH's Singapore Research Team noted that the Straits Times Index (STI) managed a total return of 6.6% in 2022, despite a "bumpy" recovery for the global economy post Covid-19, with concerns such as inflation and higher interest rates dominating the market's attention.
They therefore believe that this outperformance by the STI should continue due to its defensive nature, and also given the prevalence of quality, value and dividend stocks relative to its regional peers.
"Since there will no longer be a synchronous global cycle, country risk will return, and our view is that Singapore presents a lower risk vs other countries in the region'' said the broker.
Their forecast is for the STI will reach 3,520 points by end-2023, implying an 8% upside from current levels.
Their 2023 STI target is based on 6% earnings growth for 2023, and target PE and P/B of 12.9x and 1.3x respectively, both of which are at about a 15% discount to the index's long-term average.
Maybank's Feng Shui Guide to Prosperity
In its Feng Shui Guide to Prosperity last week, Maybank said the Year of the Water Rabbit promises to bring gentle transformation.
"It will support a sense of calm and stability in markets. Expect positive energies for Singapore, Thailand, Indonesia and the US, while HK & China will experience gradual recovery''.
"Metal industries (Banking, Industrials, etc.) and Earth industries (Property, Agriculture) will be immediate winners, while Fire industries (Brokerages, Telecom, Energy) will benefit later in the year. Highest luck Zodiacs are Rat, Dog & Goat''.