Date: July 25, 2022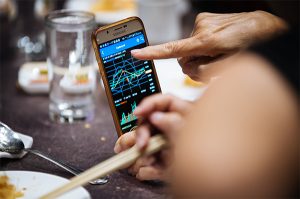 All eyes on this week's FOMC
Probability of 75-basis points rate hike now 80%, 100-points is 20%
US bond yields continued to fall; yield curve remained inverted
STI rose 82 points or 2.6% over the week to 3,181.34 thanks to Wall St
US market enjoyed earnings-driven rebound but ended Friday in the red
Genting squashed takeover talk but its stock remained in demand
Singapore market still looks cheap despite outperformance: OCBC
Investor sentiment is poor: Bank of America's latest fund manager survey
The focus this week will be Wed's FOMC
All eyes in the week ahead will be focused on Wednesday's Federal Open Markets Committee meeting, at which an interest rate hike is expected, the only question being the size. As of the end of trading on Friday, the federal funds futures market was pricing in a 20% chance of a 100-basis points rate hike, with 75 points being rated at 80%.
STI rose 2.6% thanks to a firm Wall St – but volume remained low
Over in Singapore, the Straits Times Index managed an 82-points or 2.6% rebound over last week to 3,181.34, thanks largely to a firm, earnings-driven Wall St rally between Tuesday and Thursday.
US bond yields continued to fall, yield curve remained inverted
Underpinning stocks was a continued decline in bond yields, with the 10-year U.S. Treasuries falling below 2.80%, well under its mid-June peak near 3.50%. However, of greater significance is that the benchmark 10-year yield has remained 20 basis points below that of the two-year yield, a much-watched portent of recession.
Volume here however was low, averaging S$854m daily, which was in keeping with recent totals. Higher interest rates in the US and all around the world are said to be draining liquidity from equity markets.
The bulk of the STI's gain came on Wednesday when it rose 52 points in response to a strong overnight showing in the US. That in turn came after Netflix reported better-than-expected earnings.
Genting Singapore squashed takeover rumours – but its shares remained firm
Casino operator Genting Singapore, whose shares had been in play the previous week on takeover talk, saw its shares come under pressure early last week when the company issued a statement that although its executive chairman and indirect controlling shareholder Tan Sri Lim Kok Thay had been approached about his shareholding, the offer has not been pursued.
Genting Singapore "is not aware of nor has it been party to any ongoing discussions concerning any potential transaction," it said, without providing more details of the approach.
On Monday, Genting's shares fell S$0.015 or just under 2% at S$0.79 after earlier that day sliding as much as S$0.04 or 5%. However, by the end of the week, they had rebounded – on Friday, the counter rose S$0.035 or 4.5% to S$0.81 on high volume of 72.5m done.
Singapore stocks still look cheap despite outperformance: OCBC
In its second half outlook, OCBC on Friday said it is positive on the local market as valuations look inexpensive but recommends investors take a more defensive approach as it expects high volatility amid inflation concerns.
OCBC Investment Research's head Carmen Lee noted that the STI is down only 0.2% for the year, outperforming other key indices, including the S&P 500, MSCI China and Korea Composite Index which have seen declines of more than 15%.
Despite the outperformance, Ms Lee said price index's price-earnings ratio is still close to 2 standard deviations below its 10-year historical average whilst its price-to-book is also below its 10-year historical average.
OCBC's picks include Ascendas Reit, CapitaLand Integrated Commercial Trust, Frasers Centrepoint Trust, Raffles Medical, Sats, SIA Engineering and Thai Beverage.
How Wall St fared
The US market on Monday slumped after Apple announced it was pausing hiring, signalling that some companies are preparing for lower-than-expected profits, as the Federal Reserve's interest rate hikes are meant to dent demand to tame high inflation.
Tuesday's rally then saw all three major indices rising more than 2% each and came after better-than-expected results posted by Netflix.
Oanda senior market analyst Jeffrey Halley was quoted saying it looked like Wall St was looking for any excuse to continue its bear market rally and Netflix's results provided it. "With the street hungry for good news to feed the buy-the-dip appetite, Wall St had a huge day…''
On Friday however, all three indices ended in the red, possibly as a result of caution ahead of this week's FOMC. For the week, the indices were up 2-3.3%.
Investor sentiment is poor: Bank of America's Fund Manager Survey
Wall St's earnings-season rally last week has come amid a general backdrop of poor investor sentiment. Bank of America 's July Global Fund Manager Survey revealed "dire levels of investor pessimism," said investment strategists Michael Hartnett and Myung-Jee Jung last week.
"Expectations for global growth & profits [are at] all-time lows, cash levels [are] highest since "9/11", equity allocation lowest since Lehman," they wrote, listing off key takeaways from the survey.
The latest Fund Manager Survey, published Tuesday, was carried out between July 8 and July 15. It included responses from hundreds of investors who collectively manage hundreds of billions of dollars' worth of assets.
Around 80% of those surveyed said they were expecting the economy to weaken within the next year, marking the lowest growth expectations since the survey began in 1995.
Investors slashed their exposure to risk assets to levels not seen even during the global financial crisis in a sign of full capitulation amid a "dire" economic outlook, according to Bank of America Corp.'s monthly fund manager survey.