Date: December 12, 2022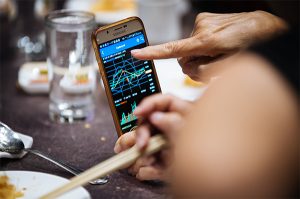 The Straits Times Index fell 14 points or 0.43% to 3,245.97
Wall St stocks also fell ahead of the 14 Dec FOMC
In the US, good news for the economy is bad news for stocks
Higher-than-expected US PPI data dragged Wall St lower on Friday
US Treasury yield curve remained inverted, signalling recession
CGS-CIMB downgraded banks to "neutral''
Banks and commodities led Q3 profit performance
Oei Hong Leong took 20% stake in A-Smart, stock surged 235%
Caution ahead of FOMC send stocks down
Sudden caution ahead of the upcoming US Federal Open Markets Committee meeting meant that Wall St underwent an uncertain five days last week, with the result that the uncertainty spilled over here as well.
The Straits Times Index dipped on Tuesday and Wednesday and despite rebounding on Thursday and Friday, this was not enough to prevent a net loss of 14 points or 0.43% at 3,245.97 for the week.
Average daily volume was slightly above average at S$1.07b but was lower than the previous week's S$1.4b average.
In the US, good news for the economy is bad news for stocks
US stocks had risen sharply for most of November on hopes that the Fed will slow the pace of its rate hikes. However, doubts emerged after release of November's US employment report, which showed that the U.S. economy added more jobs than expected, which indicates strong demand, while continued wage growth could point to resilient inflation.
"Good is still bad, raising concerns the Fed will need to keep its foot on the accelerator for longer," wrote Michael Reinking, senior market strategist at New York Stock Exchange.
"The labour market's strength is the biggest hurdle to a Fed pause or pivot because employment is a barrier to lower inflation," wrote Ryan Belanger, founder and managing principal, Claro Advisors.
"The market's recent weakness suggest investors are repricing November's optimism, which was fuelled by hopes that the Fed would be willing to pause its pace of rate hikes''.
Wall Street slid on Friday after release of PPI data, all eyes on FOMC
The US producer price index rose 7.4% year over year in November, above the expected 7.2%—but below October's 8.1% gain. A slower increase in companies' costs means firms will increase prices at a slower rate, keeping overall inflation on the decline. Markets, however, want to see inflation falling fairly quickly.
"This morning's inflation data shows that producer prices came in higher than expected and that's bad news for both stocks and bonds," wrote Chris Zaccarelli, Chief Investment Officer for Independent Advisor Alliance.
For the week, the Dow, the S&P 500, and Nasdaq fell 2.8%, 2.4%, and 4%, respectively.
The Fed meets next week to decide on the next interest rate hike. Currently, the federal funds futures market is pricing in a 77% chance of a 50-points hike.
US Treasury yield curve remained inverted, strongly signalling a recession
This repricing was reflected in short-term US treasury bond yields, which began to inch higher last week. In addition, short-dated bonds continued to provide higher yields than longer-dated bonds, an unusual condition known as an inverted yield curve that is traditionally interpreted to predict a recession.
The inversion extends to even the very short-term bonds – the three-month US T bill was recently at 4.33%, well above the 3.58% for the 30-year Treasury bond. The 2-year bond yields about 4.4% versus the 3.56% of the 10-year bond.
Another troubling sign about the yield curve's latest inversion is its longevity. According to reports, the inversion of the two- and 10-year Treasury yields had reached 102 trading days, the sixth-longest streak dating to 1977.
CGS-CIMB downgraded local banks to "neutral''
Local brokers CGS-CIMB last week downgraded its sector call for banks from "overweight'' to "neutral'' because of the potential slowdown in the Fed's pace of rate hikes.
Although the broker thinks net interest margin expansion is likely to continue in FY2023, it sees limited scope for further upward earnings revisions. It also said DBS could be the most susceptible to rate cuts versus its peers as incremental margin expansion has been priced in for the stock at this stage.
CGS-CIMB's call on DBS has been downgraded t=from "add'' to "hold'' on richer valuations, given that DBS is currently trading at 1.3 times FY2023 price-to-book verses 1 for its peers. The broker has lowered its price target for DBS from S$38.75 to S$36.50.
It did, however, maintain its "add'' calls on UOB and OCBC with target prices of S$34.80 and S$13.70 respectively.
Banks and commodities led Q3 profit performance
The Business Times newspaper reported that of the 134 listed companies that released their quarterly results as at 1 Dec, 81 were in the black while 53 were in the red, whilst total earnings rose 45.6% to S$8.5b versus the same period last year.
The report also said banks and commodity firms led the way. The three banks posted earnings improvements of between 31 and 34%, whilst commodity players Wilmar and Golden Agri-Resources saw net profits rise by 34.7% and 147.8% respectively.
Also notable were semiconductor firms UMS Holdings and AEM Holdings, whose net profits rose 180.5% and 38.3% respectively. Of those which reported profit falls were pandemic winners such as dental chain Q&M Dental and glove maker Riverstone which saw their bottom lines decline 62% and 76.2% respectively.
Keppel shareholders gave the nod for Sembmarine, Keppel O&M merger
Keppel Corp's shareholders on Thursday voted overwhelmingly for the merger of Keppel O&M and Sembmarine, with 99.96% of votes cast in favour of the deal.
This translates to 562.8m votes, with 214,126 votes cast against the merger. Temasek, which holds 371.4m Keppel shares, abstained.
Oei Hong Leong took 20% stake in A-Smart, shares up 235%
Well-known business tycoon Oei Hong Leong is set to buy a 20% stake in printing and recycling specialist A-Smart Holdings for S$5.37m, or 29.8m new shares at S$0.18 per share, a 50% premium to the stock's closing price on 6 Dec.
The deal makes Mr Oei a substantial shareholder and the second-largest shareholder after China entrepreneur Ma Wai Dong who bought a 52% stake in 2016.
When completed, Mr Oei's purchase will result in a transfer of controlling interest to him and will require shareholders' approval at an extraordinary general meeting to be convened. The new shares will be subject to a 2-year moratorium.
A-Smart's shares on Friday surged S$0.284 or 235% to S$0.405 on volume of 2.4m.