Date: November 21, 2022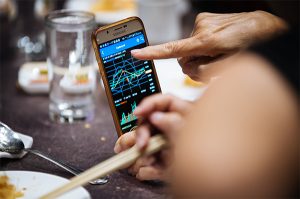 The Straits Times Index gained 1.4% over the week at 3,272.23
The rise came despite hawkish comments by US Fed officials
Wall St rose marginally, thus providing support for sentiment here
US bond yields rose, yield curve remained inverted
Singapore's NODX contracted 5.6% in Oct
Sembmarine painted dim picture for its 2H
SIA's capacity at 71% of pre-Covid levels
The STI started the week having rebounded 8.7% in 3 weeks
After sinking to its lowest close for the year at 2,969 on 21 Oct, the Straits Times Index started last week at 3,228, which meant that it enjoyed a rebound of 259 points or 8.7% in about three weeks.
Driving this gain was hopes that the US Federal Reserve might slow down the pace of its interest rate hikes, hopes that arose after the release of lower-than-expected US consumer price data for October. Over in the US, the S&P 500 had risen about 12% from early Oct, driven by the same hopes.
Fed officials made hawkish comments
Last week however, those hopes appeared misplaced after senior Fed officials spoke of the need for the US central bank to stay on its inflation-fighting course.
St. Louis Fed President James Bullard on Thursday said that the Fed has more work to do in lowering the rate of inflation. He said that the federal funds rate could reach 7%, which is above current market expectations of about 5%. He also added that rate hikes have only had a limited impact on inflation so far.
Bullard was just one of several Fed speakers Thursday. Atlanta Fed President Raphael Bostic, Fed Governor Michelle Bowman, Fed Governor Phillip Jefferson, and Minneapolis Fed President Neel Kashkari also spoke. Kashkari said the Fed should be sure that inflation has peaked before halting rate hikes.
US bond yields rose in response, yield curve remained inverted
As a result, the rally in US equities and bonds which had underpinned the STI's large, three-week bounce, stalled. With bond prices falling, the two-year Treasury yield, a barometer for expectations about the federal funds rate, gained from 4.348% on Wednesday to 4.53% on Friday.
The 10-year yield ended the week at 3.83% and the 30-year finished at 3.93%. In the federal funds futures market, the probability of a 50 basis points hike at the 14 Dec meeting is now 75.8%, whilst the probability of a Fed hiking by 75 points is 24.2%.
The STI extended its rebound by another 1.4% last week
In stockbroking jargon, all of these developments meant the local stock market could be described as having entered a "consolidation phase'', meaning after a sharp recovery from a low, traders are now locking in gains whilst waiting for more direction and news from the US.
Despite a 13.81 points drop on Friday, the STI still managed a gain of 44 points over the five days, or 1.4% at 3,272.23. Average daily volume amounted to S$1.44b, above the longer-term daily average of S$1b throughout most months this year.
Singapore's NODX contracted 5.6% in Oct
Non-oil domestic exports (NODX) shrank 5.6 per cent year on year last month, reversing September's 3.1 per cent growth. The drop was worse than the 1.7 per cent contraction forecast by analysts in a Bloomberg poll.
On a seasonally adjusted basis, October's S $15.9 billion. This was a decline from the high base a year ago, EnterpriseSG noted, with NODX in October 2021 at S$16.6 billion, above 2021's monthly average of S$16.1 billion.
The weak NODX numbers were led by the fall in electronics exports, which shrank by 9.3 per cent year on year in October, after a 10.6 per cent drop in the previous month. Singapore's electronics exports, which account for around a quarter of domestic exports, have now declined for three straight months.
Maybank has maintained its NODX growth forecast at 5-6% for 2022 and -4 to -1% for 2023. It said the drop in exports may be "an early warning sign'' of a potential 2023 recession, albeit a shallow one, due to "offsetting crosscurrents'' of global headwinds and reopening tailwinds.
OCBC chief economist Selena Ling was quoted by The Business Times warning that with the combination of high interest rates, persistently high inflation and ongoing geopolitical uncertainties, "the growth and trade prognosis may remain patchy for the rest of Q4 2022 and Q1 2023''.
She predicts NODX will contract again in Nov and Dec, depressing full-year NODX growth to the lower end of the official 5-6% forecast. "Many central banks prioritise combating inflation over supporting growth, which will lead to a more dramatic slowdown in growth prospects in 2023'' said Ms Ling.
Sembmarine facing dim 2H outlook
Sembcorp Marine last week lowered its second half guidance compared to its expectations just three months ago, citing a "one-off'' uptick in labour costs, lower-than-anticipated improvements in repairs and upgrade works and delays in securing some projects.
The offshore and marine company therefore expects its second half FY22 losses to be similar to the first half.
In Aug, Sembmarine reported a net loss of S$143m for the first half ended 30 June, which was a significant improvement from the S$647m loss reported for the 1H of 2021.
SIA's capacity at 71% of pre-Covid levels
Singapore Airlines said it flew 2.3m passengers on a group level in Oct, 6.2% higher than Sep. Year-on-year, group capacity – which includes Scoot – was up 109.7%, reaching 71% on pre-Covid levels.
The airline said it continues to see strong travel demand. Its passenger load factor was 86.4%, whilst the cargo load factor was 52.6%.