Date: September 14, 2020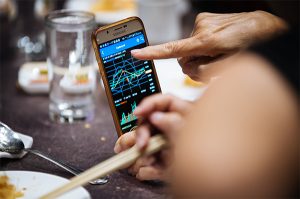 The Straits Times Index drifted to a 19-points or 0.76% loss at 2,490.09;
US tech sector selloff weighed on sentiment;
Also disappointing markets was US failure to agree on relief package;
Singapore economists expect local economy to contract 6% this year;
China's exports rose for 3rd consecutive month in August;
Worst could be over for earnings of listed companies but cap on bank dividends could extend into 2021: DBS;
Sembcorp Marine's rights issue was undersubscribed;
Maybank Kim Eng raised its STI target to 2,995
A lacklustre week with US tech stocks at the forefront
The Straits Times Index dropped 19 points or 0.76% to 2,490.09 over five relatively featureless trading sessions last week, with the main consideration being the fate of a US technology sector that has been undergoing severe bouts of volatility in the past few weeks.
Over on Wall Street, although the Dow Jones Industrial Average and S&P 500 managed close higher on Friday, the Nasdaq Composite closed lower. Also, the US market has for several days exhibited a pattern of rising sharply at the open but giving up most of its gains before the close of trading.
Large tech companies have been major beneficiaries during the coronavirus pandemic, propelled by rising demand for digital services, streaming and e-commerce. However, there are now concerns over a possible bubble in the sector which now has high valuations.
On Thursday, Wall Street plunged sharply and the selloff went beyond technology, with energy and financial stocks also dropping as jobless claims in the US remained at a high level and a slimmed-down relief package failed to garner enough votes to pass the Republican-led Senate. The Bill fell short on a party line procedural vote, 52 to 47. It needed 60 votes to overcome blocking tactics in the 100-member chamber.
Singapore's GDP forecast by private sector to contract 6% in 2020
According to the latest quarterly Monetary Authority of Singapore (MAS) survey of professional forecasters, private sector economists now expect Singapore's gross domestic product (GDP) to contract by 6% this year compared to a 5.8% contraction previously.
The survey also showed that if the economy recovers in 2021, survey respondents see full-year growth at 5.5%, up from 4.8% in the last survey. However, there is significant uncertainty associated with forecasts for next year as everything would depend on whether a viable COVID-19 vaccine is found.
Full-year growth expectations worsened sharply for construction at -23% compared to -11.4% in the June survey.
China's exports rose for the third consecutive month in August
China's exports in August rose 9.5% from a year ago, the strongest gain since March 2019. The figure also beat analysts' expectations for 7.1% growth and compares with a 7.2% rise in July. It was the third consecutive month of growth; on the downside, however, was that imports dropped 2.1% versus expectations of a 0.1% increase.
Sembcorp Marine's rights issue undersubscribed
Sembcorp Marine's rights issue that was recently completed was undersubscribed, with valid acceptances received for 9.4b rights shares or 90.2% of the 10.5b rights shares that were offered. The approximately 1.03b unsubscribed rights will be taken up by Startree, which is a wholly-owned subsidiary of Sembcorp's biggest shareholder Temasek.
The undersubscription is likely due to the fact that SMM's shares were trading very close to the subscription price of S$0.20 in the days before the rights issue closed.
DBS Group Research: Worst could be over on earnings front but cap on banks' dividends may extend into 2021
DBS Group Research last week said it thinks the worst is over for the earnings of Singapore-listed companies. The second quarter figures bore the full brunt of global COVID-19 lockdowns with a 14.9% FY20 cut in forecast earnings for stocks under DBS's coverage, but the broker singled out companies like Hutchison Port Holdings, ST Engineering, SIA Engineering Company, Wilmar International, UMS and Venture Corp as having either positive earnings revisions of more than 5% or a recommendation upgrade.
In another report, the broker said the dividend cap on 60% of 2019's dividends in 2020 could extend into 2021, given lower net interest income, relatively soft credit demand and uncertainty over asset quality.
This comes as lower interest rates for the foreseeable future are likely to weigh on net interest margins and recovery of return on equity (ROE). DBS Group Research said Singapore bank's valuations remained inexpensive compared to regional peers, at about 0.8 times FY21 price-to-book. It said continues to prefer UOB over OCBC as a more defensive pick due to UOB's higher domestic exposure, higher ROE and dividend yield.
Maybank KE raised its STI target to 2,995
Separately, Maybank Kim Eng last week increased its target for the STI from 2,200 to 2,995 under a new methodology that takes into account fundamentals and massive market liquidity.
It said its equity strategy calls for a balance between defence and growth by weighting toward stocks with structural growth, dividend visibility and diversification. Its top "buys'' are Wilmar, Ascendas Reit and ComfortDelgro, as fears of a worst-case scenario seemed to have "overshot lockdown reality, with less earnings misses and higher earnings per share upgrades in the Q2 FY20 results season''.