Date: January 18, 2021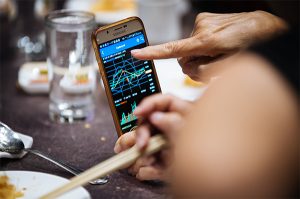 Markets took their cue from a firm Wall St;
Sentiment in US was upbeat despite political upheaval;
Main hope was that Biden administration would announce stimulus;
US President-elect Biden duly announced plans for a US$1.9tr package;
China's exports beat forecasts, trade surplus with US widened;
SIA issued US$500m in bonds;
17 parties have signed NDAs to possibly invest in Hyflux;
Quarz said S$1.55 per share offer for Sunningdale is too low;
SGX queried iFast for fourth time in six months.
US stimulus hopes continued to underpin market's strength
The local stock market last week continued to benefit from Wall Street's strength that has over the past two months been derived from hopes of a large stimulus bill to tackle the economic challenges posed by the COVOD-19 pandemic.
Such has been the optimism surrounding a possible bill and the rollout of various vaccines around the world that markets have been able to ignore the political turmoil in the US, namely, the 6 Jan attack on Capitol Hill in Washington and the subsequent impeachment of US President Trump for a second time in just over one year.
So it was that over the course of the five trading days the Straits Times Index added 11 points or 0.2 per cent to climb above the 3,000 mark for the first time since it was lost in March last year at 3,004.87.
As the week drew to a close, those hopes of US stimulus were reaffirmed when President-elect Joe Biden unveiled a US$1.9 trillion package that includes US$160bn to bolster vaccination and testing efforts, US$350bn for state and local governments, as well as US$1tn in relief to families, via direct payments and unemployment insurance.
There is some doubt however, as to whether the proposed package will pass, even with the Democratic majority in both houses of Congress. In the Senate, President-elect Biden falls far short of the 60 votes needed to pass most legislation, while the Democrats' razor-thin majority in the House poses a similar problem.
China's exports beat forecasts with 18.1% growth in Dec; trade surplus with US widened
Chinese exports grew by more than expected last month as COVID-19  disruption around the world fuelled demand for Chinese goods even as a stronger renminbi made exports more expensive for overseas buyers.
A robust domestic recovery also spurred Chinese appetite for foreign products last month, with import growth quickening from the month prior and beating expectations in a Reuters poll.
Exports rose 18.1 per cent last month from a year earlier, slowing from a 21.1 per cent jump in November but beating expectations for a 15 per cent rise. Imports increased 6.5 per cent year on year last month, topping a 5 per cent forecast and picking up pace from November's 4.5 per cent growth.
Also, China's trade surplus with the United States widened last year, underlining the failure of US President Donald Trump to narrow the gap during his tenure, while demand soared for electronics and medical equipment during the coronavirus pandemic. Chinese customs data showed the surplus with the US climbed 7.1 per cent to US$316.9 billion in 2020. The figure is a 14.9 per cent jump from 2017's surplus of US$275.8 billion –
The pick-up came on the back of a jump in exports through most of last year as China's factories kicked back into gear from the second quarter following a strict lockdown that managed to broadly contain Covid-19 and allow economic activity to return.
SIA tapped the US$ bond market, raised US$500m
Singapore Airlines last week said it has raised US$500 million via its first US dollar-denominated bond issue. The notes, due in July 2026, will be issued at 99.573 per cent of their principal amount with an annual coupon of 3 per cent.
The airline said the issue was over-subscribed with the final demand at more than US$2.85b. The Business Times quoted OCBC credit research analyst Ezien Hoo as saying tapping the US dollar bond market represents a "natural evolution'' for the national carrier in expanding its financing channels.
Net proceeds will be used for aircraft purchases, aircraft-related payments and general working capital, including refinancing SIA's existing borrowings. SIA has raised about S$13.3b in additional liquidity since the start of its FY20/21. This includes S$8.8b from a rights issue, S$2b from secured financing, S$850m from a convertible bond issue, S$500m from a private placement of 10-year bonds and more than S$500m through new committed lines of credit and a short-term unsecured loan.
Latest on Hyflux: JM says 17 parties have signed NDAs
The judicial managers of financially-strapped water treatment firm Hyflux last week told Hyflux's perpetual and preference shareholders that 17 parties are interested in investing in the company and have signed non-disclosure agreements (NDAs) to this effect.
These include previously-known parties like American fund manager Strategic Growth Investments, Spain-based FCC Aquila and Middle Eastern firm Utico. However, Pison, which is backed by Indonesian businessman Johnny Widjaja, and Singapore's OUE have pulled out.
Takeover price for Sunningdale is too low: Quarz
Fund manager Quarz Capital last week said the S$1.55 per share that is being offered to take Sunningdale Tech is too low is significantly undervalues the precision components manufacturer.
The offer was made last November by Sunningdale's chairman Koh Boon Hwee and Novo Tellus PE Fund 2. Quarz, which advises entities collectively holding more than 6% of Sunningdale, said the price is a discount of more than 22% to the company's book value.
It pointed out that the discount is apparent when compared with Mr Koh's purchase of one million shares for about S$1.59 per share in March 2017 and close to 13m shares for S$1.72 apiece in April 2017.
Quarz added that the company should be worth more today than in 2017 because it has been consistently profitable with its net asset value increasing from S$1.78 at end-2016 to almost S$2 at the end of Sep 2020.
iFast was queried by SGX for fourth time in six months
Wealth management platform iFast Corp on Friday was queried by SGX for the fourth time in six months for reasons behind a sharp rise in its share price. It closed $$0.35 or 8.2% higher on Friday at S$4.63 on volume of 2 million.
The company replied that it had participated in the bidding of projects including some in Hong Kong that could have a material impact on its business if successful. It also pointed to positive broking firm recommendations issued recently.