Date: November 16, 2020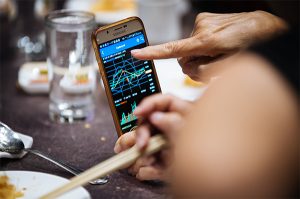 The STI's surge continued in the wake of Joe Biden's victory;
Adding impetus was hopes of a vaccine soon for the virus;
SIA issued new convertible bonds at 1.625% coupon;
Best World submitted trading resumption proposal;
Aspen in play (again) after placement announcement;
Hyflux supported SGI's rescue deal;
IPO managers and sponsors to be held to higher standards.
Victory for Democrat Joe Biden was the first driver
The US election victory by Democrat candidate Joe Biden was one driver of stock prices last week, on hopes that the President-elect would be able to deliver a stimulus package that was larger than previously negotiated or reported.
The second and perhaps more important driver were rising hopes of a vaccine to battle the COVID-19 virus that has brought the global economy to a standstill for most of 2020.
The net result was that the Straits Times Index, having already risen 6% in the first week of November, added a further 133 points or 5.1% to finish at 2,711.39 last week.
Virus and vaccines were the other drivers
Early in the week, drug companies Pfizer and BioNTech announced that their data showed that their experimental vaccine is 90% effective at preventing Covid-19. They are still awaiting data on safety, which could come later this month.
Pfizer and BioNTech need to get regulators to sign off on the shot before it can start shipping vaccines to those considered most in need by government. Healthcare workers and people living in nursing homes will likely top that list. The news sent Wall Street, which had been rising on election news, to new highs.
However, the rally fizzled out as the week progressed as the US continued to report record numbers of new infections and worries grew that the transition to the new government might not be smooth, in which case the hoped-for fiscal package would be delayed.
The Straits Times on Friday dropped sharply in response to an overnight plunge on Wall St but managed to recover before the close because of a rebound in the Dow futures.
SIA issuing $850m worth of convertible bonds
Singapore Airlines announced it is issuing new S$850 million five-year convertible bonds which will bear a coupon of 1.625 per cent per annum and be issued at par.
The initial conversion price is S$5.743 for each new ordinary share, which represents a conversion premium of about 45.8% over SIA's last closing stock price on Thursday.
If the bonds are all converted, the company will allot and issue about 148 million new ordinary shares, which make up about 5 per cent of the existing issued shares, excluding treasury shares.
SIA on Friday said all the convertible bonds have been fully placed to institutional investors and other investors.
In a press statement, the national carrier noted that the offer was four times oversubscribed. "As a result, the issuance was upsized from the initial S$750 million to S$850 million with more attractive terms for SIA," it added.
The airline said it plans to allocate some 60-80 per cent of the proceeds from the deal for operating cash flow and debt service, while 20-40 per cent will go into capital expenditure.
Best World submitted trading resumption proposal
Beauty products firm Best World International, whose shares have been suspended from trading since May 2019 because of concerns over legality of its sales and distribution model in China and the lack of clarity over its financial position, last week submitted a proposal for trading resumption to SGX RegCo.
Aspen shares in play after announcing placement
Malaysian property company Aspen Group, whose shares have more than tripled this year after the company announced plans to diversify into glove making, was again in focus last week. Its shares on Monday surged $0.04 or 15% to $0.305 after the firm announced a proposed placement to raise $23.8m.
The placement comprises up to 100m new shares at $0.238 per share. The company said the placement is to enable it to meet the minimum shareholding spread requirements for mainboard applicants and the strengthen its financial position.
CGS-CIMB upgraded banks
Local brokers CGS-CIMB last week turned positive on the three local banks as it expects credit costs to peak this year with asset quality holding steady. The firm's analysts said the banks' returns on equity and dividends are also coming back into focus and duly upgraded the sector to "overweight'' from "neutral''.
The latest on Hyflux – company backs Strategic Growth Investments' deal
Troubled water treatment firm Hyflux on Friday said it supports a rescue deal proposed by US investment firm Strategic Growth Investments (SGI). A detailed term sheet by SGI, the fourth white knight to emerge to try and save Hyflux, was filed.
It showed SGI's proposal to acquire and privatise Hyflux, including all the latter's subsidiaries. The deal will be structured as a $208m cash purchase of newly-issued class A common equity and convertible securities which can be converted to Class B common equity upon meeting of performance hurdles.
Class B is non-voting and on a fully diluted basis will not make up more than 16% of total equity.
Perpetual and preference shareholders will receive $41.3m, medium-term noteholders $26.2m, banks and facilities $56.8m, other creditors $14.8m, contingent claims $53m and trade creditors will get $15.8m.
Issue managers, IPO sponsors to be held to higher standards
With immediate effect, issue managers and full sponsors will have to adhere to higher standards for companies they take public.
Under new guidelines issued by the Association of Banks in Singapore (ABS), the focus will be on three areas – the assessment of a company's internal controls, sustainability and viability of its business and compliance issues, notably in a regulated area and higher risk jurisdiction.